Add to iCal Calendar
Map Unavailable
Date/Time
Date(s) - 17 Oct 2017
5:00 PM - 9:00 PM
Location
Tucson Convention Center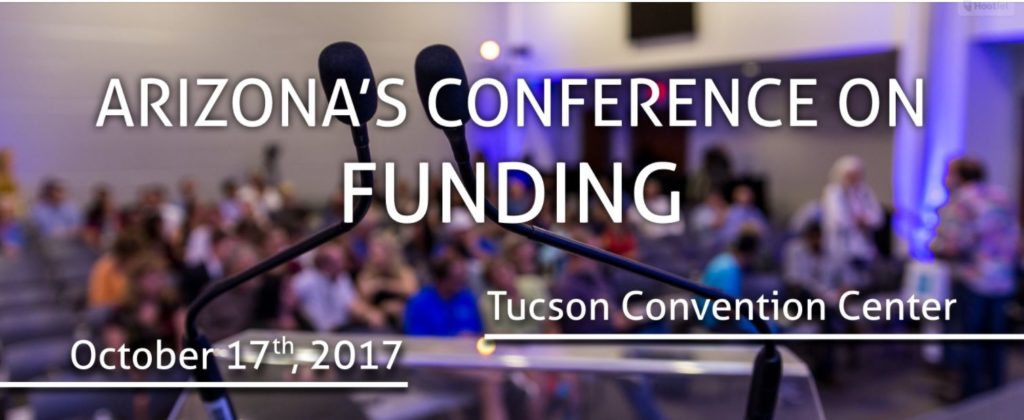 IdeaFunding is your best opportunity to connect with startup leaders, learn key skills to launch your company and take the next steps to raising funds, and launching your company.
Every October in Tucson, IdeaFunding brings together the best of the southwestern startup ecosystem for a full day of pitch competitions, panels, discussions, speakers and networking around best practices, key lessons and next steps to launch a company.
IDEAFUNDING IS TENWEST
This year, IdeaFunding has changed to provide more value to Tucson's entrepreneurial community.
IdeaFunding is now a part of the TENWEST Festival, a week-long festival bringing together culture-makers, technologists, professionals, & community builders alike for week long celebration of what will create the Next Tucson.
In addition, what was previously known as the IdeaFunding Bracket Competition has now been merged with COX's Get Started Arizona!
IdeaFunding will include:
VC Unplugged Luncheon with Rocky Mountain Venture Capital Association
Keynote Address by Manny Fernandez discussing equality crowdfunding
Investor Workshop from Bill Payne of Arizona Resource Institute
Get Started Arizona Pitch Competition with $25,000 cash prize with Cox Business
FEATURING GET STARTED ARIZONA
IdeaFunding is concluded on Tuesday with Arizona's premier pitch competition. Get Started Arizona will highlight up to eight entrepreneurs who will pitch their idea to a distinguished panel of experts. One winner will be named to receive over $50,000 in prizes including a one year Cox Business technology package, and special prizes for second place and a social media winner!
The event will highlight six entrepreneurs who will pitch their idea to a distinguished panel of experts. One winner will be named to receive over $25,000 in cash and additional in-kind prizes, as well as audience prize winner!
Event Details
WHEN: Tuesday, October 17, 2017 from 5:00 pm – 9:00 pm
WHERE: Leo Rich Theater, Tucson Convention Center
ADMISSION: The event is FREE and open to all registered guests.
Complimentary cocktails & hors d'oeuvres at one of the best networking events you'll attend this year!
Prize Details
First place prize package includes a $25,000 cash prize.
A special coaching and mentoring session with accredited investors
Admission and scholarship to participate in 2018 Thryve Venture Development program of your choice
$1,000 social media prize to the business selected as the audience choice!

TENWEST Festival is building the new frontiers of Tucson. Experience a week long celebration where arts, technology, communities, and entrepreneurship cross paths.
OCTOBER 14-22 | DOWNTOWN TUCSON | TENWEST.com