Add to iCal Calendar
Date/Time
Date(s) - 14 Nov 2017
1:00 PM - 4:00 PM
Location
Center for Entrepreneurial Innovation @ GateWay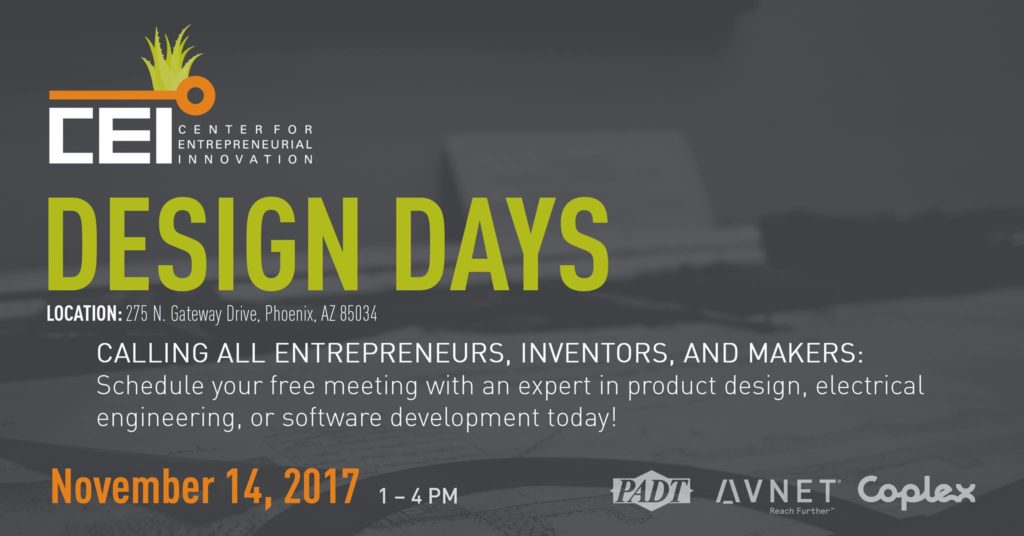 The LAST Design Days event of 2017 is almost here, so we want to make sure anyone who can benefit from this opportunity gets the chance to schedule a meeting with PADT, Coplex, or Avnet before the holiday season!
To learn more visit the landing page,
Event Date: Tuesday, November 14, 2017
Time: 1– 4 PM
Description: Entrepreneurs, makers, and inventors throughout the community are welcome to participate in this free, monthly event to speak with engineers from PADT, Avnet, and Coplex to get feedback on their product idea. We still have a few 30 minute time-slots open for anyone who wants to talk to an expert about software development or electrical engineering!
Deadline to Register: Friday, November 10, 2017
Location:
Center for Entrepreneurial Innovation
275 N. GateWay Drive
Phoenix, AZ 85034
Participants can sign up here:
http://ceigateway.com/designdays