Add to iCal Calendar
Date/Time
Date(s) - 5 May 2017
7:30 AM - 2:30 PM
Location
Sheraton Phoenix- Downtown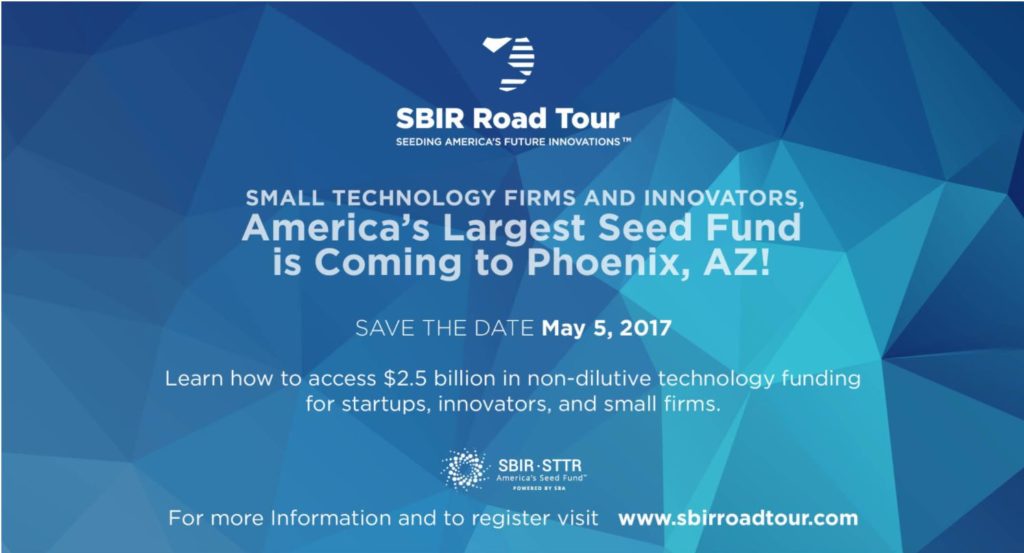 On ​May ​5, ​2017, ​individual ​program ​managers ​from ​the ​11 ​participating ​agencies ​representing ​$2.5 ​billion ​in ​early ​stage ​funding ​will ​participate ​in ​a ​one ​day ​event ​alongside ​technology ​entrepreneurs ​and ​state ​innovation ​ecosystem ​members.
Check out the SBA Road Tour Website
If ​you're ​an ​innovator, ​entrepreneur, ​researcher, ​or ​small ​technology ​firm, ​don't ​miss ​this ​opportunity. ​
Register ​Today ​in ​order ​to ​Reserve ​Your ​One-on-One ​Meeting ​with ​SBIR/STTR ​Program ​Managers ​from:
• Department ​of ​Agriculture ​(USDA) ​
• Department ​of ​Energy ​(DOE)
• Department ​of ​Health ​and ​Human ​Services ​- ​National ​Institutes ​of ​Health ​(NIH)
• National ​Science ​Foundation ​(NSF) ​
• Department ​of ​Defense ​- ​Air ​Force ​(USAF)
• Department ​of ​Defense ​- ​Department ​of ​Homeland ​Security ​(DHS)
• Department ​of ​Defense ​- ​Defense ​Advanced ​Research ​Projects ​Administration ​(DARPA)
• Department ​of ​Defense ​- ​Missile ​Defense ​Agency ​(MDA)
• Department ​of ​Defense ​- ​Navy ​(USN)
• Department ​of ​Defense ​- ​Special ​Operations ​Command ​(SOCOM)
• National ​Aeronautics ​and ​Space ​Administration ​(NASA)
• United ​States ​Patent ​and ​Trademark ​Office ​(USPTO)
Other ​Agenda ​Highlights ​Include:
• Learn ​how ​to ​access ​local ​and ​state ​resources ​available ​to ​innovators, ​researchers, ​and ​technology ​entrepreneurs.
• SBIR ​Agencies ​Funding ​Priorities ​Overviews
Engaging ​Panel ​Sessions: ​
>Using ​SBIR ​to ​Seed ​Fund ​your ​Innovative ​Ideas
>Business ​with ​the ​Warfighter: ​Technology ​Alignment, ​Opportunities, ​and ​Funding ​(Defense ​focused)
>Inside ​the ​Head ​of ​an ​Evaluator: ​Lessons ​Learned ​and ​Common ​Mistakes
Cost: ​$30 ​per ​person
​ ​ ​ ​ ​ ​ ​ ​ ​ ​Groups ​of ​2+ ​are ​$15 ​each ​person
​ ​ ​ ​ ​ ​ ​ ​ ​ ​$35 ​per ​person ​the ​day ​of ​the ​event ​(registration ​will ​be ​on ​site)
Lunch ​and ​parking ​are ​provided ​with ​registration. ​