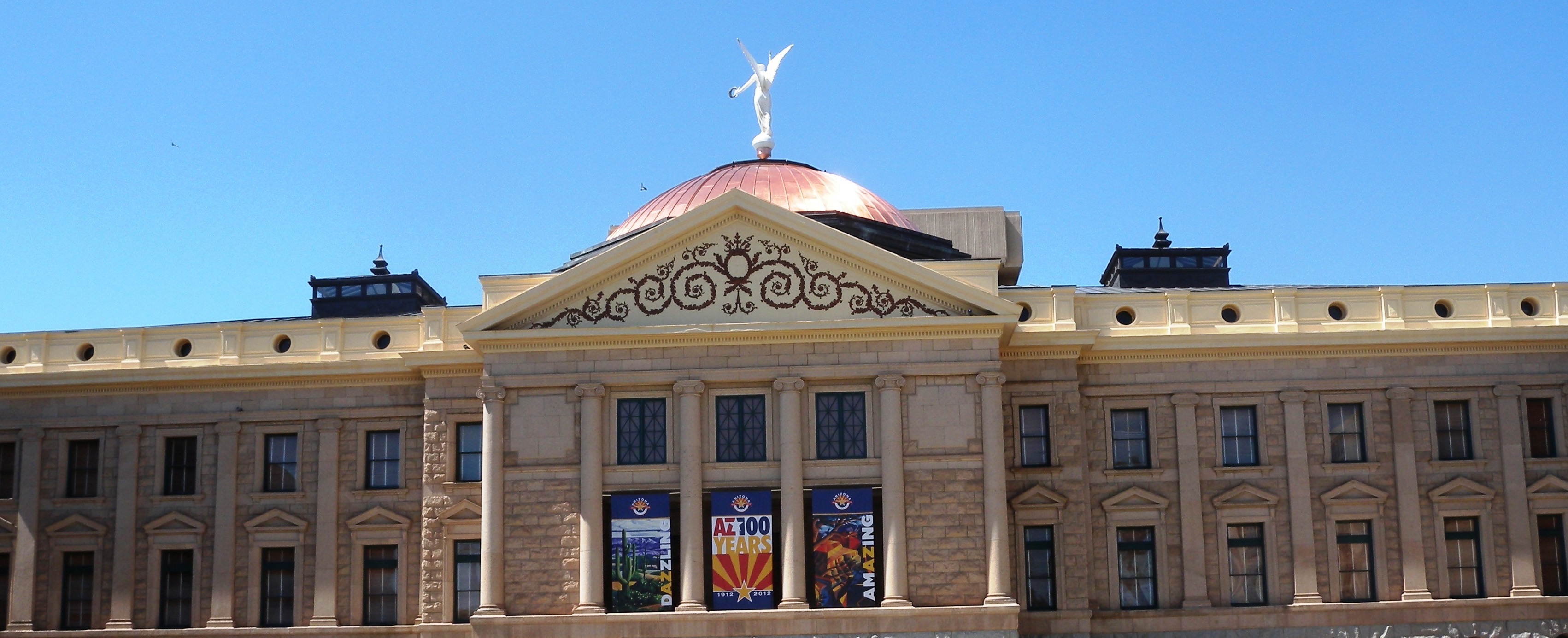 As Arizona's Statewide Bioscience Industry Association, AZBio works with our elected leaders to educate and inform on the key issues that will help to make Arizona a Top-Tier Bioscience State and works across our community to support our members, our industry, our healthcare partners, and patient advocacy organizations.
Each year, AZBio publishes its Policy Initiatives as approved by the AZBio Board of Directors.
Click the link to view the AZBio Government Affairs Policy 2018
AZBio is supported at the State Capitol by our contract lobbyists at Dorn Policy Group.
The 2018 AZBio Watch List
The following bills and budget items are being monitored by the AZBio Government Affairs Team during Arizona's 53rd Legislature – 2nd Regular Session in 2018.
Legislative Deadlines:
Friday, February 16, 2018 – Last Day to Hear SBs in Senate and HBs in House
Friday, March 23, 2018 – Last Day to Hear SBs in House Committees and HBs in Senate Committees
Friday, April 13, 2018 – Last day for consideration of bills in Conference Committees –
Saturday, April 21, 2018 – Adjournment sine die – regular sessions shall be adjourned sine die no later than the Saturday of the week in which the 100th day (April 17) of session falls. (The Speaker and the President may extend the session for a period not to exceed seven additional days. Thereafter, the session can be extended only by a majority vote of the Members.
Active Bills at the 53rd Legislature – 2nd Regular Session (2018)
The list below highlights bills that pertain to our areas of focus. As these bills progress, our positions to support, monitor, or oppose will be added. All AZBio Members have the option to add bills to the Watch List. To do so, email AZBio.
Sent to the Governor for Signature
HB2042 insurance coverage; telemedicine; urology – Signed
HB2085 schools; emergency epinephrine administration – Signed
HB2086 schools; diabetes management policies; pharmacists – Signed
HB2088 pupils; concussions; parental notification – Support – Transmitted on 5/4
HB2107 prescription drug costs; patient notification – Signed
HB2158 Passed as SB1390 – TPT; additional rate; education – Signed
HB2167 Arizona Commerce Authority Reauthorization – Signed
HB2323 schools; inhalers; contracted nurses – Signed
HB2513 hyperbaric oxygen therapy; veterans; fund – Signed
HB2558 drug disposal; education – Signed
SB1247 health insurance; mandated provision prohibited – Signed
SB1353 limited liability company act; revisions – Signed
SB1389 HIV; needs assessment; prevention – Signed
---
Bills that did not progress
Bills must be heard in the originating chamber by February 16,2018 and in the second chamber by March 23rd. Additional time is given to appropriations bills and for rules.
HB2084 indoor tanning; minors; restricted use – Support – Not heard in Senate
HB2087 family caregiver income tax credit. – Support – Not heard in Senate
HB2127 children's health insurance program – Support – Not heard in Senate
HB2202 pharmacy benefits managers; pharmacies; practices – Monitor – Not heard in H. Health
HB2252 schools; concussions; health care provider
HB2280 universities; lease-back financing – Oppose – Not heard in Senate
teachers' school supplies; tax credit – Support – Pending Senate
HB2350 JTEDs; 9th grade; workforce need – Monitor – Not heard in H. Education
HB2377 teachers' school supplies; tax credit – Support – Not heard S. Fin
HB2443 medical services purchase; premiums – Monitor – Not heard in H. Health
HB2448 appropriation; drug research and development – Not Heard in Approps
HB2479 TPT; digital goods and services – Monitor – Not assigned in Senate
HB2494 appropriation; Maricopa community colleges; STEM – Support – Not Heard in Approps
HB2525 JTEDs; fourth year funding – Monitor – Not heard in H. Education
HB2541 health insurance; contraceptives – Monitor – Not heard in H. Banking and Insurance
HB2450 genetic testing information; confidentiality; exceptions – Monitor Retained on House calendar
HB2646 appropriation; STEM internships – Support – Not scheduled in H. Approps
SB1013 laetrile; prohibition – Monitor – Not Heard in S. HHS
SB1019 tax credits; sunset – Monitor – Not heard in S. Finance
SB1026 JTEDs; ninth graders; funding. – Monitor – Not heard in S. Education
SB1027 JTEDs; entrepreneurship programs; review exemption – Monitor – Not heard in S. Education
SB1115 insurance coverage; abuse-deterrent opioids – Not heard in S. HHS
SB1184 state compact; temporary professional licenses – Monitor – Held in S. Gov
SB1269 JTEDs; ninth graders; funding; programs – Support – Did Not Progress
SB1270 CTE certifications; incentive bonus program – Support – Did not Progress
SB1330 appropriations; STEM and workforce programs Not heard in S. Education
SB1369 large electronics; recycling – Monitor – Not heard in S. NREW
SB1390 TPT; additional rate; education – Support – Not heard in S. Finance
SB1391 schools; suicide prevention training – Support – Not heard in S. Education
SB1414 terminally ill; care choices – Monitor – Not heard is S. HHS
SB1491 JTEDs; funding; ninth graders – Monitor – Not heard in S. Education
SCR1028 STEM careers; education; supporting – Support