Looking Back at
Arizona Bioscience Week 2020
"Arizona's bioscience industry is committed to discovering, developing and delivering innovative medicines, medical devices and healthcare technologies that make life better for people in Arizona and around the world"
Learn more about Arizona's Bioindustry in Celebrating Life & Science, the 1-hour television special that premiered at the peak of Arizona Bioscience Week.
Scroll down to view a selection of Arizona Bioscience Week recordings and more opportunities for innovators and investors.
When you can't do what you have always done
We could not come together in person so we turned our annual gathering into a 1-hour television special!
Celebrating Life & Science aired on CW61-Phoenix and ABC15 during Arizona Bioscience Week and you can watch the replay above. Thanks also to ABC15 and the team at Sonoran Living Live for helping us spread the word as we kicked off the week long celebration! You can watch the encore presentation in the video provided above.
Our students were not afraid to try something new too!
We turned our annual Student Discovery Zone event, a perennial favorite, into an online scholarship competition and asked the community to vote for their favorite student presentations. The student videos received a total of 53,541 votes!
LIFE SCIENCE INNOVATION IS BLOOMING IN THE DESERT
---
Diagnostics - Medicines - Medical Devices - Health IT
AZBio Special Supplement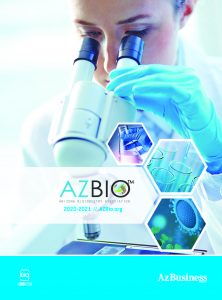 The 56 Page Arizona Bioscience Special Supplement in the Sept./Oct. issue of AzBusiness Magazine reached 25,000 readers in print during Arizona Bioscience Week.


Arizonans are advancing life changing and life saving innovations along the path from discovery to development to delivery.
AZAdvances is developing the funding that will help advance health innovations in Arizona today and for generations to come.
Charitable donations to the AZAdvances fund at the Opportunity Through Entrepreneurship Foundation, an Arizona based 501c3 public charity, are a way to support the creation of tomorrow's medical innovations.
WHITE HAT LIFE SCIENCE INVESTOR CONFERENCE
---
Connecting Investors and Life Science Innovators
"The Arizona bioscience community is one of the best kept investment secrets in the western United States. White Hat attracts large and small investors and provides a chance to support new life science companies and make some money in the process!" - White Hat 2020 co-chair Jason Jardine
The White Hat Life Science Investor Conference began on September 14, 2020.
White Hat's 1:1 partnering system is available to Accredited Investors through February 28, 2021 and includes 30 presentations recorded by the 2020 cohort of White Hat Presenting Companies.
Past White Hat Presenting Company cohorts (2014, 2016,and 2018) have gone on to attract over $1.1 billion in investments. Accredited Investors are welcome to contact AZBio to request system access.
ARIZONA BIOSCIENCE WEEK VIDEOS
---
Education and Thought Leadership
AZBIO SUPPORTERS
---
AZBio Supporters support us so that we can support you.
Arizona Bioscience Week is made possible thanks to our community and industry supporters.