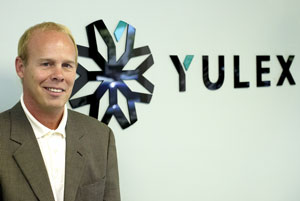 Jeff A. Martin
President and Chief Executive Officer
Jeff Martin is the founder and President & CEO of Yulex Corporation which operates a sustainable integrated biorefinery (IBR) in Phoenix, Arizona. As a seasoned executive from the industrial biotechnology and medical device industries, Martin pioneered the development of the technology and the initiative for private equity investment which resulted in over $65 million invested. Martin now leads this commercial IBR based on the arid crop guayule that is native to the U.S. Southwest.
Producing a variety of biopolymers from guayule such as Yulex® Latex, a safer material for medical devices, Yulex ® Elastomeric Biopolymer for consumer applications as well as eco-friendly building materials and specialty chemicals, Yulex is currently developing processes to transform guayule residual biomass for bioenergy and other industrial products.
Prior to founding Yulex in 2000, Martin was Vice President Sales & Marketing for Safeskin Corporation, a leading manufacturer and marketer of latex medical devices throughout the U.S. and Europe, and was instrumental in positioning the company for its successful IPO and as "The Best Small Company in America" (Forbes Magazine, 1996).
Martin has a formal education in engineering from the Georgia Institute of Technology where he was inducted into the Academy of Distinguished Engineering Alumni in 2005.