We're Getting Ready for
Arizona Bioscience Week
"Arizona's bioscience industry is committed to discovering, developing and delivering innovative medicines, medical devices and healthcare technologies that make life better for people in Arizona and around the world"
Learn more in this video as Senator Nancy Barto, chairman of the Senate Health and Human Services Committee reads the proclamation recognizing the industry and proclaiming the week of October 8 - 14, 2017 as Arizona Bioscience Week.
Life Science Innovation is blooming in the desert
Located in the heart of the Rocky Mountain Southwest Region, Arizona is home to one of the fastest growing life science sectors in the country. Arizona's Bioscience Roadmap, a long-term strategic plan originally commissioned by the Flinn Foundation in 2002 and updated in 2014 with the goal of Arizona becoming globally competitive and a national leader in select areas of the biosciences by 2025 has provided a framework for growth and levels of collaboration that are rarely found outside of Arizona.
Global leaders including Celgene, Sanofi, Medtronic Tempe Campus, Ventana Medical Systems, Inc., a member of the Roche Group, and W.L. Gore call Arizona "home".
Working alongside them, Entrepreneurs are creating innovative products and services in the form of therapeutics, diagnostics, medical devices, and health information tools.
Research Institutes including the Biodesign Institute and the BIO5 Institute are housed in Arizona's world class universities and work in partnership with researchers and clinicians at private institutions including the The Banner Alzheimer's Institute, the Barrow Neurological Institute, the Critical Path Institute, the Translational Genomics Research Institute (TGen), and the Virginia G. Piper Cancer Center at HonorHealth.
The latest innovations in patient care are delivered by nationally recognized physicians at Banner Health, Cancer Treatment Centers of America, Dignity Heath, HonorHealth, Mayo Clinic, and Phoenix Children's Hospital.
Join us for Arizona Bioscience Week, October 8 - 14, 2017. It is your opportunity to connect, to engage, and to learn how life science innovators are making LIFE better today and for generations to come.
Arizona Bioscience Week Opportunities
Connect - Engage- Collaborate

Celebrating Excellence
The AZBio Awards Ceremony Celebrates Arizona's leading Educators, Innovators and Companies.
Join us for an inspirational celebration of the best of Arizona's Bioscience Industry on October 11, 2017 at the Phoenix Convention Center's West Ballroom as we honor Dr. Marvin Slepian with the AZBio Pioneer Award for Lifetime of Achievement.
Tickets are required for the AZBio Awards. Join the Celebration on Wednesday, October 11, 2017 from 4:00 p.m. – 8:30 p.m. in the Phoenix Convention Center - West Ballroom Click here to learn more.
BMES 2017
From October 11-14, 2017, the Biomedical Engineering Society (BMES) will assemble 4,000 people from across the United States - academic researchers, students, industry professionals, government officials, and clinicians - at the Phoenix Convention Center to drive and communicate engineering advances and technological inventions focused on advancing human health and well-being

Free Workshop
Braving the New Patent World
The patent landscape has recently seen substantial upheaval. Filing for and obtaining patent rights has become increasingly complicated. And the process for attacking or defending granted patent rights has changed markedly within the last few years.
To learn more about this free workshop on Tuesday Oct. 10th, click here
Free Workshop – Industrial Biotech
Commercial Development of Guayule: Will it work this time?"
Dr. Dierig is the Manager and plant breeder for Bridgestone's Agro Operations at the Guayule Research Farm in Eloy, AZ since 2014. He was the Research Leader and Location Coordinator at the USDA-ARS, National Center for Genetic Resources Preservation in Fort Collins, Colorado from 2009 – 2014. He started his career as a Research Geneticist with the USDA-ARS, U.S. Water Conservation Laboratory at Phoenix, Arizona, which later became the U.S. Arid Land Agricultural Research Center, Plant Physiology and Genetics Unit.
To learn more about this free workshop on Tuesday Oct. 10th, click here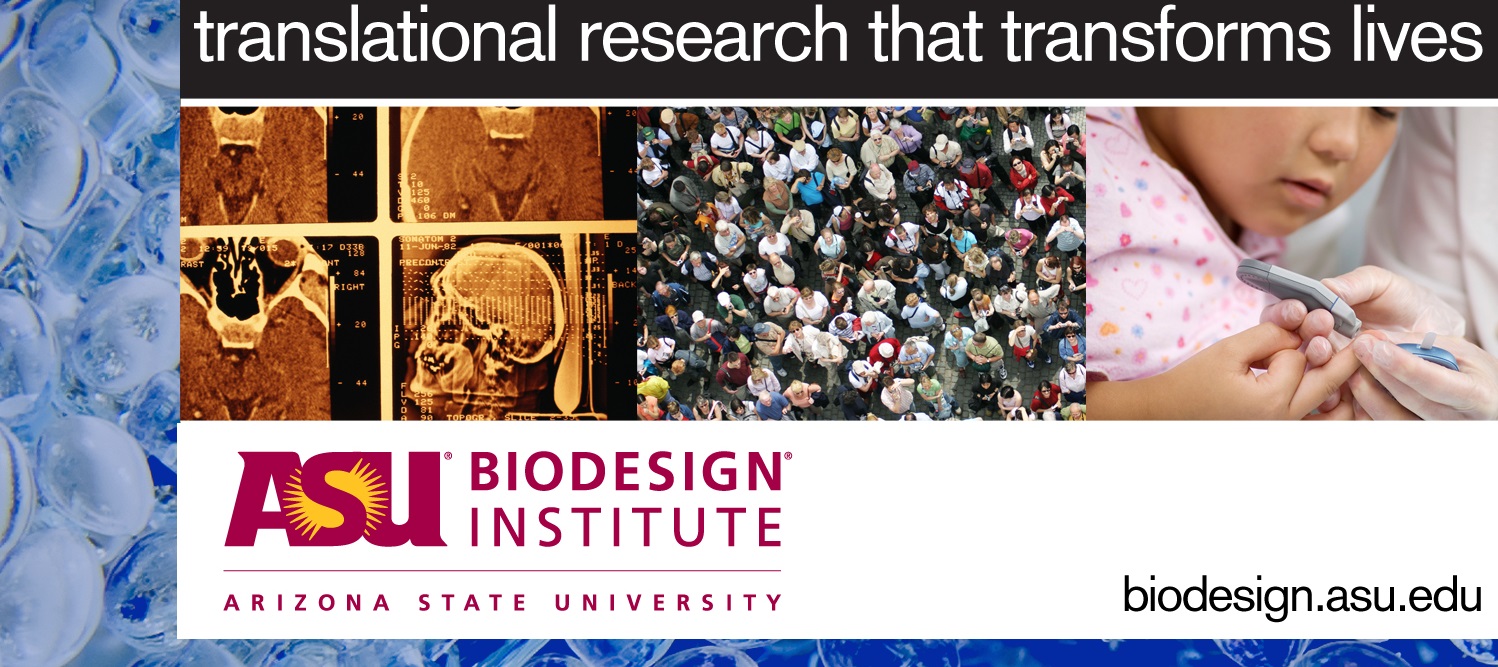 ASU Biodesign – Free Lectures

ISMCS 25 in Tucson
Extend your AZBW experience and head on down t0 Tucson for ISMCS 25. From October 16-18 2017, ISMCS 25 - Limitations, Controversies And Gaps In Mechanical Circulatory Support: Pathways To Solutions.
The theme for ISMCS is D²I² = Define, Dissect, Ideate, Innovate.

Submit Your AZBW Event
Share your expertise with your community
Arizona Bioscience Week is a collaborative community event.
All members of the Arizona Life Science Ecosystem are encouraged to host AZBW events during Arizona Bioscience Week.

Connecting Talent with Opportunity
The AZBio Career Center is a portal where you can connect with talent and find opportunities
Post your positions so that our community and over 4,000 AZBW visitors see your job opportunities.

Arizona Bioscience Week is made possible thanks to our community and industry supporters.