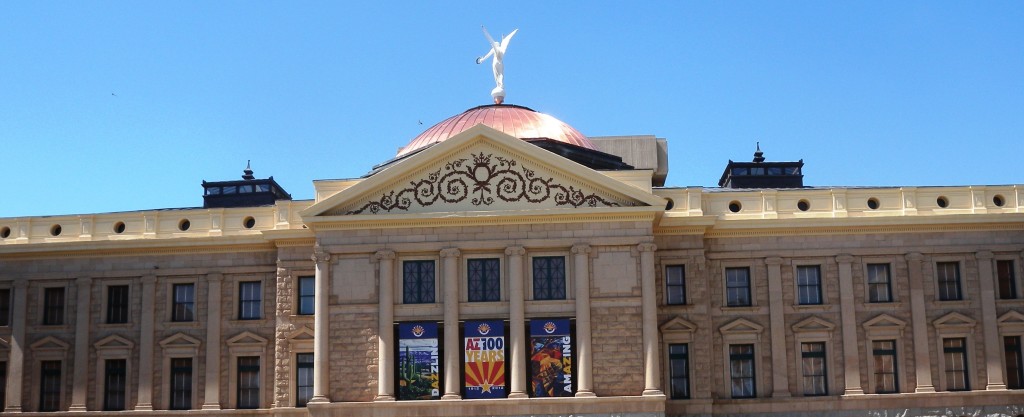 As Arizona's Statewide Bioscience Industry Association, AZBio works with our elected leaders to educate and inform on the key issues that will help to make Arizona a Top-Tier Bioscience State and works across our community to support our members, our industry, our healthcare partners, and patient advocacy organizations.
Each year, AZBio publishes its Policy Initiatives as approved by the AZBio Board of Directors.
Click the link to view the AZBio Government Affairs Policy Initiatives 2017
AZBio is supported at the State Capitol by our contract lobbyists at Dorn Policy Group.
The 2017 AZBio Watch List
AZBio Members and community partners worked together this session in support of the Governor's Plan to invest $1 Billion in Arizona's University Research Infrastructure. This was originally proposed as providing bonding authority via state support funded through a TPT capture mechanism and a corresponding university match. As was introduced, the proposed TPT capture mechanism for university research infrastructure did not have the votes to pass. Therefore, lawmakers turned to the 2003 university infrastructure package as a funding model. The three state universities will receive infrastructure funding from FY2019 through FY2043 within the appropriations process.
To lean more, read One Billion Reasons Why University Research Has a Brighter Future in Arizona
The following bills and budget items are being monitored by the AZBio Government Affairs Team during Arizona's 2017 53rd Legislature – 1st Regular Session.
Active Bills at the 2017 53rd Legislature – 1st Regular Session – Adjourned Sine Die
The list below highlights bills that pertain to our areas of focus. As these bills progress, our positions to support, monitor, or oppose will be added. All AZBio Members have the option to add bills to the Watch List. To do so, email AZBio.
Transmitted to the Governor
Pending Signature:
Signed by Governor Ducey
HB2191: Angel Investor Tax; Credit Cap (Strike Everything: formerly "child support; administrative order; enforcement") (Signed)
HB2197: telemedicine; audio visual requirements (Signed)
HB2205: DHS; commission; task force; repeal (Signed)
HB2208: inhalers; administration; schools; authorized entities (Signed)
HB2229: JTEDs; courses and programs; approval (Signed)
HB2248: JTEDs; adults (Signed)
HB2308: pharmacy board; logistics providers; permits (Signed)
HB2382: pharmaceuticals; misbranding; enforcement prohibited (Signed)
HB2497: organ; tissue; donations; procurement organizations (Signed)
SB1368: newborn screening; fees (Signed)
The following bills did not progress:
HB2030: insurance coverage; telemedicine; urology (Support)
HB2090: hospitals; flu vaccines (Support)
HB2194: indoor tanning; minors; restricted use (Support)
HB2209: family caregiver income tax credit (Support)
HB2235: tax credit cap; angel investor (See HB 2191)
HB2252: rural school employees; tuition waiver (Support)
HB2336: end of life decisions; terminally ill
HB2359: universities; governing boards
HB2471: insurance; health care appeals; medications (Support)
SB1034: appropriation; teacher student loan program (Support)
SB1212: tax credit cap; angel investor (See HB 2191)