Arizona Gov. Katie Hobbs has signed Arizona's FY24 budget. The state's $17.8 billion spending plan includes money to prevent homelessness, boost education funding and send tax rebates to parents. It also includes some interesting and, in some cases, surprising additions or omissions.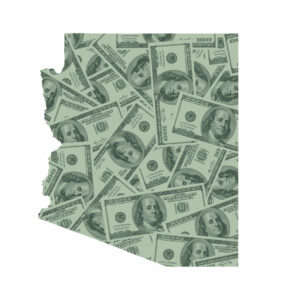 Governor Hobbs issued the following statement after signing the budget into law:
"Today, we showed what happens when pragmatic leaders come together and compromise to get things done for Arizonans. While it isn't perfect, this budget is an important step towards making housing more affordable, building more roads, bridges and broadband access, expanding children's health insurance, and investing in our public schools. I'm glad legislative leaders were able to come together to deliver for Arizona, and I look forward to our continued partnership."
The Joint Legislative Budget Committee summary of the FY2024 budget that runs from July 1, 2023 to June 30, 2024 breaks down both the ongoing finding and the one-time funding decisions including.
$650 million in allocations for roads, bridges, broadband infrastructure and public transit
Investments in K-12 education, including $300 million in one-time spending, $341.9 million for school facilities and $88.6 million in new, ongoing funding.
$260 million in one time personal income tax rebates for families with children
$150 million for the Housing Trust Fund for programs that support the unhoused and Arizonans struggling to find affordable housing
$126.1 million that will go to projects benefiting the state's Native American tribes.
Surprises
The budget was agreed and signed in mid May. This came as a surprise to many policy veterans who were predicting that the process could extend into June.
No caps or restrictions on Empowerment Scholarship Accounts, a priority for many Democrats.
$5 million for Psilosybin Clinical Research
No funding in the FY24 budget for innovation economy priorities including expansion of R&D tax credits or an investment into the Arizona Health Innovation Trust Fund.