We're Getting Ready for
Arizona Bioscience Week
"Arizona's bioscience industry is committed to discovering, developing and delivering innovative medicines, medical devices and healthcare technologies that make life better for people in Arizona and around the world"
Learn more about Arizona's Bioindustry in this video produced with support from the Center for Entrepreneurial Innovation at GateWay Community College and AZBio.
Arizona Bioscience Week events are currently planned for in-person events. This is subject to change based on the then-current health circumstances.
LIFE SCIENCE INNOVATION IS BLOOMING IN THE DESERT
---
Diagnostics - Medicines - Medical Devices - Health IT
Arizona Bioscience Special Supplement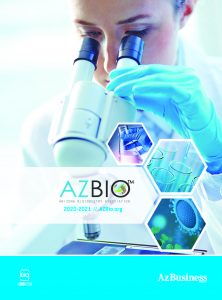 The Arizona Bioscience Special Supplement in the Sept./Oct. issue of AzBusiness Magazine reaches 25,000 readers in print and 122,500 online and helps the community get engaged in the weeks leading up to AZBW. All Attendees at the AZBio Awards will receive the AZBio Special Supplement and the 2021-2022 AZBio Member Directory. Contact AZBio to Reserve Your Page Today
Click here to view the 2020-2021 AZBio Special Supplement online.
Click here to view the Media Kit


Arizonans are advancing life changing and life saving innovations along the path from discovery to development to delivery.
AZAdvances is developing the funding that will help advance health innovations in Arizona today and for generations to come.
Charitable donations to the AZAdvances fund at the Opportunity Through Entrepreneurship Foundation, an Arizona based 501c3 public charity, are a way to support the creation of tomorrow's medical innovations.
ARIZONA BIOSCIENCE WEEK OPPORTUNITIES
---
Connect - Engage - Collaborate
MONDAY, OCTOBER 4. 2021

Leading Women - Biotech and Beyond
Kick off AZBW 2021 in style and meet some of our community's thought leaders at this virtual happy hour
Join us for an inspirational conversation and the AZBW 2021 Kick Off on October 4, 2021 from 5:30 PM - 7:30 PM.
More info coming soon...
TUESDAY, OCTOBER 5, 2021
Discovering & Developing New Medicines in Arizona
The 3rd Annual Drug Discoveries & Development Summit will highlight key areas of research in discovering effective drug candidates in prevalent diseases in Arizona while establishing collaborations that enable success in these key areas.
Presented by the ARIZONA CENTER FOR DRUG DISCOVERY and the UNIVERSITY OF ARIZONA CANCER CENTER
17th Annual AZBio Awards
The AZBio Awards Ceremony Celebrates Arizona's leading Educators, Innovators and Companies. Join us for an inspirational celebration of the best of Arizona's Bioscience Industry on October 5, 2021 at the Phoenix Convention Center's West Ballroom.
Nominations open April 1st and close on June 4, 2021. Tickets are required for the AZBio Awards
WEDNESDAY, October 6, 2021

WEDNESDAY, OCTOBER 6, 2021

Venture Madness Opening Reception
The Venture Madness Conference Kickoff Reception brings together entrepreneurs, investors, and business leaders. ts a great place to meet future Board members, advisors and investors that help guide and grow your firm for years to come.
THURSDAY, OCTOBER 7, 2021

Venture Madness
Venture Madness, presented by Invest Southwest in partnership with the Arizona Commerce Authority, pits the most promising startups against one another in a live pitch, head-to-head competition. Think you've got what it takes? Applying is FREE, easier than ever, and open to early-stage firms demonstrating proven market traction.
FRIDAY, OCTOBER 8, 2021

Voice of the Patient
Patients are the reason we do what we do.
Join the conversation on life science innovation from the patient perspective at the new ASU Health Futures Center.
FRIDAY, OCTOBER 8, 2021

UNMET Arizona 2021
UNMET Arizona 2021 is a venture conference co-hosted by the Arizona Commerce Authority for Series A/B stage startups. Founders attending this event will be able to network with institutional VC investors, along with their peers at fast growing startups around the country; Investors will be able to meet with 50+ Startups, founders will have the chance to pitch 100+ investors and will be able to setup one-one meetings during the event.
ARIZONA BIOSCIENCE WEEK COMMUNITY EVENTS
---
Convene - Educate - Showcase

Submit Your AZBW Event
Arizona Bioscience Week is a collaborative community event.
All members of the Arizona Life Science Ecosystem are encouraged to host AZBW events during Arizona Bioscience Week. Click here to request more information...

We're Connecting Talent with Opportunity
Post your positions so that our community and our AZBW visitors see your job opportunities.
Learn more at Jobs.AZBio.org
AZBIO SUPPORTERS
---
AZBio Supporters support us so that we can support you.
Arizona Bioscience Week is made possible thanks to our community and industry supporters.