The Arizona Bioindustry Association (AZBio) today announced that BioSyntagma has won a 2018 AZBio Fast Lane Award in recognition of its rapid progression in product development and its proven ability to generate both government grants and operational revenues to move the company forward. The bioSyntagma team will be honored by Arizona's bioscience and business communities at the 2018 AZBio Awards on October 3, 2018 at the Phoenix Convention Center.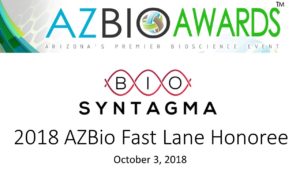 Finding Answers to Big Questions
bioSyntagma is a precision medicine company that provides deep data on the uniqueness of each person's cancer to transform how their cancer is treated.
bioSyntagma serves the needs of clinicians, academic researchers, and drug developers to advance the implementation of precision medicine. The company has developed a device that enables researchers and drug developers to physically map cancer tissues for biological markers that predict the response to treatments and outcomes.
Patients often develop resistance to potentially lifesaving medicines during their cancer treatment. bioSyntagma's suite of platform technologies enables comprehensive, multi-omic and spatial profiling of tissues to gain a complete understanding of a patient's cancer. With this information, the patient can be matched with relevant therapies and their physician can get recommendations on how the patients may avoid developing a resistance to specific drug treatments.
Over the last 18 months, bioSyntagma has won 3 SBIR awards totaling $1.2M between the National Science Foundation (NSF) and National Institutes of Health (NIH).
They are on track to be the first company with a diagnostic to predict and prevent drug resistance in cancer patients by recommending therapeutic combinations unique to each patient. To date, they have hit product development milestones on projects with leading pharmaceutical companies and have expanded their research tool to create a much larger platform technology for diagnostics by integrating hardware, software, and artificial intelligence.
bioSyntagma is a spin-out from Arizona State University and is based at the Center for Entrepreneurial Innovation in Phoenix. The company's business model is already generating research revenue and leverages local talent and the significant operating cost advantages available in Arizona.
For its rapid progression in product development and its proven ability to generate both government grants and operational revenues to move the company forward, bioSyntagma is being honored with the 2018 AZBio Fast Lane Award.
The AZBio Fast Lane is awarded on a competitive basis to the select few companies that have achieved outstanding milestones in the past 18 months. Significant progress can be measured by clinical results, regulatory approvals, certifications, collaborations, funding awards, product launches, job growth or product sales milestones.
A key component of Arizona Bioscience Week, The AZBio Awards & Life Science Fiesta brings together Arizona's life science and leadership community with visitors from around the country to celebrate life-science innovation and innovators. The AZBio Awards takes place on the evening of October 3, 2018 at the Phoenix Convention Center. Highlights of the evening will include honoring Dr. Daniel D. Von Hoff with the AZBio Pioneer Award for Lifetime Achievement and a celebration of the achievements of leading researchers, educators, and innovator companies. The Life Science Fiesta following the award ceremony features a Student Discovery Zone that showcases the work of fifty students from Arizona high schools, community colleges, and universities along with exhibits featuring Arizona companies and patient advocacy organizations. The AZBio Awards & Life Science Fiesta are presented by AZBio and the Arizona Commerce Authority.
bioSyntagma has also been selected to present at White Hat 2018.
The White Hat Life Science Investor Conference (White Hat 2018) brings together the next generation of biotech and healthcare pioneers from across the Rocky Mountain Southwest Region with investors locally, nationally, and internationally. Held at the Phoenix Convention Center on October 4, 2018, White Hat 2018 is a collaboration between the bioscience industry associations across the region. The conference showcases investment opportunities for investment into privately-held companies in the areas of diagnostics, therapeutics, medical devices, and health information technology. Thirty-two companies have been competitively selected by a committee of experienced life science investors to present at White Hat 2018. Companies that presented at White Hat in 2014 and 2016 have gone on to receive almost $200 million in investment from private investors and corporate investors.
For more information on Arizona Bioscience Week, visit www.AZBio.org/AZBW2018.
For more information on the 2018 AZBio Awards, visit www.AZBioAwards.com
For more information about White Hat 2018, visit www.WhiteHatInvestors.com.
About AZBio
For 15 years, the Arizona Bioindustry Association (AZBio) has supported life science innovation and life science innovators in Arizona. A key component in Arizona's life science ecosystem, AZBio is the only statewide organization exclusively focused on Arizona's bioscience industry. AZBio membership includes patient advocacy organizations, life science innovators, educators, healthcare partners and leading business organizations. AZBio is the statewide affiliate of the Biotechnology Innovation Organization (BIO) and works in partnership with AdvaMed, MDMA, and PhRMA to advance innovation and to ensure that the value delivered from life-changing and life-saving innovation benefits people in Arizona and around the world.
For more information visit www.AZBio.org and www.AZBio.TV
AZBio Media Contact:
Joan Koerber-Walker, Arizona Bioindustry Association
jkw@azbio.org 480-332-9636
Images available upon request.