Arizonans seeking a test for COVID-19 are encouraged to visit the Arizona Department of Health Services website to find a location nearest them.

The best way to prevent illness is to avoid being exposed. Stay at home, as much as possible, except for essential needs.
---
The Arizona Department of Health Services maintains the DATA DASHBOARD that displays key metrics relating to status of COVID-19 in Arizona.
Metrics include:
Reported Cases and Cases per 100,00 in population
Reported Deaths and Deaths per 100,00 in population
Aggregate number of Tests performed
# of Tests reported in the prior day
Demographics and Location Breakdown
Who is doing testing in Arizona?
---
At this time, diagnostic testing for COVID-19 can be conducted through commercial laboratories or at the Arizona State Public Health Laboratory (ASPHL). ADHS will work closely with healthcare providers and local health departments to provide testing for individuals who meet criteria for testing at ASPHL. Healthcare providers should contact the Arizona Poison and Drug Information Center (1-844-542-8201) to request testing at ASPHL and coordinate specimen collection. For individuals who do not meet the criteria for testing at ASPHL, healthcare providers can coordinate testing with commercial laboratories. (Source: AZDHS FAQ 4/22/2020)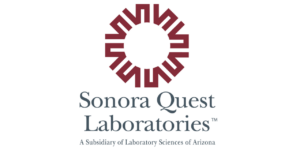 Sonora Quest Laboratories now offers antibody testing for coronavirus (COVID-19) using blood specimens. With this new offering, Sonora Quest now provides healthcare providers in Arizona access to a COVID-19 antibody test as well as the molecular diagnostic testing that has been offered since mid-March.
The Arizona Poison Control System is available to answer questions about COVID-19 from Arizona providers (for testing and patient guidance) and the general public (for testing, isolation, and quarantine guidance) at 1-844-542-8201
For additional non-health related assistance, call 211
Call Ahead
The Arizona Department of Health Services website instructs Arizonans to call your healthcare professional if you feel sick with fever, cough, or difficulty breathing, and have been in close contact with a person known to have COVID-19, or if you live in or have recently traveled from an area with ongoing spread of COVID-19.
Your healthcare provider will determine if you need to be tested for COVID-19.
The CDC's website, Coronavirus.gov, provides the following instruction:
If you are sick with COVID-19 or suspect you are infected with the virus that causes COVID-19, you should take steps to help prevent the disease from spreading to people in your home and community.
If you think you have been exposed to COVID-19 and develop a fever and symptoms, such as cough or difficulty breathing, call your healthcare provider for medical advice.
Understanding the Different Tests
IN VITRO DIAGNOSTIC COVID-19 TESTS
In vitro diagnostic (IVD) manufacturers have taken key steps to increase patient access to coronavirus diagnostic testing in laboratories, hospitals, and other testing sites across the country to guide patient care and protect public health. The companies listed in the links below have developed IVDs that have received Emergency Use Authorization (EUA) from the U.S. Food and Drug Administration.
Different tests serve different needs.
Viral Detection Tests determine if an individual is infected by the coronavirus by detecting the virus's genetic material or other viral components. These tests help healthcare professionals determine how best to treat a patient or to determine if an infected person needs to be kept away from others to avoid spreading infection.
Serology Tests are blood-based tests that can be used to identify whether individuals have been exposed to COVID-19 by examining the presence of antibodies to the virus. Serology testing will be a key component of a national strategy to safely get Americans back to work. These tests are often referred to in the media as Antibody Tests.
As of June 25, 2020 there were no FDA APPROVED tests for COVID-19. An EUA or Emergency Use Authorization (EUA) authority allows FDA to help strengthen the nation's public health protections against CBRN threats by facilitating the availability and use of Medical Counter Measures needed during public health emergencies.
Under section 564 of the Federal Food, Drug, and Cosmetic Act (FD&C Act), the FDA Commissioner may allow unapproved medical products or unapproved uses of approved medical products to be used in an emergency to diagnose, treat, or prevent serious or life-threatening diseases or conditions caused by chemical, biological, radiological and nuclear defense (CBRN) threat agents when there are no adequate, approved, and available alternatives.