Health Advocates visit the Arizona Capitol to share important messages.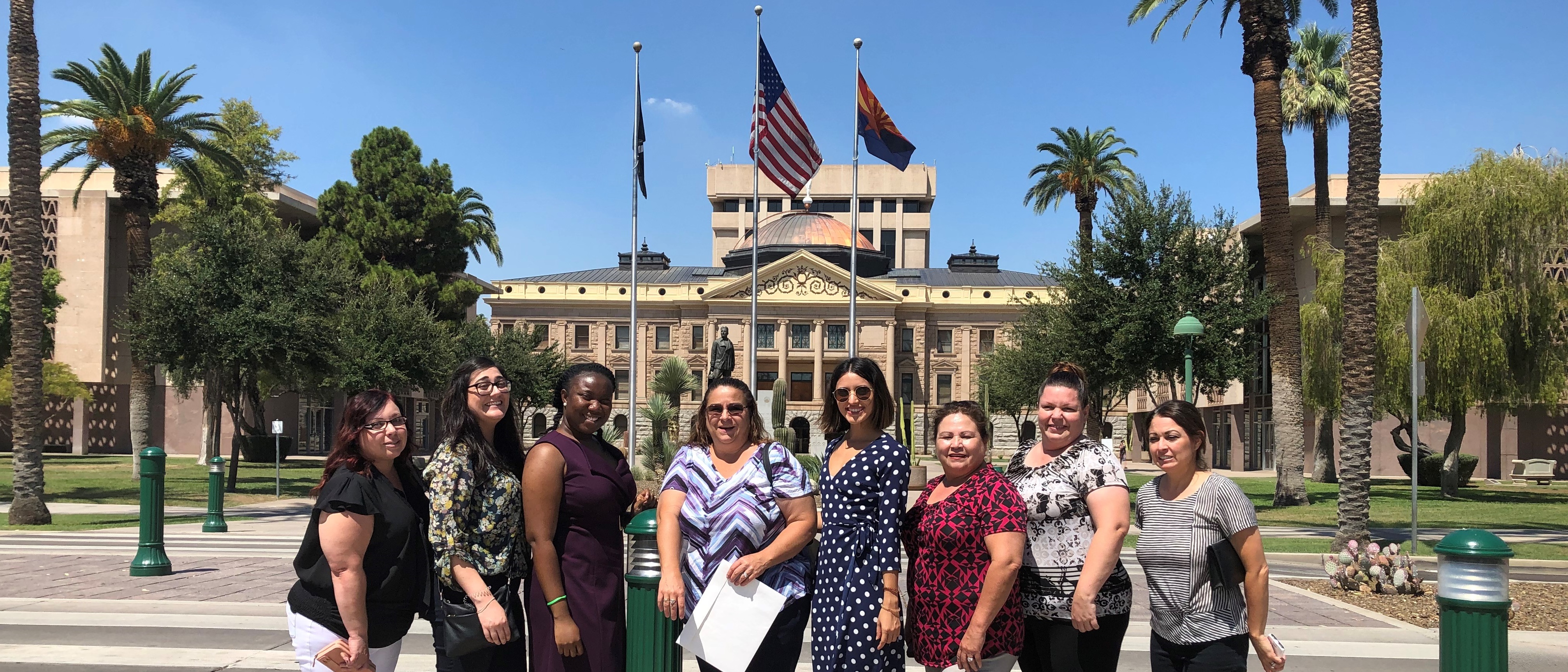 PHOENIX, Arizona – The United States is facing the highest number of measles cases in the past 20 years and Arizona's largest county, Maricopa, has been identified as an outbreak hotspot. According to the U.S. Centers for Disease Control and Prevention (CDC) and Arizona Department of Health Services, communities face increased risk from outbreaks of vaccine-preventable diseases, including measles, whooping cough, cancers caused by HPV, and pneumonia. National Immunization Awareness Month is the ideal time to remind Arizona residents, health care providers, and policy makers about the potential loss of herd immunity, the importance of vaccinating our children, and the benefits that everyone gains from living in a well immunized community.
Sixteen statewide medical related professional associations, representing 157,000 members, endorsed the Arizona Medical Association's formal resolution to improve childhood vaccination rates through parental education. The groups include American Academy of Pediatrics (Arizona Chapter), American College of Physicians (Arizona Chapter), Arizona Academy of Family Physicians, Arizona Association of Community Health Centers, Arizona Bioindustry Association, Arizona College of Emergency Physicians, Arizona Hospital & Healthcare Association, Arizona Medical Association, Arizona Nurses Association, Arizona Osteopathic Medical Association, Arizona Pharmacy Association, Arizona Psychiatric Society, Arizona Public Health Association, Arizona State Association of Physician Assistants, School Nurses Organization of Arizona, and The Arizona Partnership for Immunization.
In addition, 30 health care practices and advocate groups plus 475 Arizona residents added their names in support of ArMA's stance.
In a letter to Arizona Governor Doug Ducey, the associations, health care practices, advocate groups, and individual citizens thank him for his support in keeping kids protected and urge state leaders to enact the following during the 2020 legislative session:
Adopt requirements that parents (or guardians) who do not wish to have their children vaccinated shall receive public health-approved counseling that provides scientifically accurate information about the childhood diseases, the available vaccines, the potential adverse outcomes from catching the disease, the risks unvaccinated children pose to children who cannot be vaccinated for medical reasons, the risks of vaccine side effects, and the procedures that are implemented to exclude unvaccinated children if an outbreak of disease occurs in the area administered by the local or state public health agency.
Adopt requirements that parents annually must sign an affirmative statement that acknowledges the risks they are accepting for their own children and the children of others by claiming a personal exemption from mandatory vaccination requirements.
Work with the Arizona Department of Health Services to include in the affirmative statement an acknowledgement of the risk to other children.
"Parents make decisions about immunizing their children every day in Arizona. They should have access to the most current, science-based information available in order to make an informed decision," said Debbie McCune Davis, executive director of The Arizona Partnership for Immunization.
"Arizona physicians promote the safety and efficacy of vaccinations and believe parents should be provided with appropriate information regarding the importance of vaccinating their children," said Susan Whitely, MD, president of the Arizona Medical Association. "It is important for Arizona to keep a strong hold on community immunity to help protect our most vulnerable populations."
---

ABOUT THE ARIZONA PARTNERSHIP FOR IMMUNIZATION
The Arizona Partnership for Immunization (TAPI) is a non-profit statewide coalition of over 400 members. TAPI was formed in response to the alarming fact that in 1993, only 43% of Arizona's two-year-olds were fully immunized against preventable childhood diseases like measles, mumps, polio, and whooping cough. Through the efforts of TAPI's partners in the public and private sectors, immunization coverage rates in Arizona have improved dramatically, with 66.5% of children fully immunized by age two. Unfortunately, the problem never ends. Each year in Arizona over 80,000 babies are born, and none arrive immunized. For more information, visit whyimmunize.org
ABOUT ARIZONA MEDICAL ASSOCIATION
The Arizona Medical Association (ArMA) is a voluntary membership organization for all Arizona medical and osteopathic physicians. On behalf of member physicians, ArMA promotes leadership in the art and science of medicine and advocates for economically sustainable medical practices, the freedom to deliver care in the best interests of patients, and health for all Arizonans. Over the last 126 years, ArMA has provided effective legislative advocacy, professional leadership, and built strong community relationships. For more information, visit azmed.org
ABOUT NATIONAL IMMUNIZATION AWARENESS MONTH
August is National Immunization Awareness Month (NIAM). This annual observance highlights the efforts of health care professionals to protect patients of all ages against vaccine-preventable diseases through on-time vaccination. For more information, visit cdc.gov/vaccines/events/niam/
---
For more information:
Debbie McCune Davis, debbied@tapi.org 602-288-7568