Add to iCal Calendar
Date/Time
Date(s) - 9 Jan 2023 until 11 Jan 2023
7:00 AM - 7:00 PM
Location
Hilton San Francisco Union Square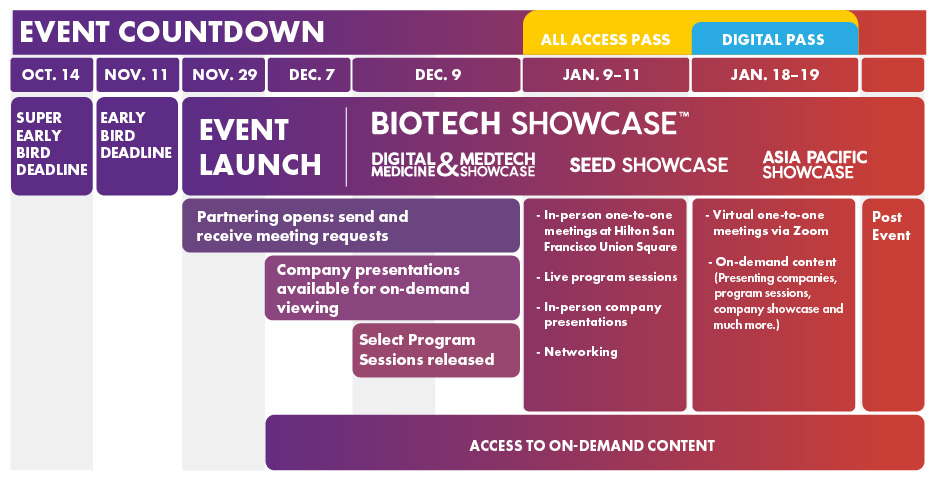 The 2023 Biotech Showcase™ investor conference will be delivered in-person in San Francisco January 9-11, 2023.
Biotech Showcase™ has grown dramatically and is considered one of the year's most important investor conferences. The Showcase features public and private corporate presentations, as well as plenary sessions and workshops that address a variety of business issues and therapeutic areas. It takes place this year alongside the JP Morgan Healthcare Conference.
Some of the highlights of the upcoming Biotech Showcase include:
2,400+ attendees
320 company presentations
1000+ investors
2,200 companies
5,800+ one-on-one meetings
50+ countries
LIFE SCIENCE COMPANIES:
Since the number of presentation slots is limited, please submit your request to present as soon as possible. There are multiple company presentation formats available and you may apply for more than one. The 4 formats are the following:
Digital Medicine and Medtech Showcase
AZBio has special offers for AZBio Members. Contact us to learn more.
Deadline for Requesting your Presentation:
The selection committee reviews requests for presentation slots on a rolling basis. Submit your request as soon as possible to avoid being placed on the waitlist.
If you have any questions, reach out to Lila Taylor, the Head of the Presenter Selection Committee at ltaylor@demy-colton.com