Add to iCal Calendar
Date/Time
Date(s) - 12 May 2023 until 13 May 2023
8:00 AM - 5:00 PM
Location
Barrow Neurological Institute - Goldman Auditorium & Sonntag Pavilion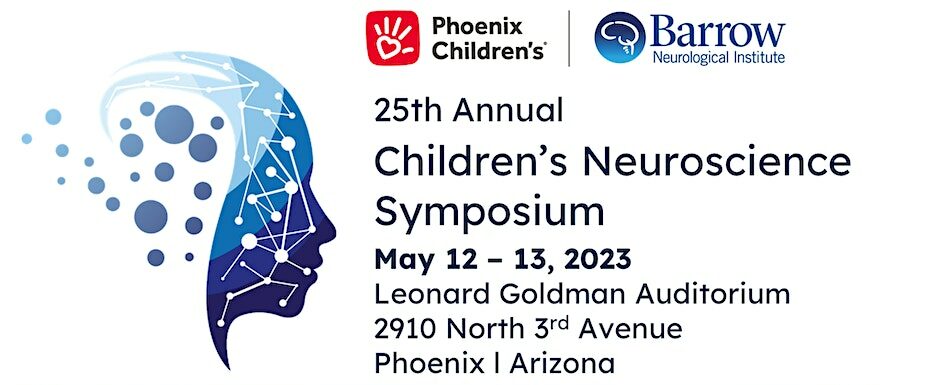 The 25th Annual Children's Neuroscience Symposium will host some of the most respected and renowned experts in the field, May 12-13, 2023, in Phoenix, Arizona. Stay up-to-date in the assessment and management of complex neurological conditions, according to the most recent evidence-based medicine.
Lectures and case studies will focus on providing crucial updates, utilizing the most recent research combined with proven care management strategies for clinical decision-making and exercising best practices in patient care. This symposium is an invaluable source of knowledge which will allow for meaningful discussions and connections to drive better outcomes for some of the most complex pediatric neuro patients.
COURSE OBJECTIVES
Our goal is to improve the knowledge of primary care clinicians, so they are better equipped to provide accurate assessments and management of care, facilitate their interactions with the specialist and improve overall care to this group of patients.
Upon conclusion of this program, participants should be able to:
Gain new abilities and strategies to better diagnose, manage and treat the complex neurological patient using the most relevant, up-to-date and information.
Modify their practice though this evidence-based education in a way that will allow them to immediately translate the information into clinical practice.
Improve patient care outcomes for children with complex neurological conditions. Given a patient with a neurological condition, providers will integrate the most up-to-date information and research to determine the best course of action.
Counsel patients and families on short term and long-term prognoses and treatment options for a variety of neurological conditions.
INTENDED AUDIENCE
This course is designed for the primary care provider, advanced practice provider, nursing staff, clinical research scientists and those wanting a better understanding of the presented clinical information.
VENUE
Barrow Neurological Institute
Leonard Goldman Auditorium
2910 North 3rd Avenue
Phoenix, Arizona
REGISTRATION INFORMATION
GROUP 1: Physicians and PhD Scientists
GROUP 2: Advanced practice providers, nurses, social workers, therapists, allied health, and research associates.
GROUP 3: Students of these professions and community members.
STANDARD PRICING
Group 1: $80/ day or $150/both days. Virtual ONLY $45/ day
Group 2: $50/ day or $90/ both days. Virtual ONLY $25/ day
Group 3: $24/ day Virtual ONLY $12/ day
SEATING IS SUBJECT TO AVAILABILITY
The cost of registration includes: tuition, CME certificate (In-person price includes: lunch and/or breakfast each day, refreshments during the meeting and Friday's reception). Net proceeds from this Symposium will go to support Barrow at Phoenix Children's Neuroscience General Program Fund #1043.
The full fee is payable upon registration.