PHOENIX, June 18, 2018 (GLOBE NEWSWIRE) — INSYS Therapeutics, Inc. (NASDAQ:INSY), a leader in the development, manufacture and commercialization of pharmaceutical cannabinoids and spray technology, today reiterated its ongoing efforts to fundamentally transform the company. Below is a synopsis of these ongoing efforts.
New Governance, New Employee Base, New Vision and Culture
President and Chief Executive Officer Saeed Motahari joined INSYS in April 2017.
Since then:
Two-thirds of the members of the Board of Directors are new, and all are independent except for one member of management (the company's CEO);
The vast majority of management across the entire organization, including sales and marketing, are new to the company;
More than 40 percent of the employee base of approximately 330 people are new to the company; and
Nearly 50 percent of the company's field force are new to the company.
These changes have been essential in building the foundation for a strong culture, which is supported by well-defined compliance practices and, above all, ethical business behavior and values focused on patient needs.
Unwavering Commitment to R&D as Company's Driving Force
INSYS has invested approximately $250 million in research and development (R&D) since 2014, including nearly $140 million in 2016 and 2017.
Our company has advanced a new R&D vision, commencing a shift of resources from opioids to a clear, internal focus on cannabinoids, including clinical trials in infantile spasms (Phase 3), childhood absence epilepsy (Phase 2) and Prader-Willi syndrome (Phase 2), as well as the collaboration in autism research with UC San Diego's Center for Medicinal Cannabis Research. Additional research partnerships under consideration include addiction, childhood schizophrenia/early psychosis and post-traumatic stress disorder (PTSD).
Consistent with our mission to serve the interests of patients in need of innovative therapies, our company has prioritized research programs of two life-saving investigational products (naloxone and epinephrine) as part of fulfilling our commitment to be a socially-responsible, healthcare community citizen.
Initial clinical trials of these two product candidates—naloxone nasal spray for opioid overdose and epinephrine nasal spray for anaphylaxis—showed promising results, thereby providing hope for our company to file NDAs for these two life-saving potential products in 2018 and 2019, respectively.
Filing these two NDAs would support our company's aspirational goal of filing at least one NDA per year over the next five years.
Our company continues to put behind it the significant challenges caused by the inappropriate actions of certain former employees, most of which is over four or more years ago. It is our hope that our actions can help us continue regaining the trust of the healthcare community as we focus on the matters we can control. We believe that we have established a strong foundation to accomplish our stated mission and to bring value to patients and other stakeholders we have the privilege to serve.
About INSYS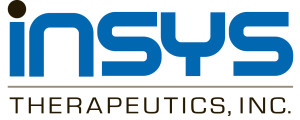 INSYS Therapeutics is a specialty pharmaceutical company that develops and commercializes innovative drugs and novel drug delivery systems of therapeutic molecules that improve patients' quality of life. Using proprietary spray technology and capabilities to develop pharmaceutical cannabinoids, INSYS is developing a pipeline of products intended to address unmet medical needs and the clinical shortcomings of existing commercial products. INSYS is committed to developing medications for potentially treating addiction to opioids, opioid overdose, epilepsy, and other disease areas with a significant unmet need.
Forward-Looking Statements
This news release contains forward-looking statements including discussions regarding the results of our R&D programs and our hope to file NDAs for certain programs and to file at least one NDA per year over the next five years. These forward-looking statements are based on management's expectations and assumptions as of the date of this news release. Actual results may differ materially from those in these forward-looking statements as a result of various factors, many of which are beyond our control. These factors include, but are not limited to, risk factors described in our filings with the United States Securities and Exchange Commission, including those factors discussed under the caption "Risk Factors" in our Annual Report on Form 10-K for the year ended Dec. 31, 2017 and subsequent updates that may occur in our Quarterly Reports on Form 10-Q. Forward-looking statements speak only as of the date of this news release, and we undertake no obligation to publicly update or revise these statements, except as may be required by law.
| | | |
| --- | --- | --- |
| CONTACT: | Corporate Communications | Investor Relations |
| | Joe McGrath | Jackie Marcus or Chris Hodges |
| | INSYS Therapeutics | Alpha IR Group |
| | 480-500-3101 | 312-445-2870 |
| | jmcgrath@insysrx.com | INSY@alpha-ir.com |