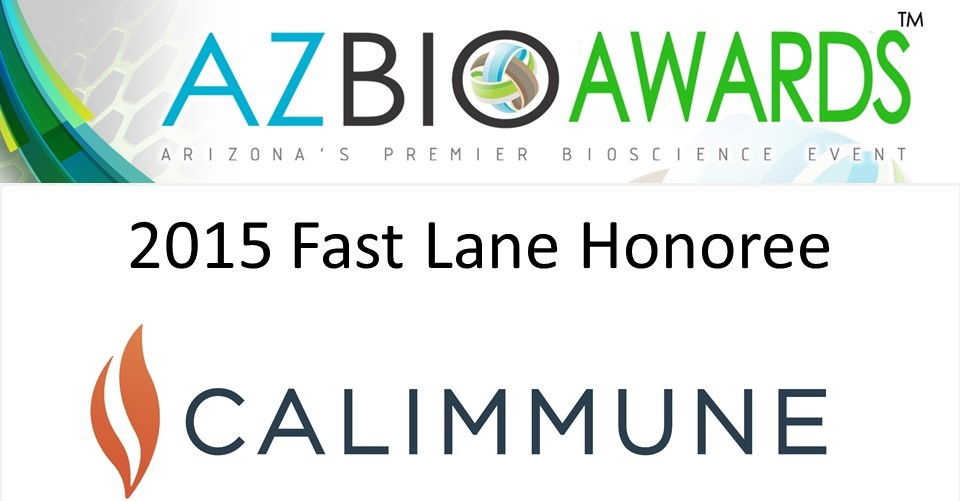 In recognition of its determination to provide hope to people around the world living with HIV/AIDS by developing a one-time or infrequent treatment therapy and for the progress they have made in both advancing clinical research and raising the funds needed for the journey, Calimmune, Inc. has been named a 2015 AZBio Fast Lane Company by the Arizona Bioindustry Association (AZBio).
Calimmune is a clinical-stage, international gene therapy company that has assembled a world-class medical and scientific research team to develop innovative cell-based gene therapies for several disease indications, including HIV. Calimmune is also developing a rich product candidate pipeline to address the needs of different types of individuals at different states of HIV infection and with different levels of treatment experience.
According to the World Health Organization (WHO), there were approximately 35 million people worldwide living with HIV/AIDS in 2013. Of these, 3.2 million were children (<15 years old).
The AZBio Fast Lane Award recognizes companies that surpassed crucial milestones on the journey from discovery to development to delivery. Significant progress can be measured by activity in the past 18 months in the areas of clinical results, regulatory approvals, certifications, collaborations, funding awards, product launches, job growth or product sales milestones.
"Calimmune's  progress in both the clinical trials process and in attracting the investments needed to support further testing is an excellent example of how, the combination of  innovative technology, a dedicated team,  and a passion for patients is making LIFE better" shared AZBio president and CEO Joan Koerber-Walker.  "While today's current therapies are helping patients manage their disease, today there is no cure.  If Calimmune is successful in completing this journey, the result will be life-saving for HIV infected patients and life-changing for the people who love them."
Cal-1, the company's lead therapeutic candidate, is a gene-based therapy engineered to control HIV infection and to protect individuals with HIV from progressing to AIDS. The therapy is currently being evaluated in Phase I/II studies. Cal-1 is designed to reduce production of CCR5, a protein on the surface of white blood cells that plays a critical role in enabling HIV to infect cells. It also has a second mechanism aimed at preventing viral fusion, the process by which the virus enters the cell. This dual approach was shown to be effective against broad strains of HIV in pre-clinical studies.
In clinical trials for Cal-1, volunteers with HIV are infused with their own blood stem cells as well as mature T cells that have been treated with Cal-1. Cal-1 is intended to protect the treated cells against HIV and has the potential to provide a continuous means of controlling HIV after a single treatment. The initial study sites are Quest Clinical Research in San Francisco and The UCLA CARE Center.
In 2015, Calimmune successfully completed its $15 million Series B financing round, led by AbbVie. Alexandria Venture Investments also joined with existing investors including RA Capital Healthcare Fund LP and Translational Accelerator LLC. Proceeds will be used to progress the company's ongoing HIV/AIDS clinical trials, advance technology research programs and general corporate operations.
Calimmune, Inc., HTG Molecular Diagnostics, Inc., and VisionGate, Inc. will be honored as AZBio Fast Lane Companies during the Tenth Annual AZBio Awards at the Phoenix Convention Center on October 1, 2015 in front of an audience of local, national, and international leaders.
Recent recipients of the AZBio Fast Lane Award include:  SenesTech, Cancer Prevention Pharmaceuticals, and Pinnacle Transplant Technologies.  For a full list of past honorees, visit www.azbio.org/azbio-awards-2015/awards-history
For registration and more information, go to www.azbioawards.com.
About AZBio
AZBio – The Arizona Bioindustry Association – is comprised of member organizations in business, research, government, and other professions involved in the biosciences.  AZBio supports the members of the Arizona bioscience community by providing access to the key resources, connections, and information that support their ability to Connect, Collaborate, Innovate and Succeed thus supporting the growth of a thriving economic ecosystem for Arizona's Bioscience Industry.  The AZBio Awards are an exciting opportunity to connect with Arizona's fastest growing industry sector.
For more information visit www.AZBio.org and www.AZBio.TV
 AZBio Media Contact: 
Joan Koerber-Walker, Arizona Bioindustry Association
jkw@azbio.org  480-332-9636
About Calimmune, Inc.
Calimmune Inc. is a clinical-stage biotechnology company focused on developing novel gene therapies that have the potential to improve and protect the lives of patients by enhancing their immune systems. The company was founded in 2006 from technology developed in the labs of Nobel Laureate David Baltimore, Ph.D. (California Institute of Technology), Irvin Chen, Ph.D. (University of California, Los Angeles) and Inder M. Verma, Ph.D. (Salk Institute for Biological Studies). Calimmune's lead product candidate for HIV, now in Phase I/II studies, is being evaluated as a one-time treatment to prevent HIV progression to AIDS. Calimmune is developing a full product pipeline of therapeutic candidates to address the unique needs of individuals at different stages of HIV infection and with various treatment histories. The company is headquartered in Tucson, Arizona with labs and branch offices in Pasadena, California and Sydney, Australia.
For more information visit www.Calimmune.com
Calimmune Media Contact:
Casey Sankey, Director of Communications
Calimmune, Inc.,  310-806-6240 x105  mediarelations@calimmuneinc.com
Mark Corbae, Vice President
Canale Communications  619-849-5375  mark@canalecomm.com
Images available upon request.