Total Artificial Heart Replaces Left Ventricular Assist Devices in 7 Patients With Total Artificial Heart.
Two Patients Bridged to Transplant, Five Currently Waiting for a Donor Heart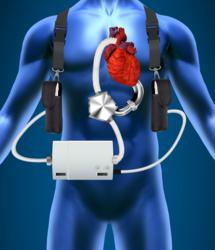 SynCardia Systems, Inc.,  manufacturer of the world's first and only FDA, Health Canada and CE (Europe) approved Total Artificial Heart, announced today that the SynCardia temporary Total Artificial Heart has recently replaced left ventricular assist devices (LVADs) in seven patients suffering from end-stage heart failure.
An LVAD is a continuous-flow,  mechanical pump that is implanted adjacent to the heart to assist or take     over the pumping function of the left heart ventricle. However,  professional papers have documented that right ventricular     dysfunction/failure is revealed or develops in 10-30% of patients who     receive an LVAD.
"Heart failure is a chronic and  progressive disease that usually affects the left ventricle first," said Michael Garippa, SynCardia Chairman/CEO/President. "At the time these  patients received an LVAD, it was an effective treatment option. However, their heart failure progressed to where left-side support was no longer  enough. The Total Artificial Heart was implanted as the optimal therapy to provide the biventricular support these patients needed to survive. This is a testament to the Total Artificial Heart becoming the new standard of care for end-stage biventricular failure."
In February 2012, a 26-year-old German man who had previously been supported with an LVAD received his     matching donor heart after 646 days (1 year, 9 months) of life with the Total Artificial Heart. The same month, a 57-year-old woman in Virginia  received her heart transplant after 103 days of support. The other five  LVAD patients received the Total Artificial Heart between March and May 2012 and are currently waiting for a matching donor heart… read more
Visit SynCardia's new website for:
The SynCardia temporary Total Artificial Heart is approved as a
bridge-to-transplant for people dying from irreversible, end-stage biventricular failure.