The University of Arizona College of Medicine – Phoenix will graduate its 500th physician Monday, May 6, during commencement ceremonies at the Orpheum Theatre in downtown Phoenix.

After four years of exams, clinical rotations and residency interviews, 67 medical students will receive their medical doctorate degrees. All graduating members of the Class of 2019 have matched into residency programs, where they will continue their medical education for another three to seven years, depending on their specialty.
Prior to commencement, students and faculty will process from the Phoenix Convention Center, 100 N. Third St., to the Orpheum Theatre, 203 W. Adams St. in downtown Phoenix. The procession will be led down Adams Street by the Phoenix Bagpipe Band.
The procession is scheduled to begin at 3 p.m. with commencement starting at 3:30 p.m.
"Each member of this class is capable of great distinction in clinical medicine, research education and service," said Guy Reed, MD, MS, dean of the College of Medicine – Phoenix. "We believe in them and we believe that they will make the world better through their talents and commitment.
The Class of 2019 has many remarkable students including:
Taylor Cushman, who worked for a year during medical school in the lab of James Welsh, MD, at MD Anderson Cancer Center in Houston. His research focused on combining radiation therapy with immunotherapy. Currently, most immunotherapy clinical trials have a response rate of around 20 percent, meaning 80 percent of patients do not respond to treatment. Cushman's research concluded that in certain treatment combinations, radiation therapy was not only beneficial, but essential to eliminate metastatic cancer. In his study, more than 70 percent treated with radiation and immunotherapy were cured.
Kathleen Vincent, who spent one week in the Dominican Republic and three weeks in Haiti treating patients through the college's Global Health Program. She said they were the most challenging and valuable experiences of her life. She is one of seven students from the Class of 2019 who will graduate with a Global Health Certificate of Distinction, and she speaks eloquently about her calling to the medical profession.
Jamil Jaber, a first-generation American and a first-generation college student. He received the Health Professionals Scholarship from the US Army and will continue his education by training to become a surgeon with the Army.
Nathan Goff, an Arizona native from Prescott where he continues to live with his wife and two children. He will graduate with a Rural Health Certificate of Distinction and intends to practice in a rural setting once he completes his residency in emergency medicine at the University of Cincinnati Medical Center. He believes that physicians in small towns are deeply embedded in the fabric of the community and can speak about the importance of training in a rural area.
Some facts about this graduating class, the 12th in the history of the UA College of Medicine – Phoenix.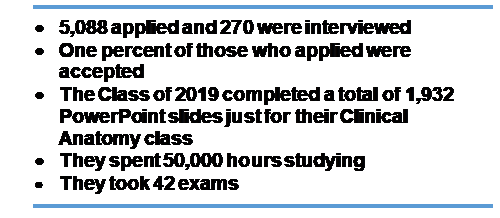 University of Arizona President Robert C. Robbins, MD, will attend the ceremonies and will offer welcoming remarks, as will Dean Reed.
Banner Health President and CEO Peter Fine will deliver the commencement address. Fine has led Banner through a significant transformation since he was named to lead Arizona's largest health-care system in 2000. Under Fine's direction, Banner negotiated a 30-year academic affiliation agreement with the University of Arizona. The agreement included a $1.2 billion investment in capital projects and support for clinical enterprises at the University of Arizona Health Sciences.
Graduating senior Aishan Shi was chosen to deliver the student address by her fellow classmates. Shi was chosen for her kindness, ambition, generosity and empathy. After graduation, Shi will pursue a residency in internal medicine at the UA College of Medicine – Tucson.
When the medical college opened its doors in 2007 as the first allopathic medical school in Phoenix, Arizona was suffering from a severe physician shortage. In just 12 years, the UA College of Medicine – Phoenix will have graduated 500 physicians, including this class.
Of the graduating UA College of Medicine – Phoenix students, 50 percent will pursue primary care fields such as family medicine, internal medicine and pediatrics. Arizona's physician shortage is one of the worst in the nation, with the state ranking 44th of 50 states in the number of primary care physicians. Twenty-four students will stay in Arizona for their entire residency. Overall, the students will continue their studies at programs in 25 states, including neurological surgery at the Cleveland Clinic, internal medicine at Harvard Medical School's Beth Israel Deaconess Medical Center in Boston and emergency medicine at the University of Southern California.