Dr. Fariba Donovan, an infectious diseases research scientist at the University of Arizona College of Medicine – Tucson, receives contract to examine how the failure to diagnose Valley fever impacts patient health, costs and `antimicrobial stewardship' of this respiratory infection endemic to the U.S. Southwest.
TUCSON, Ariz. – A University of Arizona researcher has been awarded a contract from the U.S. Centers for Disease Control and Prevention to examine how misdiagnosis of Valley fever can lead to unnecessary treatment, more complicated care, higher costs and misuuse of antibiotics.
Fariba Donovan, MD, PhD, assistant professor, University of Arizona Division of Infectious Diseases and a research scientist at the UA Valley Fever Center for Excellence, has won a nearly $120,000 contract from the CDC that will build on research she presented last summer, "Delays in Diagnosing Coccidioidomycosis (Valley fever) within its Endemic Region," at the Seventh International Coccidioidomycosis Symposium, a once-a-decade conference held this year at Stanford University.
Antibiotics are not helpful in treatment of Valley fever because it is a fungal (not bacterial) infection caused by inhaled spores native to soils of the region—with two-thirds of respiratory infections identified annually occurring between Tucson and Phoenix. The disease, however, frequently is misdiagnosed initially as the flu or pneumonia due to similarity in symptoms and patients, as a result, often are prescribed antibiotics initially. Dr. Donovan's research is the first to try to quantify that impact.
Such a study is long overdue, said John Galgiani, MD, founding director of the UA Valley Fever Center for Excellence. "Many patients go for far too long a delay in being diagnosed with Valley fever and yet we have little data to calculate how long those delays are and what the impact is. This is an opportunity to learn about those metrics and find ways to reduce delays, improve care and cut costs," he said.
In the Stanford presentation, Dr. Donovan said data from a 12-month chart review of electronic medical records for 360 patients (later culled to 180) showed the median delay to diagnosis of Valley fever was two weeks, but took as long as eight weeks in an outpatient setting. In nearly 40 percent of outpatients, the cost of diagnosis delay exceeded $2,000. The health risk and cost were higher for patients who suffered from "disseminated cocci," where infection spreads past the lungs.
With CDC funding, her team will look at another year of data to confirm their prior work and extrapolate detail in regard to unnecessary procedures and costs incurred before a correct diagnosis, as well as tabulate the amount of antibiotics administered.
Collaborators include Patrick Wightman, PhD, a research scientist with the UA Mel and Enid Zuckerman College of Public Health and health analytics director at the UA Health Sciences Center for Population Science and Discovery, and Terry Urbine, PhD, an instructor and associate research scientist with the UA College of Pharmacy in Phoenix and research statistician at the Phoenix VA Health Care System, which also will contribute data for the study.
"We will combine these two sets of data and show the delay, the health-care costs and extract the antibiotic usage," Dr. Donovan said.
"Ultimately, after the third step, the plan would be to come up with markers that we can implement in our medical records system that bring up a red flag or a warning to the physician or health-care providers to check for Valley fever," she added. "And, I'm going to emphasize this—it's something that hasn't been done anywhere else."
Dr. Urbine notes the VA brings a distinct advantage statistically to the study.
"What we offer in this study is a complete record of patient treatments and prescriptions from first encounter until proper diagnosis. Most veterans who use our system receive all their health care from that service, whereas most hospitals or health-care systems only see information associated with their facility and encounters at that facility," Dr. Urbine said. "Those patients may go to more than one hospital or clinic for treatment and they may get their prescriptions filled elsewhere. It's what the VA brings to this study, a very comprehensive view of these patients."
Dr. Donovan points out that physicians new to the area or those who come to train here from other parts of the nation may overlook a diagnosis for Valley fever when treating patients for respiratory infections. The repercussions for patients can be significant – and not just from Valley fever itself. Overuse of antibiotics can weaken the body's natural defenses by compromising the gut microbiome and making patients more susceptible to C. difficile infections, she said. Overuse also weakens effectiveness of antibiotics in general, risking further resistance when most needed.
Dr. Urbine agreed.
"I wouldn't go so far as to say this will improve use of antibiotics for other health-care issues, but identifying the extent to which antibiotics are overused in the treatment of Valley fever is a step toward improved antimicrobial stewardship overall," he said.
Valley Fever Awareness Week, Nov. 11-19
The center's community awareness campaigns and educational resources for primary care professionals also are important, Dr. Donovan added. This year, the Valley Fever Awareness Week, held by proclamation of the Arizona Governor's Office since 2003, is Nov. 11-19. A highlight of the week, the 22nd Annual Farness Lecture, was postponed until Jan. 31, 2018, due to UA College of Medicine – Tucson 50th Anniversary Founders Week 2017 festivities. Marcus A. Horwitz, MD, a professor of medicine and former chief of the UCLA Division of Infectious Diseases and a past CDC epidemic intelligence officer, will be the keynote speaker. Click here for the 2017 Valley Fever Awareness Week flyer.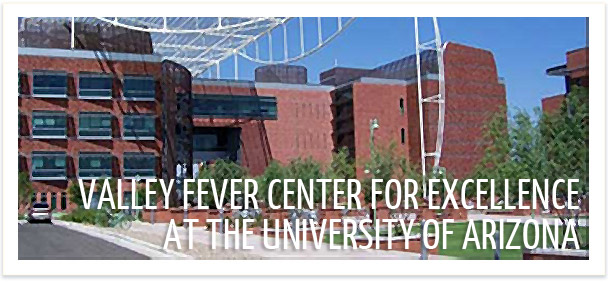 About the University of Arizona Valley Fever Center for Excellence
In 1996, the Arizona Board of Regents established the Valley Fever Center for Excellence at the University of Arizona to address problems created by the fungus, Coccidioides, the cause of Valley fever, also known as coccidioidomycosis or cocci. In the last decade, about 123,500 cases were reported—about 95 percent in Arizona and California, but low-testing rates suggest Valley fever may be vastly under-recognized. Some cases are mild, some so severe it spreads past the lungs. In about 150 cases a year, the patient dies. It also affects animals, including pets and livestock. The center works to spread public awareness and education about Valley fever, promote high-quality care for the disease and pursues research to improve treatment therapies and to develop a vaccine. To learn more, please visit vfce.arizona.edu