The global pandemic caused by the novel coronavirus has affected nearly every aspect of daily life in Arizona and across the nation, putting many summer activities on pause in the midst of great uncertainly. But as ASU advances an ambitious agenda designed to keep the Sun Devil community safe this coming academic year, research at the Biodesign Institute marches forward.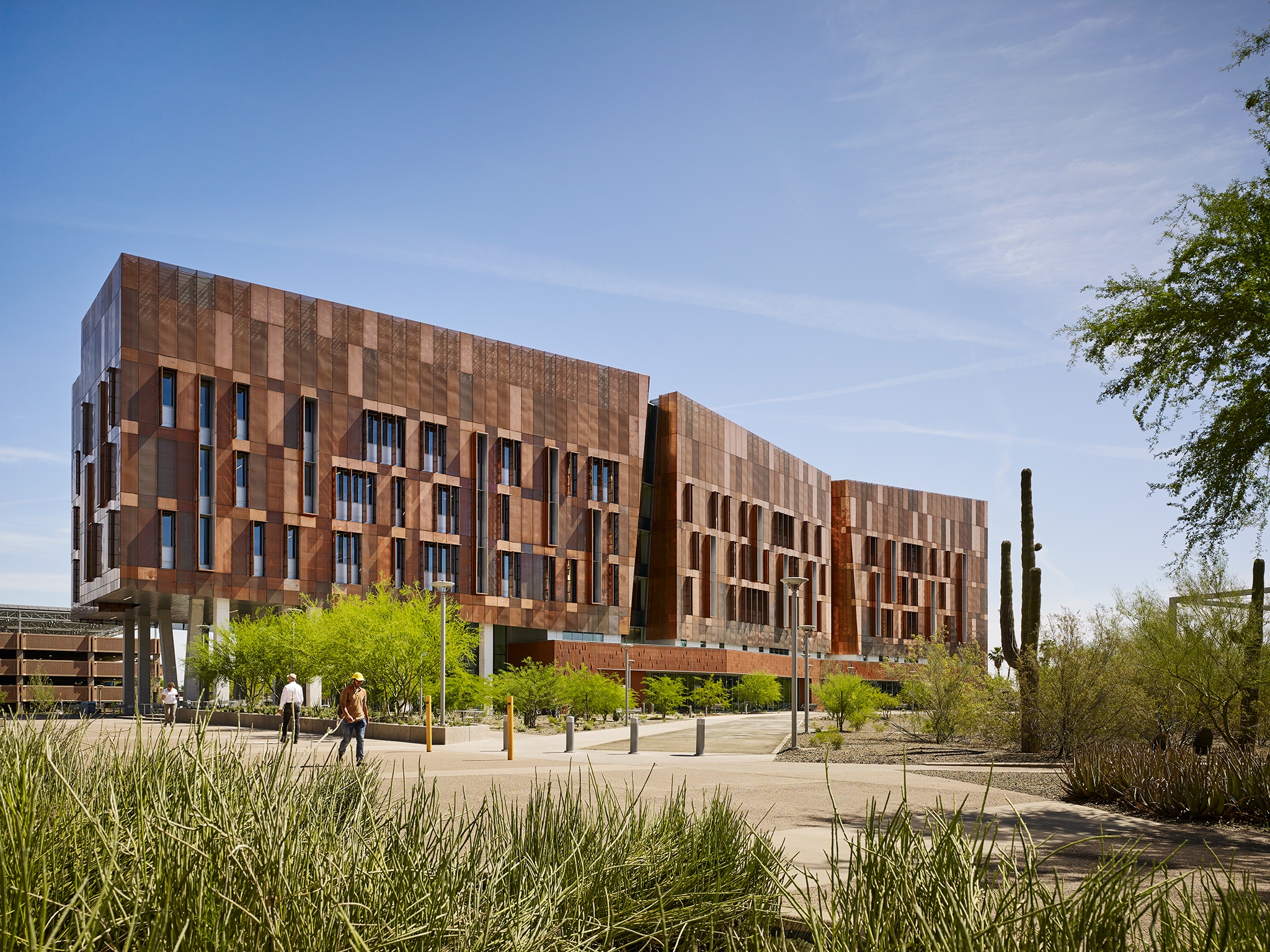 ASU Biodesign Building C, the latest addition to the Biodesign Institute (Image Courtesy of McCarthy)
Research at Biodesign is helping healthcare workers confront the spread of COVID-19, the worst public health crisis in over a century. As the Institute's virologists study the inner workings of SARS CoV-2, Biodesign has rolled out a versatile, highly accurate, saliva-based testing strategy in collaboration with the Arizona Department of Health and Human Services. Measures to significantly increase testing, including a strategy of pooling samples to lower costs and maximize efficiency, are also being developed.
Biodesign's research endeavors in many other scientific domains also continue apace, with the announcement of three new research centers/labs and the appointment of ten new faculty members. These efforts strengthen the Institute's already formidable capacities and position ASU at the forefront of emerging research in areas including microbiomics, neurodegenerative disease research, evolutionary mechanisms and computer security.
"I'm excited to welcome an impressive crop of new faculty, joining the institute's expanding research fleet in 2020," said Joshua LaBaer, Executive Director of the Biodesign Institute and director of the Virginia G. Piper Center for Personalized Diagnostics. "All are outstanding researchers in their field, positioned to make significant contributions in diverse areas."
Timothy Long comes to ASU from a distinguished career at Virginia Tech, where he held the position of professor of chemistry and director of the Macromolecules Innovation Institute. Long, will now direct a brand-new research initiative, the Biodesign Center for Sustainable Macromolecular Materials and Manufacturing (BCSM3). Some 600 billion pounds of polymers (plastics) are produced each year across the globe, used in applications ranging from radiation treatment for cancer to space exploration. Long applies techniques of green chemistry and engineering to the production of more sustainable polymeric materials. His work involves the study of novel polymer materials for advanced manufacturing, bio-inspired thermoplastics and adhesive technologies, bio-derived polymers with biodegradation, employing novel 3D printing techniques for reduction of waste and access to unprecedented geometries of printed objects. Long, a recipient of numerous awards, received the 2019 Virginia Outstanding Faculty Award and was named an AAAS Fellow in 2016.
Rosy Krajmalnik-Brown, a longtime researcher in the Biodesign Swette Center for Environmental Biotechnology, will now direct a new center: The Biodesign Center for Health through Microbiomes (BCHTM). The group's research will span fundamental to applied science, while forging strong industry collaborations. The BCHTM Center will explore human intestinal microbial ecology and its relationship to obesity, metabolism and autism as well as carrying out pathbreaking investigations of the gut-brain nexus, with vital implications for disease treatment and behavioral research. The emerging field of microbiomics is poised to make major contributions to the understanding of how microbial communities regulate health. When such communities fall out of balance, a broad range of serious diseases may result, including obesity, type 2 diabetes, altered metabolism, autism, depression, irritable bowel syndrome, colon cancer, and many other health issues. Microbiomic research provides a unique window for the understanding and treatment of these afflictions.
The Beus CXFEL Laboratory is the jewel in the crown of Biodesign's new Building C. This futuristic Compact X-ray Free Electron Laser facility is being developed in two stages and will enable researchers to peer into the workings of complex proteins and into quickest events in molecules and materials with spectacular acuity. Core applications encompass static and time-resolved crystallography by Petra Fromme's group and colleagues in the Biodesign Center for Applied Structural Discovery. Now, Robert Kaindl has been appointed to direct the CXFEL lab. Prior to joining ASU, Kaindl was a Principal Investigator in the Materials Sciences Division at Lawrence Berkeley National Laboratory. He is a leading expert in quantum materials and ultrafast science, focused on exploring condensed-matter phenomena on the shortest time scales. His research over two decades also includes the development of novel laser techniques across the spectrum of light, from terahertz to X-rays. Kaindl received his Ph.D. in Physics from Humboldt University of Berlin, Germany in 2000 and was recently elected a 2019 Fellow of the American Physical Society. At Biodesign and as a professor in ASU's Physics department he will pursue new frontiers of light-driven materials phenomena using a multi-modal suite of time-resolved tools ranging from ultrafast optical and photoelectron probes up to CXFEL's powerful X-ray pulses.
Yonas Geda is a professor of neurology and psychiatry and a consultant, Department of Psychiatry & Psychology, and Department of Neurology, Mayo Clinic. Geda, who earned his medical degree from Addis Ababa (Haile Selassie) University in Addis Ababa, Ethiopia is a practicing psychiatrist and behavioral neurologist. He is a National Institutes of Health, European Union and industry-funded investigator studying the neuropsychiatric aspects of Alzheimer's disease and related cognitive disorders. His research includes the study of lifestyle factors and their effects on the brain; sleepiness and major dementia; and neuropsychiatric symptoms of normal cognitive aging, among other areas. Dr. Geda is co-director of the Research and Education Component (REC) of the Alzheimer's Disease Research Center. He joins the Biodesign Center for Bioelectronics and Biosensors.
Two new faculty join the Biodesign Center for Mechanisms of Evolution. Prior to his new appointment at Biodesign, John McCutcheon was associate professor, Division of Biological Sciences, University of Montana. McCutcheon's research occurs at the nexus of symbiosis, genomics and cell biology. Through a combination of approaches, including genomics, microscopy, molecular biology, molecular evolution, biochemistry, and field biology, McCutcheon explores issues surrounding symbiotic relations and endosymbiont evolution, among the most important and perplexing areas of biology. His research group works with sap-feeding insects and their endosymbiotic bacteria, as well with cell culture and a variety of intracellular bacteria. He is especially interested in transitions between host-beneficial and host-pathogenic relationships.
Ke Hu was a Postdoctoral Fellow at The Scripps Research Institute, and professor in the Department of Biology at Indiana University, Bloomington, prior to her new appointment at ASU. Among her research interests is the single-celled parasitic organism Toxoplasma gondii, one of the most successful parasites on earth, which permanently infects nearly 20% of the global population. Such infections pose a particular threat to immunocompromised patients as well as the developing fetus. Study of this pathogen can also shed light on roughly 6000 related organisms in the phylum Apicomplexa, which includes malarial parasites.
The Biodesign Center for Biocomputing, Security and Society (BSS) also gained two new faculty members: Jedidiah (Jed) Crandall and Ni Trieu. In addition to his new appointment with BSS, Crandall is an associate professor in ASU's School of Computing, Informatics, and Decision Systems Engineering. He comes to ASU from the University of New Mexico, where he was a professor in the Department of Computer Science, having received his Ph.D from the Computer Science Department at U.C. Davis. Crandall's research concerns the vital topic of Internet freedom. Crandall tracks Internet censorship around the world, focusing on both the content of suppressed information and the methods used to censor. His research also includes the ecology and evolution of malicious software, Internet routing, and censorship blacklists.
Trieu was awarded her Ph.D from Oregon State University and carried out her postdoctoral research at U.C. Berkeley before arriving at ASU as an assistant professor. She has a joint appointment between BSS and the School of Computing, Informatics, and Decision Systems Engineering (CIDSE). Her research interests are in the area of cryptography and security, with a specific focus on secure computation and its applications such as private set intersection, private database queries, secure machine learning, and privacy-preserving biocomputing. Recently, she has published on the topic of secure contact tracing to control disease outbreaks like COVID-19 with an emphasis on providing sufficient coverage through multiple data sources while maintaining user's privacy and preventing several security attacks.
Qiyun Zhu is a computational biologist in the field of microbiomics. He joins the Biodesign Center for Fundamental and Applied Microbiomics. He comes to ASU from the laboratory of Rob Knight, a leader in the field of microbiomics who led many large-scale, data-intensive projects, such as the Earth Microbiome Project and the American Gut Project. Zhu's research interests include the development of computational tools and resources to improve the analysis of microbiome data, the study of various host and environmental microbiomes and their influence on human health, and the investigation of the evolution of microbes and their hosts, with focus on vertical and horizontal genetic connections between organisms. He will build a collaborative platform for microbiome data science to benefit scholars from multiple disciplines in the ASU research community.
The Biodesign Center for Immunotherapy, Vaccines and Virotherapy also picked up two new faculty. Esther Florsheim completed her doctorate at the Universidade de São Paulo, Brazil. She joins the Biodesign Institute following her work as a postdoctoral researcher in immunology in Ruslan Medzhitov's laboratory at Yale University School of Medicine. Her research interests include the study of how and why allergens and their associated immune responses evolved. To explore these topics, she
uses experimental models of allergies and drug hypersensitivities as well as investigating neuroimmune interactions and behavioral outcomes. Some of Florsheim's recent studies have explored strategies to improve tolerance to chemotherapy; the importance of proteases and allergic inflammation; and allergic responses to the saliva of Aedes aegypti mosquitos, causative agents of infectious diseases including yellow fever, dengue fever, chikungunya and Zika.
Yize (Henry) Li was a research associate in the laboratory of Susan Weiss at the University of Pennsylvania, after earning his Ph.D in virology from Institut Pasteur of Shanghai. In the Weiss lab, Li worked on projects including a rapid test for the novel coronavirus. Li is a specialist in virology, immunology and antiviral innate immunity. To investigate these topics, he makes use of advanced bioinformatics, protein chemistry, reverse transcription polymerase chain reaction (RT-PCR), molecular biology, and cell culture techniques. In recent studies, he has explored innate immune pathways during infection with Middle East Respiratory Syndrome (MERS); suppression of innate immune response by coronaviruses to facilitate viral replication; and drugs affecting epigenetic silencing and their effect on tumor cell survival.
"Our new faculty and research centers will further expand the institute's scientific portfolio into innovative and exciting domains," Biodesign director LaBaer says. "I'm gratified to see the rapid growth in research intensity at a time when science is increasingly taking center stage in our daily lives."
Written by: richard harth
Source: https://biodesign.asu.edu/news/undaunted-asu-science-forges-ahead-despite-worldwide-crisis