Two ClōSYS Alcohol-Free Oral Health Rinses are the first mouth rinses to be awarded the ADA Seal of Acceptance for the management of oral malodor.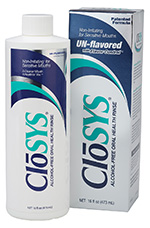 The ADA Council on Scientific Affairs in May accepted the rinses based on the council's finding that the products are safe and have shown efficacy in helping to reduce oral malodor (bad breath) when used as directed.
ClōSYS Unflavored Oral Rinse and ClōSYS Gentle Mint Oral Rinse oral rinses are the first in the nation to pass the ADA's standards for clinical evidence required for the Seal. Marketed as "gentle oral care" for sensitive mouths, received the ADA Seal for both its Unflavored and Gentle Mint varieties.
"As the ADA Seal of Acceptance program is a well-established and well-respected symbol of excellence in dentistry, we are delighted to have ClōSYS Unflavored Oral Rinse and ClōSYS Gentle Mint Oral Rinse be the first mouth rinses awarded the ADA Seal for the management of oral malodor," the makers the mouthwash, Rowpar Pharmaceuticals, Inc., said in a statement to ADA News. "Dental professionals and patients have a lot of products to choose from and this new ADA Seal helps dental professionals and the general public better understand the ClōSYS difference. We are honored and excited to receive this recognition."
Bad breath is a strong indicator of oral disease. CloSYS provides a cure, not a cover-up, to oral malodor, by oxidizing volatile sulfur compounds and killing oral pathogens resident in mature oral biofilms without killing osteoblasts and fibroblasts critical to healing and without harming bacteria associated with a normal healthy oral ecology.
To see the complete list of ADA Seal-accepted over-the-counter products, visit ADA.org/Seal.
Dr. Perry Ratcliff, one of America's leading periodontists and experts on dental health and gum disease, and a team of leading dental professionals created ClōSYS in 1991.
During Dr. Ratcliff's 50 plus years of clinical practice, he discovered that stabilized chlorine dioxide helped to significantly reduce the harmful bacteria in the mouths of his patients. This discovery led him to create the patented formula Cloralstan™, the active ingredient that makes ClōSYS uniquely different and effective.
Located in Scottsdale, Arizona, Rowpar Pharmaceuticals, Inc. is an organization dedicated to providing innovative oral health solutions. Its mantra is "A Cleaner Mouth, A Healthier Body."
Rowpar services the dental, healthcare and consumer markets, and has become a recognized leader in the focus on overall health through oral health. The company sells its ClōSYS oral care products throughout the United States, Australia and Canada at dental offices, retail outlets and online.