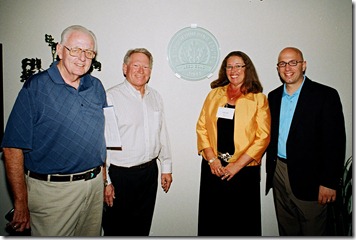 On Tuesday July 12, 2011, I traveled to Southern Arizona to join Dr. Ken Wertman and the team at Sanofi US as they celebrated another milestone. This time it is not for groundbreaking advancements in human and animal health. Instead we were recognizing the team's achievement of  LEED Gold Certification at their home in Oro Valley, Arizona and congratulating the team that made it happen. Laboratories are very difficult to certify because of demands posed by air handling and other challenges in an environment where scientific experimentation is taking place. Sanofi-aventis U.S. strives to limit the environmental impact of their business and the team is proud of having achieved a Leadership in Energy and Environment Design (LEED) certification.
LEED is a building rating system that was developed by the US Green Building Council in 2000 and is a nationally accepted benchmark for design, construction and operations of high performance "green buildings". The 110,350 square-foot site was constructed in Oro Valley Innovation Park with the grand opening held on January 13, 2010. Of all the buildings in the U.S. that are LEED certified, only two percent are laboratories. Sanofi  US  operates two of those laboratories, one in Cambridge, MA and the one here in Oro Valley just north of Tucson, Arizona.
Another highlight of the trip was getting to spend some time with Dr. Ken Wertman and learning more about his journey, why Sanofi  US chooses Arizona, and what they do here.
Kenneth F. Wertman earned a PhD in Molecular and Cellular Biology from the University of Arizona in Tucson. He received his Postdoctoral Research training at Massachusetts Institute of Technology in Cambridge, Massachusetts. Dr. Wertman subsequently took employment at Genentech in South San Francisco, and later, in the Molecular and Cellular Biology Department at University of California at Berkeley.
Dr. Wertman returned to Arizona in 1992 to join the Selectide Corporation; a founding biotech company in the then newly invented field of combinatorial chemistry. During the subsequent ten years of innovation, application and maturation, combinatorial chemistry has become a productive centerpiece in the industry's early drug discovery toolbox; and Selectide, has become a strategic element with the world's third largest pharmaceutical corporation, Sanofi US. Through these years Dr. Wertman has served the Sanofi US Tucson organization in a variety of capacities, including the establishment and leadership of laboratories for gene cloning/expression, drug discovery/optimization, chemical library production, and scientific portfolio management.
He is presently the Scientific Director of the Tucson Research Center, and Director of the Tucson component of the Lead Generation and Candidate Realization Platform of Sanofi US.
Here are some of the questions I asked Dr. Wertman and what he had to share:
AZBIO: What attracted Sanofi US to Oro Valley and to AZ? What brought you here and why did you stay?
KW:  Through its legacy companies, Sanofi US have been present in the Oro Valley area for two decades. The Research Center in Oro Valley has existed since December 1990 and is devoted to combinatorial technologies in support of Drug Discovery Research. In selecting the new location the demographics of our associates was taken into account. There was no laboratory space available in the area. Sanofi US elected to design and construct a new Research Center in the growing Oro Valley Innovation Center. The new site is 3 ½ miles from our previous location. The new 110,350-square-foot, state-of-the-art facility more than doubles the space of the previous research facility. The site's 85 employees and contract staff are involved in early drug discovery efforts, providing promising compounds to R&D teams around the world. Sanofi US just recently sold their previous lab and office location to the University of Arizona.
AZBIO: Why did Sanofi US make the investment in LEED certifying the Oro Valley facility? Are other Sanofi sites LEED certified?
KW:  Sanofi US made the capital investment necessary to achieve LEED Gold Certification because the company truly believes in building facilities that are Energy Efficient and a model of sustainability. Sanofi US has a completed lab facility in Cambridge, MA that is LEED Silver Certified. Sanofi US is in the process of designing a new lab facility in Cambridge where they aspire to LEED Gold Certification. Sanofi's US Genzyme subsidiary has two facilities in Massachusetts that are  also  LEED Certified.
AZBIO: What was the process like to accomplish this.
The first Sanofi US research laboratory to  achieve LEED Gold Certification (Note – Only 2% of the projects certified as LEED by the U.S. Green Building Council are Laboratories). The projects are awarded points for implementing strategies that promote sustainability. Sanofi US continues to pursue gold-level certification in LEED (Leadership in Energy and Environmental Design) from the U.S. Green Building Council. The laboratory facility consumes 21.5 percent less energy than a conventional lab building, savings sufficient to heat and cool 75 homes for a year.
To ensure high level of safety – implemented a "Red Dot" Safety management process to maximize safety during the construction project.
Energy efficient: (1) 600 ton chiller during day, 350 tons during the night meet building load
Installed a Solar Hot Water pre-heat system
 Set the standard for the Town Of Oro Valley's major construction project administration
Recycled approximately 856 tons of construction waste
Building design and operation reduced carbon footprint by approximately 2.3 million pounds
Other LEED related items:
· Provided Bicycle Storage and changing facilities for employees who bike to work
· The Innovation Park Drive location provides access to three (3) different modes of Public Transit for employees who choose not to drive to work
· During construction the Sanofi US team employed a storm water management quality control program to minimize site runoff
· We are providing 77 parking covers in the parking lot to reduce the heat island effect on our site and improve the environment by reducing the "baking" effect of the sun on the ground
· Sanofi US designed the site lighting to reduce the effect of light pollution, which is a very sensitive topic  for astronomy in Arizona
· Sanofi US designed a 50% water use reduction in the landscape irrigation system
· Sanofi US installed water-less urinals in all men's restrooms
· Sanofi US installed occupancy sensed faucet control on all restroom fixtures
· Optimized energy design to reduce consumption by 21%
· Employed enhanced refrigerant management on the chilled water generators to minimize ozone depletion
· Used heat recovery on the laboratory exhaust to achieve the reduced energy consumption highlighted previously
· Used evaporative cooling to take advantage of the dry Tucson climate, again to reduce energy consumption
· Installed the FIRST Chilled Beam system in a Sanofi US building in the U.S.
· Installed a solar hot water preheat system on the Mechanical Heating Hot water system
· Employed low emitting products throughout construction
· Recycled approximately 856 tons during construction
· Reduced carbon footprint by approximately 2.3 million pounds.
· Saved enough energy to heat and cool 75 homes for a year
· Recycled 300 gallons of water per day from DI and condensate waste.
AZBIO: That's quite a list. Who were your partners in making this happen?
KW:  The companies were:
It was a wonderful day and a wonderful experience meeting the Sanofi US team.
They are all understandably proud of what they have accomplished and what they continue to do each day to move science forward faster. Here at AZBIO we are proud that they are an active and engaged part of our Arizona biosciences community not to mention a great contributor in our states most vibrant business sector.
About Sanofi US:
Sanofi US, is part of Sanofi, a global and diversified healthcare leader, which discovers, develops and distributes therapeutic solutions focused on patients' needs. Sanofi has core strengths in the field of healthcare with seven growth platforms: diabetes solutions, human vaccines, innovative drugs, rare diseases, consumer healthcare, emerging markets and animal health. Sanofi is listed in Paris (EURONEXT: SAN) and in New York (NYSE: SNY).
About AZBio – The Arizona BioIndustry Association:
Business + BioScience for a Better Arizona
AZBio is comprised of member organizations in business, research, government, and other professions involved in biosciences. Its mission is to serve our Members, both as organizations and as individuals, by providing access to the key resources, connections, and information that support their ability to Connect, Collaborate, Innovate and Succeed thus supporting the growth of a thriving economic ecosystem for Arizona's Bioscience Industry.