As Arizonans vote with early ballots or prepare to go to the polls in November, 50 Arizona physicians explained why it is important to vote "no"  on Proposition 303 and Joan Koerber-Walker explains her personal concerns with this piece of public policy in a debate on Arizona Horizon.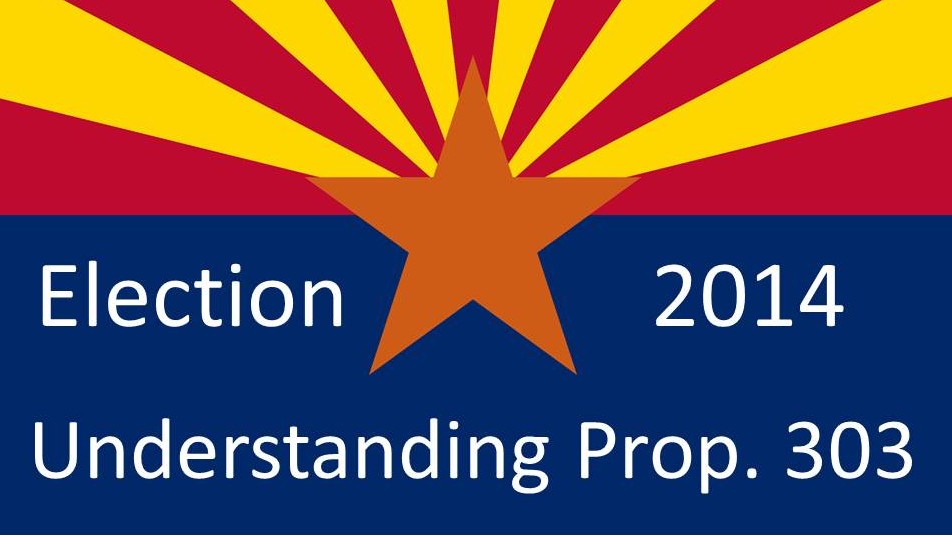 On October 14, 2014,  50 Arizona doctors went on record on AZ Central's "AZ We See It" asking that Arizonans vote "No"  on Proposition 303.
Their letter begins with:
Proposition 303, the "Right to Try" ballot question, has its heart in the right place, but its mind, sadly, is not.
And ends with:
… if we are trying to make this issue one of health-care policy and access, we owe it to these patients to have a law that doesn't just tug at our heart but has a real chance to offer true hope.

We owe them a law that doesn't endanger their health, doesn't have the potential for financial disaster and shows real promise in other patients. Involving cancer physicians and nurses and others who have an interest in crafting such a law would be a great first step.

Sadly, Proposition 303 is not such a law, and we urge you to vote no on this measure.
You can read the full letter here.  Doctors: Prop. 303 isn't in patients' best interests
The following day, Arizona Horizon (PBS Eight) hosted a debate moderated by Ted Simon on Proposition 303.
You can watch the full debate from the 8:16 minute mark.
"Proposition 303 would allow a terminally ill patient, with a doctor's recommendation, to try medicine and treatments that have not received full approval by the U.S. Food and Drug Administration. Paulina Morris, a supporter of the measure, and Joan Koerber-Walker, president and CEO of the Arizona Bioindustry Association, will discuss the pros and cons of the "Right to Try" initiative." (Source: Arizona Horizon)
For clarification, during the debate, mention was made of the Goldwater Institute's role in the proliferation of Right to Try measures in several states.  You can view the model legislation published by Goldwater here.     Gibson McKay,  a public affairs consultant whose client list includes the Goldwater Institute was originally scheduled to speak in support of Prop. 303 on this episode of Arizona Horizon.  Mrs. Morris was substituted shortly before airtime.
In addition to actively supporting and speaking out for Prop. 303,  Paulina Morris has in the past described herself as a "tough lawyer" and a "Goldwater Republican."   As an attorney, she is most likely familiar with the challenges that will result from a state law that creates a process that directly conflicts with federal law and its established process.
Preemption is a legal doctrine based on the Supremacy Clause of the U.S. Constitution that holds that certain matters are of such a national, as opposed to local, character that federal laws preempt or take precedence over state laws. As such, a state may not pass a law inconsistent with the federal law.
The Food and Drugs Act of 1906 was the first of more than 200 laws that constitute one of the world's most comprehensive and effective networks of public health and consumer protections. Here are a few of the congressional milestones:

The Federal Food, Drug, and Cosmetic Act of 1938 was passed after a legally marketed toxic elixir killed 107 people, including many children. The FD&C Act completely overhauled the public health system. Among other provisions, the law authorized the FDA to demand evidence of safety for new drugs, issue standards for food, and conduct factory inspections.
The Kefauver-Harris Amendments of 1962, which were inspired by the thalidomide tragedy in Europe (and the FDA's vigilance that prevented the drug's marketing in the United States), strengthened the rules for drug safety and required manufacturers to prove their drugs' effectiveness.
The Medical Device Amendments of 1976 followed a U.S. Senate finding that faulty medical devices had caused 10,000 injuries, including 731 deaths. The law applied safety and effectiveness safeguards to new devices.
As the federal statutes are well developed and established in the case of ensuring that drugs, biologics and medical devices are safe and effective, state based "right to try" laws and the "protections" they offer are problematic.
Preemption is just one of the issues with Prop.303. While this piece of public policy may be well intended, it is poorly designed.
Here's what Arizona State Representative Eric Meyer, MD shared on his blog.
When I cared for patients with terminal cancer and other diseases, I did what was in the patient's best interest and worked with specialists to improve outcomes. I have carried that ethic and those ideals to the legislature. When "Right to Try" came before the State House of Representatives this past session, I voted no because my concerns related to patient safety remained unresolved. My concerns today are the same:
The proposition creates false hope for a vulnerable population. There are no medical, legal or financial protections for patients.
This bill would allow any two doctors to determine when a patient is "terminal," and prescribe medications with little or no training or oversight. There is no ability to restrict physician involvement to doctors whose specialty relates directly to the disease or condition the patient is suffering from.
Proposition 303 provides loopholes that could allow abuse by individuals or organizations not bound by safeguards put in place to protect patients.
There is no oversight of experimental treatments and no consequences for abuse or misuse of treatments. Physicians could prescribe questionable medications with no fear of censure or loss of their licenses. Worse, state employees who report concerns about potential malpractice could be charged with a crime.
Drugs that have cleared phase 1 trials on healthy volunteers would be available to terminally ill patients, without monitored phase 2 trials to test effectiveness on people who are ill. Phase 1 trials determine possible side effects; 70 percent of the drugs entering phase 2 trials are found to be toxic or ineffective. Just 1 in 20 cancer drugs that start the FDA approval process make it to market. Additionally, Proposition 303 does not provide for record keeping of patient outcomes; if an experimental treatment worsens a patient's condition, there is no reporting requirement.
"Right to Try" was written by politicians and lobbyists, not doctors.
There is already a Compassionate Use program in place that allows specialty physicians to refer patients into clinical trials if they are not responding to approved therapies. This process has appropriate oversight and patient protections in place, unlike Proposition 303.
So, the question becomes, what problem does this legislation solve? Who is helped? From my perspective, Proposition 303 is an attempt to get around federal regulations in the guise of helping very sick patients try treatments that are not proven to be effective and may worsen their conditions. There is no accountability for outcomes and no provision for who pays for the experimental treatments. We all want to give sick patients every chance to survive, but we also want to protect them from unproven experimental procedures that could cause needless suffering and premature death. Many of us know friends and family members who have died from complications of their treatment; I believe that the provisions of Proposition 303 will only exacerbate this very difficult problem. I would agree that there are seemingly needless delays in bringing some promising drugs to market, but Proposition 303 is not the solution to that delay. There are already professionals in the healthcare community, patient groups, the FDA, NIH and Congress working to shorten the process of clinical trials and drug approvals.
 ###
About Joan Koerber-Walker
As president and CEO of the Arizona Bioindustry Association, Joan Koerber-Walker, works with  life science innovators, elected leaders and patient groups to help life science innovations move from discovery to  development to delivery to the patient.  Her position on Prop. 303 and her personal activities in helping Arizona voters understand what Prop. 303 does or does not do are her own and are not intended to  represent the official position of AZBio or all AZBio Member Companies.