The 2017 AZBio Trailblazer Honorees are: House Speaker JD Mesnard, Senator Nancy Barto, Senator Kimberly Yee, Senator Kate Brophy McGee, Representative Lela Alston, Representative Heather Carter, Representative Regina Cobb, DDS, Representative Randall Friese, MD, and Representative Jay Lawrence.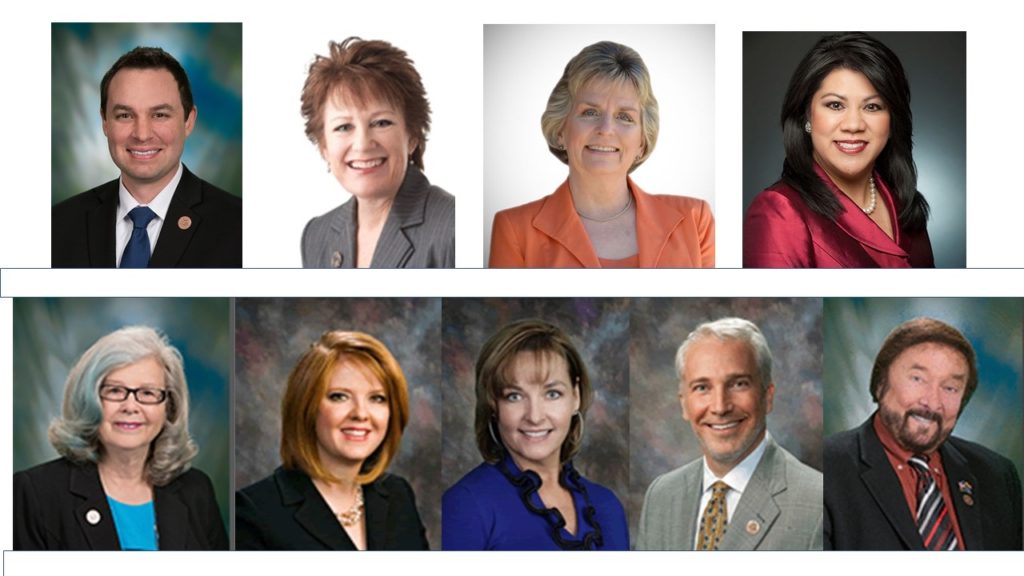 Announcing the 2017 AZBio Trailblazers
Each year, AZBio looks back across the legislative session to identify those leaders whose actions and active engagement support the growth of Arizona's life science and healthcare industry and help to ensure the people of Arizona benefit from its success. Scores are then tallied and the top ten legislative leaders are named the year's Trailblazers.
2017 has been a remarkable year thanks to the Arizona Legislature's leadership in re-establishing funding for Arizona's Angel Investor Tax Credit at $10 M ($2.5 M over the next 4 years), extending the Quality Jobs program until 2025, extending the current research and development tax-credit program for five years. Improvements were made to our JTED education programs, newborns will receive additional screening for Severe Combined Immunodeficiency (SCID), our schools will be able to have inhalers on hand to help students in need of intervention, and last but definitely not least, we now have One Billion reasons why University Research has a brighter future in Arizona.
This year's Trailblazers come from both sides of the aisle and both the Senate and the House. They are champions for quality education, improving healthcare delivery, and supporting the growth of our life science ecosystem.
The 2017 AZBio Honorees are:
House Speaker JD Mesnard
Senator Nancy Barto
Senator Kimberly Yee
Senator Kate Brophy McGee
Representative Lela Alston
Representative Heather Carter
Representative Regina Cobb, DDS
Representative Randall Friese, MD
Representative Jay Lawrence
AZBio, members of the Arizona business and bioscience community and guests will come together on December 14, 2017 for a special luncheon to honor members of the Arizona Legislature and along with the State and Local Elected Officials who have made it possible for the Arizona Bioscience Industry to gain national recognition, build capital infrastructure, and take its place as a leader in both scientific discovery and job growth for the 2017 AZBio Trailblazers Awards and Legislative Luncheon.
The Next 20 Years
In 2017, Arizona's Bioscience Cluster celebrates its 20th anniversary. The Trailblazer luncheon will feature a panel discussion focused on the Next 20 Years as our panel looks ahead at the opportunities and potential for both Arizona's Bioscience Sector and the role we can play in the future of life saving and life changing innovation. Join us for a discussion with Tammy McLeod, President & CEO of the Flinn Foundation, Andreas A. Theodorou M.D., FCCM, FAAP, Chief Clinical Education Officer, Banner – University Medicine Division, Professor and Vice Chair for Clinical Affairs and Quality Department of Pediatrics University of Arizona College of Medicine, and co-principal investigator for the All of Us Research Program, and moderated by Joan Koerber-Walker, President & CEO of AZBio.
To see how far we've come in the 1st 20 Years, click here.
Click here for more information and to register to join us for Trailblazers