The 2018 AZBio Trailblazer Honorees are: Senator Nancy Barto, Senator Sean Bowie, Senator Kate Brophy McGee, Representative Douglass Coleman, Representative Heather Carter, Representative Regina Cobb, DDS, Representative Randall Friese, MD, Representative Mark Finchem, Representative Maria Syms, and Representative Jeff Weninger.
Senator Kimberly Yee will be honored with the Chairman's Award.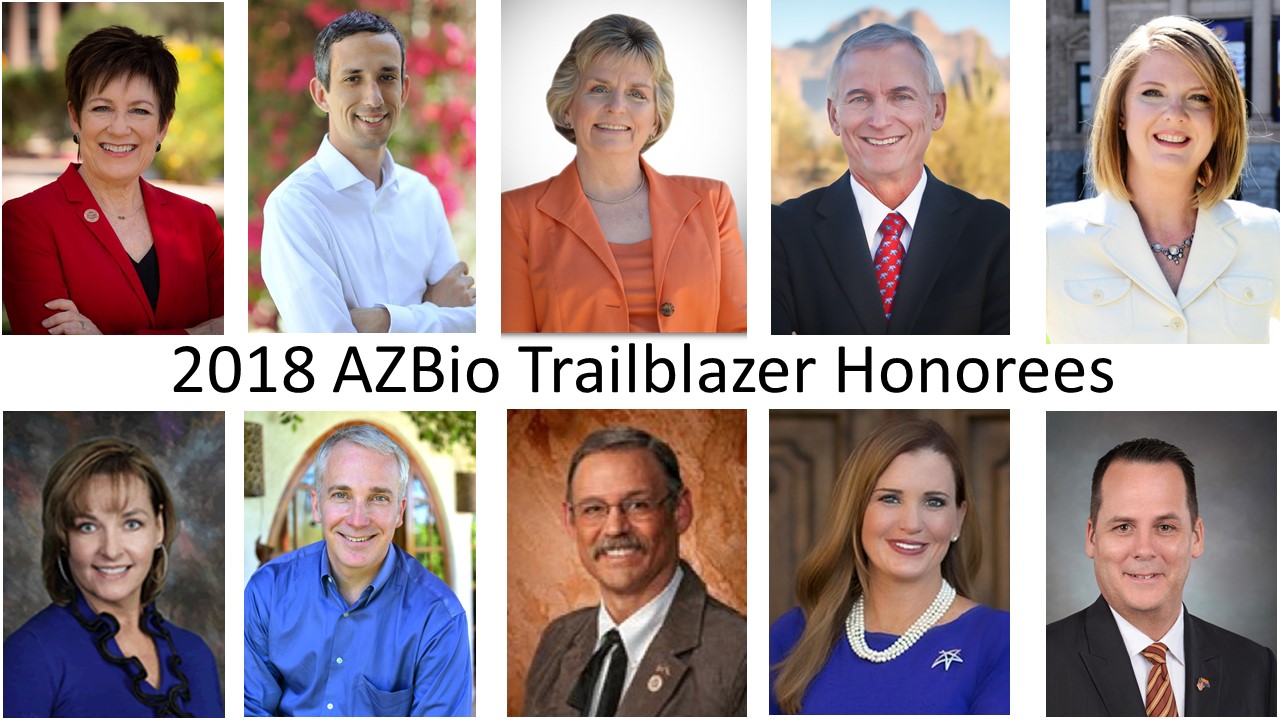 Announcing the 2018 AZBio Trailblazers
Each year, AZBio looks back across the legislative session to identify those leaders whose actions and active engagement support the growth of Arizona's life science and healthcare industry and help to ensure the people of Arizona benefit from its success. Scores are then tallied and the top ten legislative leaders are named the year's Trailblazers.
This year's Trailblazers come from both sides of the aisle and both the Senate and the House. They are champions for quality education, improving healthcare delivery, and supporting the growth of our life science ecosystem.
The 2018 AZBio Honorees are:
Senator Kimberly Yee, Chairman's Award
Trailbazer Honorees:
Senator Nancy Barto
Senator Sean Bowie
Senator Kate Brophy McGee
Representative Douglass Coleman
Representative Heather Carter
Representative Regina Cobb, DDS
Representative Randall Friese, MD
Representative Mark Finchem
Representative Maria Syms
Representative Jeff Weninger.
AZBio, members of the Arizona business and bioscience community and guests will come together on December 13, 2018 for a special luncheon to honor members of the Arizona Legislature and along with the State and Local Elected Officials who have made it possible for the Arizona Bioscience Industry to gain national recognition, build capital infrastructure, and take its place as a leader in both scientific discovery and job growth for the 2018 AZBio Trailblazers Awards and Legislative Luncheon.
Progress & Potential
In 2018, AZBio celebrated its 15th anniversary of supporting life science innovation and innovators in Arizona. Our Trailblazer honorees embrace the goal of making life better for the people of Arizona just as AZBio Members do. The Trailblazer Luncheon will feature short presentations by life science innovators working to make life better for people in Arizona and around the world.
Click here for more information and to register to join us for Trailblazers 2018