Forty-eight Arizona business leaders signed on to a letter delivered on July 22, 2022 to Arizona's Congressional Delegation emphasizing the importance of reauthorizing the SBIR/STTR program.
The letter, was signed by business leaders from: Arizona Bioindustry Association, Inc. (AZBio), Arizona Chamber of Commerce & Industry, Arizona Commerce Authority, Arizona Technology Council, Desert Angels, Inc., Greater Phoenix Chamber, Greater Phoenix Economic Council, Greater Phoenix Leadership, PHX East Valley Partnership, Southern Arizona Leadership Council (SALC), Tucson Metro Chamber, UAVenture Capital, University of Arizona, AdviNow Medical, Aesthetics Biomedical, Inc., Aqualung Therapeutics, Anuncia Medical, Inc., Beacon Biomedical, Becton Dickinson (BD), Biosensing Instrument, Inc., bioSyntagma, Inc., Calviri, Inc., Dignity Health, EthiX Associates, Exact Sciences, GT Medical Technologies, Inc., HonorHealth Research & Innovation Institute, Humabiologics, Inc., Langham Logistics, Inc., Mayo Clinic, Metfora, Microvascular Therapeutics, Navi Nurses, NuvOx Pharma, nVector, Plaza Companies, Regenesis Biomedical, Inc., Regional Center for Border Health, Inc.,
ReSuture Inc., SARRC, Scintillation Nanotechnologies, Inc., Sequitur Health Corp., SpencerFane, Translational Sciences, Inc.,
VMAS Solutions, Inc. (dba TouchPoint Solution), and Yelton and Associates.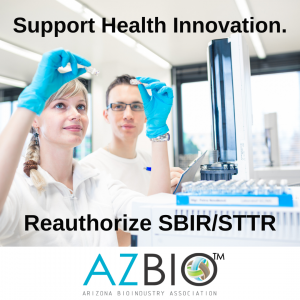 Since its inception in 1982, the SBIR/STTR program has supported our small business community as we work to improve health, develop new agricultural techniques, innovate for our national defense, explore space, and more. Across the agencies that participate in this essential program, Arizona small businesses have received 3,488 awards and over $1 billion in funding for research programs intended to meet the needs of these agencies, our country, and our people.
Since the last SBIR/STTR reauthorization in 2016, 190 Arizona Small Businesses have received 623 awards totaling just under $268 million.
The Small Business Innovation Research (SBIR) 3.2% set aside and the Small Business Technology Transfer (STTR) 0.45% set aside makes it possible for small, entrepreneurial firms to contribute their innovation talents to address defined needs of these agencies. SBIR/STTR
ensures that small business has the opportunity to be part our country's research and development enterprise.
Based on review of the Arizona specific dataset of SBIR/STTR awards for the period from 2017 to 2021, our small business community's highest award concentrations are with the Department of Defense (50%), NASA (16%), Department of Energy (10%), Health & Human Services (8%), and the National Science Foundation (7%).
While many of these R&D programs are components that support larger agency program requirements, Arizonans' work on NIH/HHS related programs illustrate projects that are designed to directly impact some of our greatest health challenges.
Some examples of these developing health innovations include:
Avery Therapeutics, a University of Arizona spin out company, is developing and engineered cardiac tissue for treating damaged or diseased hearts.
Aqualung Therapeutics has begun human clinical trials in an effort to save lives for those afflicted with Acute Respiratory Distress Syndrome (ARDS).
Biomotum is developing of a robotic ankle assist device to improve mobility in individuals with movement disorders
Calviri, an Arizona State University spin out company, is developing a blood test for the early detection of cancers.
CND Life Sciences has developed an accurate, evidence-based tool to help confirm a diagnosis of neurodegenerative disorders.
Metfora is working to commercialize a blood test for diagnosing lung diseases based on the analysis of metabolites.
Regulonix, a University of Arizona spin out company, is developing better therapeutics to treat chronic pain.
SBIR/SSTR funding for health innovation is rarely sufficient to sustain the full development process let alone commercialization, but it can move the discovery process forward and begin the development process. The remaining stages require private sector partnerships and investments that are much greater than at the early R&D stage. Without SBIR/STTR funding, many potential health innovations won't make it to commercialization.
Innovative Arizona small businesses depend on the SBIR/STTR programs to address the research needs of our federal agencies. As they move their innovations forward, they grow their businesses, create jobs, and contribute to Arizona's economy. A Defense Department assessment showed the SBIR/STTR Program has generated a 22:1 return for every federal dollar spent, and a study by the National Academy of Sciences found a commercialization rate of between 50-60% for SBIR/STTR investments-a win-win for the U.S. economy and taxpayer.
Allowing even a short disruption of these programs could have negative consequences for high-tech small businesses that thrive on stability and predictability to budget and plan for the future – especially as we all work together to emerge from the COVID-19 pandemic and overcome the economic challenges it triggered.