Data from PhRMA highlights the contribution Arizonans are making on the journey from Hope to Cures as well as the IMPACT our bio pharmaceutical sector has on the Arizona economy.

In the development of new medicines, clinical trials are conducted to prove therapeutic safety and effectiveness and compile the evidence needed for the Food and Drug Administration (FDA) to approve treatments.
Clinical trials have been the gold standard in demonstrating the safety and efficacy of drugs and have successfully been used for regulatory decision-making for more than 50 years. Without clinical trials, new medicines could not be approved and made available to the patients who need them. However, beyond the profound value that biopharmaceutical industry research and development (R&D) brings in the form of new treatments for society's most devastating and costly diseases, are the significant beneficial economic impacts of conducting clinical trials in communities across the country.
Number Of Active Clinical Trials In Arizona : 1,311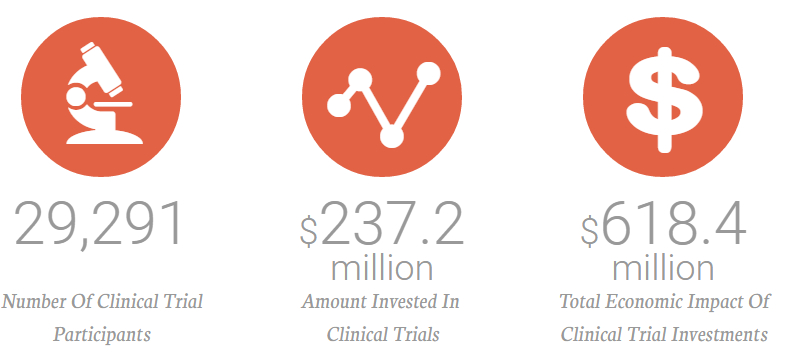 The numbers above are a summary of industry-sponsored clinical trial activities in Arizona in 2013, including the estimated number of trials active during the year, the number of trial participants, the annual direct investment biopharmaceutical companies made to run clinical trial sites in the state, and the total economic impact resulting from that investment, including the indirect economic effects that ripple through local economies.*  (Source:  PhRMA http://www.fromhopetocures.org/research-in-your-backyard/arizona#)
"Clinical trials are a key component of the journey from discovery to development to delivery," shared AZBio President and CEO Joan Koerber-Walker.  "They help to ensure that treatments are safe and effective while forming a foundation for the societal and economic foundation of new bio pharmaceutical innovations. They make up a major portion of our  industry's investment in the innovations that improve the human condition and save lives. In addition, Arizona's bio pharmaceutical sector is an economic driver and an important factor in growing our state's high tech industry  which is key to  our overall economic health."

  In 2011 Arizona's biopharmaceutical sector directly generated $2.4 billion in economic output in Arizona, and supported another $2.5 billion through its vendors and suppliers and through the economic activity of its workforce.  That's$4.9B in Total Economic Output in Arizona!
Direct biopharmaceutical wages and benefits in Arizona were estimated to be $522 million in 2011, resulting in an estimated $77 million in federal taxes and $10 million in state taxes.
Source: Battelle Technology Partnership Practice, The Economic Impact of the U.S. Biopharmaceutical Industry, Report prepared for PhRMA, July 2013.