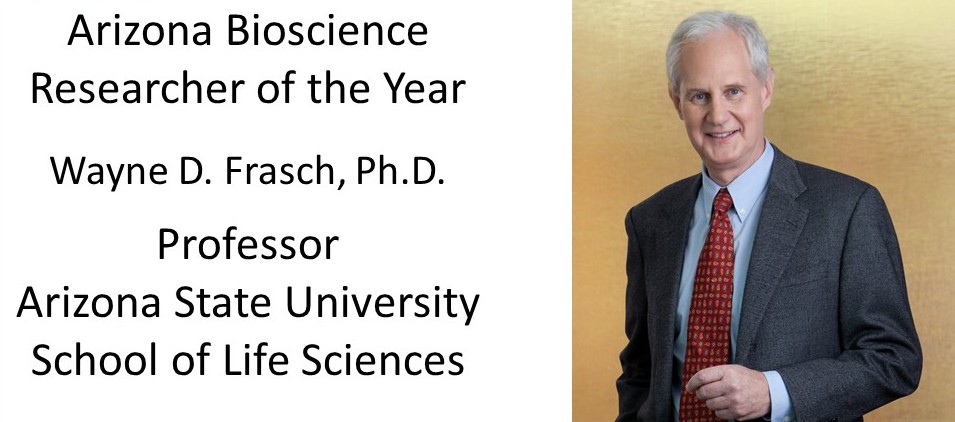 Wayne D. Frasch, Ph.D., who pioneered a novel DNA profiling technology that is also capable of detecting protein molecules that indicate infectious disease or cancer with unprecedented speed and sensitivity, has been named the 2015 Arizona Bioscience Researcher of the Year. The award is given annually to the life science researcher in Arizona who has made the most significant contribution to the advancement of knowledge and the understanding of biological processes.
"With 10,000-fold improvement compared to current approaches in the ability to detect cancer-related proteins, Dr. Frasch's technology has the potential to provide earlier diagnoses and thus earlier intervention," shared AZBio president & CEO Joan Koerber-Walker. "In many cases, for both infectious disease and cancers, the earlier we can diagnose and intervene, the better the outcome will be for the patient."
The technology relies on self-assembling nanodevices powered by a molecular motor that blinks red to signal the presence of individual target molecules. It was developed with NIH, DARPA, AFOSR and DOD funding.
Frasch, a professor and faculty leader of the Biomedicine & Biotechnology group at Arizona State University's School of Life Sciences, initially developed the innovative single-molecule diagnostic methods for his basic research investigating the molecular mechanism of the FoF1 ATP synthase molecular motor, which has had nearly 20 years of NIH funding. These studies are providing new understanding into the process by which all living organisms convert food into biologically useful energy, and also address fundamental questions concerning how a protein can generate torque on the nanoscale with nearly 100 percent energy efficiency.
Attometrics LLC, where Frasch is both founder and CEO, is adapting the technology for detection of bacterial contamination in water supplies with investment from Dow Chemical and support from the Arizona Commerce Authority.
Attometrics' patented technology quickly detects proteins, DNA and metabolites of interest in much smaller amounts than is possible with current methods. The time-to-results is as little as 30 minutes as compared to one to six days for standard analyses. The company's new MONA-LISA (Molecular motor-powered nanodevice-linked immunosorbent assay) technology provides rapid screening for infection by E. coli O157:H7 and other bacterial strains that produce deadly Shiga toxin proteins. Infection by as few as 10 cells of STEC can be fatal due to the effects of the Stx1 and Stx2 toxins, which are not always produced by the bacteria. The worst effects of the toxin can be avoided if treated within 24 hours of infection. Attometrics' MONA-LISA is the only method capable of directly detecting the presence of such small amounts of toxin within that timeframe.
Frasch will be honored at the AZBio Awards Gala on October 1, 2015 at the Phoenix Convention Center. The AZBio Awards ceremony celebrates Arizona's leading educators, innovators and companies. Each year AZBio honors bioindustry leaders from across Arizona illustrative of the depth, breadth and expertise of the state's bioscience industry.
Past winners of the Arizona Bioscience Researcher of the Year Award include: Charles Arntzen, PhD (Biodesign Institute at Arizona State University), Leslie Boyer, MD (The University of Arizona), Paul Keim, PhD (Northern Arizona University and TGen-North), Jessica Langbaum, PhD (Banner Alzheimer's Research Institute), Milton Sommerfeld, PhD and Qiang Hu, PhD (Arizona State University) , Bruce Rittman, PhD (Biodesign Institute at Arizona State University), Rod Wing, PhD (Arizona Genomics Institute at the University of Arizona), and Roy Curtiss, III, PhD (Biodesign Institute at Arizona State University).
About AZBio
The Arizona Bioindustry Association (AZBio) is comprised of member organizations in business, research, government, and other professions involved in the biosciences. The AZBio Awards are just one of the exciting opportunities to connect with Arizona's life science industry and one of the fastest growing bioindustry clusters in the United States. For more information visit https://www.azbio.org and http://www.azbio.tv.
Contact:  Joan Koerber-Walker, jkw@azbio.org, (480) 332-9636
About Arizona State University School of Life Sciences
ASU School of Life Sciences serves as an academic hub for interdisciplinary centers and institutes, and attracts research talent from around the world. Dynamic laboratories, state-of-the-art technologies and a vast expansion of research infrastructure now support more than 3,000 students and 100 faculty members. From Pulitzer Prize winners to young entrepreneurial thought leaders, life sciences faculty pursue discovery and translational research, providing an entrepreneurial climate to bring the best research ideas to fruition.
The school offers a wide spectrum of experiences for undergraduate and graduate students including internships, undergraduate research experiences, study abroad and service learning. Undergraduates pursing life sciences' research experiences can explore biomedicine and biotechnology, cellular and molecular biosciences, genomics and bioinformatics, ecology and environmental science, the human dimensions of biology, and organismal, integrative and biological systems.
Providing leadership locally and globally, ASU School of Life Sciences engages in technology and policy development, medical discovery, scholarship and community outreach, and cutting-edge multidisciplinary approaches, with collaborative on- and off-campus partners.
Contact:  Sandra Leander, sandra.leander@asu.edu, (480) 965-9865