Convening the Community – Recognizing Excellence – Rewarding Achievement – Celebrating Success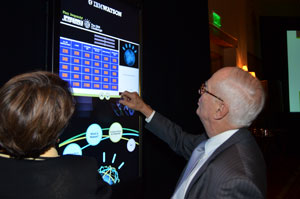 These are the hallmarks of the Annual AZBio Awards.
Each year AZBio receives nominations from across the state of Arizona that illustrate the depth, breadth, and expertise of our bioscience industry. This year our finalists and award winners were all extraordinary. From breakthrough technology and science to life changing innovations and stellar leadership, AZBio Award finalists and nominees exemplify what is best about the Arizona Bioscience Industry.
In October 2011, our community came together to recognize and celebrate the success of our peers, to meet our future bioscience leaders in the Student Discovery Showcase, and to get a closer look at IBM's Watson at the Sheraton Wild Horse Pass in Phoenix.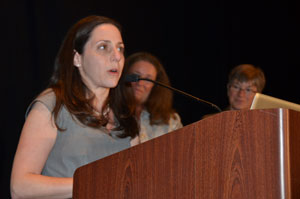 At a time when leadership and innovation are in greater demand than ever before, the Arizona BioIndustry Association (AZBio) welcomed to the stage a host of accomplished leaders and innovators who are moving the Arizona biosciences industry forward faster at the 2011 AZBio Awards on October 13, 2011 in front of a standing room only crowd at the Sheraton Wild Horse Pass in Phoenix, Arizona.
"BIO is the state's leading growth sector and our community came out in force to acknowledge the accomplishments of their peers" shared AZBio President and CEO Joan Koerber-Walker. "The Arizona bioscience industry has been steadily increasing employment and is pushing out new discoveries and innovations at an ever increasing rate. Even in these challenging economic times the biosciences have continued to move forward faster in Arizona. There is no secret cause and effect. We have incredible leaders and organizations here in our biosciences community and they deliver results."
The AZBio community celebrated those results with a gala event which included a Discovery Showcase featuring the bioscience projects of 24 students from Arizona's High Schools, community Colleges and Universities who attend from across the state. Eighteen companies, all selected for their achievements in both the scientific and business arenas where honored as Fast Lane Award winners. The attendees were also treated to a special introduction to IBM's Watson and future strategies for advancing health from David Kerr, Director, Corporate Strategy, IBM, Armonk, N.Y.
And The 2011 Award Winners Are:
2011 Michael A. Cusanovich Educator of the Year:
Nadja Anderson, Ph.D., Director of the BIOTECH Project, University of Arizona, BIO5 Institute
Dr. Anderson was recognized for creating professional development opportunities for teachers in biotechnology, providing incredible resources for their biotechnology curriculum such as reagents and equipment, her work with teachers to design new biotechnology labs,and the time she devotes to weekly training workshops for high school students accepted to the BIO5 summer research internship, KEYS.
2011 Award for Research Excellence:
Jessica Langbaum, Ph.D., Staff Scientist, Banner Alzheimer's Institute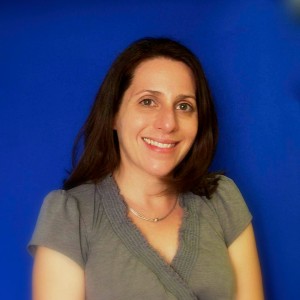 Dr. Langbaum took home the Award for Research Excellence in recognition of the body of work she and her team have produced in the fields of Alzheimer's Research. Dr. Jessica Langbaum is recognized for her progressive research focus on the use of imaging for studying the earliest evidence of Alzheimer's pathology in the brain, and her contributions to a collaborative team effort in an extremely large international project – Alzheimer's Prevention Initiative. Working closely and collaboratively with Doctors Eric Reiman, M.D. and Pierre Tariot, M.D. at the Banner Research Institute, Dr. Langbaum is a leader in her own right within the Bio industry. She is extensively involved with academic medicine, already an international speaker, and respected in the urgent call to arms for the evaluation of presymptomatic Alzheimer's disease (AD).
2011 Honorees:
Cheryl Nickerson, Ph.D., Professor, Center for Infectious Diseases and Vaccinology, The Biodesign Institute at Arizona State University John Moffett, Ph.D., Director of Life Science, Regenesis Biomedical Inc., Robert J. Penny, M.D., Ph.D.., Chief Executive Officer, International Genomics Consortium
2011 Arizona Bioscience Company of the Year Award:

The Arizona Bioscience Company of the Year Award recognizes the for-profit bioscience company whose Arizona-based operations did the most to transform the world during the last 12 months. SynCardia Systems, Inc. makes it possible for patients awaiting donor hearts to not only survive the wait but also to do so with flexibility and mobility. A feat of biomedical engineering that is world changing for these patients.
SynCardia Systems, Inc. is the privately-held manufacturer of the world's first and only
FDA, Health Canada and CE (Europe) approved Total Artificial Heart and the new
Freedom® portable driver, a wearable power supply for patient discharge.
Weighing 13.5 pounds, the Freedom portable driver has transformed life for patients with
Total Artificial Hearts. For the first time in U.S. history, stable patients without human hearts are being discharged from the hospital to wait for a matching donor heart at home. Such patients include an Oklahoma preacher who has returned to the pulpit, a female army veteran who enjoys tai chi in her local park and a 21-year-old new mom who has returned home to take care of her nine-month-old baby.
In March, Fast Company named SynCardia #20 among the "World's 50 Most Innovative Companies" for "giving mobility to artificial heart recipients." In Q2 2011, SynCardia announced it had nearly tripled its first-half sales from 2010 in addition to posting its first quarterly and first-half profit in company history. During the past year, 40 transplant centers have enrolled in SynCardia's Certification Program to implant the Total Artificial Heart.
The Freedom portable driver is approved in Europe and undergoing an FDA clinical study in the U.S. To date, 26 patients have been enrolled in the study, with 15 of these patients being discharged home. This is half of the 30 discharge patients required by the FDA study. Prior to the development of the Freedom Driver, U.S. Total Artificial Heart patients were confined to the hospital for months, sometimes years, while they waited for a transplant because the only FDA-approved driver is hospital-based and weighs 418 pounds.
Honorees:
2011 Jon W. McGarity Leadership Award :
Robert J. Penny, M.D., Ph.D., Chief Executive Officer, International
Genomics Consortium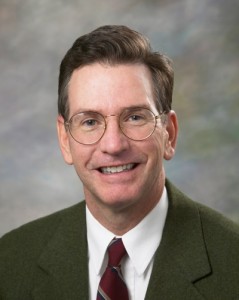 Can your leadership change the face of a community? Dr. Robert Penny's has.
As the International Genomics Consortium's Chief Executive Officer, Dr. Penny has used his executive leadership skills and insight to deliver awards totaling $58 million over five years in National Institutes of Health funding to Arizona in the last 12 months. In other significant achievements, he co-led the recent launch of the Arizona Biosignature Laboratory (ABL) with the Critical Path Institute and Arizona State University's Biodesign Institute and successfully spun off an IGC start-up company. These accomplishments have helped keep Arizona in the national spotlight of leading translational pgenomics in medicine and provided high-quality jobs. The ABL was initially funded in 2010 with a $2.2 million Science Foundation Arizona grant to develop and standardize biomarkers and biosignatures of drug efficacy or safety. ABL is an IGC collaboration with Critical Path Institute and ASU's Biodesign Institute. Dr. Penny is a key leader in this effort for Arizona.
Honorees:
Dr. Joan Rankin Shapiro, Associate Dean for Research for the University of Arizona -College of Medicine
Nina Ossanna, Ph.D., Director, Business Development and Strategic Planning, BIO5
Institute, The University of Arizona
2011 Award for Public Service:
Greg Stanton, former Phoenix City Council Member and 2011 Mayoral Candidate, City of Phoenix
The AZBio Award for Public Service honors current and former elected officials who through their efforts are helping to make Arizona a place where bioscience companies and institutions can flourish.
During his tenure on the Phoenix City Council, Greg was a strong voice in favor of developing our biosciences community and the investments needed to support it. Greg backed this up with action and results. A charter member of the Arizona Bioscience Roadmap Steering Committee, he has been an outspoken proponent of the Phoenix Biomedical Campus, and was the lead Phoenix councilman bringing TGen to Arizona, which many point to as the start of Arizona's prominence in the bio-sciences. Greg was also the lead councilman in bringing the ASU campus and U of A Medical School to downtown.
Finalists:
2011 Fast Lane Honorees:
Arizona Bioscience Companies and organizations in the healthcare and health information fields that though innovations implemented in the last 18 months have yielded measurable results based on sales growth, job growth, or other commercial metrics and are moving their organizations and our state forward faster. Each of these companies received a 2011 Fast Lane Award in recognition of their contribution to moving our industry forward … faster.
2011 Fast Lane Honorees:
About AZBio
AZBio – The Arizona BioIndustry Association – is comprised of member organizations in
business, research, government, and other professions involved in biosciences. AZBio supports the members of the Arizona bioscience community by providing access to the key resources, connections, and information that support their ability to Connect, Collaborate, Innovate and Succeed thus supporting the growth of a thriving economic ecosystem for Arizona's Bioscience Industry.
To learn how you can get involved in the the 2012 AZbio Awards, contact AdvancingBio@AZBio.org.
Many Thanks to the team from EmpowHER Media for their live coverage of the 2011 AZBio Awards and Expo and for the video showcased above. For the latest in news and updates on women's health visit www.EmpowHER.com.