Each year the AZBio Expo brings together Arizona's most promising companies, distinguished researchers, and innovative thought leaders.
The 2011 AZBio Expo held October 14, 2011 at the Sheraton Wild Horse Pass continued this tradition as a showcase of What's Hot in the Arizona Bioscience Community and in delivering on its promise to connect and engage the community. Attendees took away a new understanding of the depth and breadth of Arizona's growing bioscience community and a wealth of connections and ideas to help us all continue to move forward faster…
Highlights of the days events included:
Keynotes:
Sustaining Health: How do we prevent and detect disease early enough to keep people healthy…at a cost we can afford?"
Dr. Michael Birt, Director, The Center for Sustainable Health, The Biodesign Institute at Arizona State University
Kathy Kolbe, Founder of Kolbe Corp.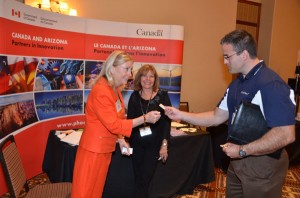 Panels:
What Bioscience Companies Need
 Innovation and the U.S. Patent Office
Building on Cornerstones — Working with Arizona's research institutions
A Global Perspective fromo executives of Arizona's Bioscience Companies
Regional Spotlights:
Southern Arizona – Laura Shaw – TREO
Central Arizona – Barry Broome – GPEC
Northern Arizona – Russ Yelton – NACET
Presenters: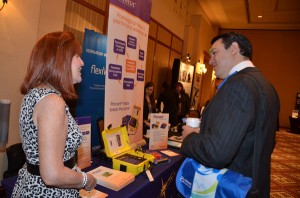 Ron Michaels of The Stratford Group on Funding Your Bioscience Business
The TMX Group, home to the Toronto Stock Exchange and TSX Venture Exchange
Glen Galster of Algae Biosciences Incorporated
Using the SBIR/STTR Programs as a vehicle to move forward…faster presented by InVent Life Sciences
The EXPO:
Attendees had the opportunity to tour the exposition hall throughout the day and get up close and personal with many of Arziona's leading industry partners and innovative bioscience companies to connect, engage and begin new collborations.
See more photos from the October 14, 2011 event on our Facebook page @ www.facebook.com/azbio.