The AZBio Expo brought together over 250 members of our community to connect, engage, and collaborate on May 17, 2012 for a full day of great ideas shared by thought leaders from across our industry and across our state.  Each one is a prime example of WHY Arizona's Bioscience Industry is moving forward faster.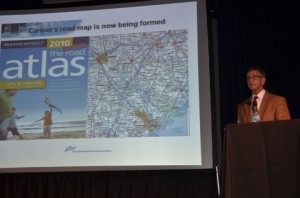 The Phoenix Business Journal's Angela Gonzalez was on hand  all day covering the action as was entrepreneurial evangalist  and blogger Francine Hardaway as leaders from Arizona's three universities took the stage along with venture capitalists, internationally acclaimed researchers from the Predictive Health Analytics Initiative (PHAIT3) at ASU, The Fulton ALS Center at  Barrow Neurological Institute and the International Genomics Consortium, and FDA expert and executives from industry giants including the Ventana (Roche), Sanofi, GORE and Johnson & Johnson.
Students connected with the community in the Student Discovery Poster Session while Exhibitors shared resources on the Arena Floor.
See the photos at www.Facebook.com/AZBio
See Angela Gonzales coverage in the Phoenix Business Journal:
A rundown of the AZBio Expo from A to Z
Peoria offering $1.2M in seed funding for biotech startups
Arizona BioIndustry Expo expected to draw 250
Learn more by checking out the
AZBio Expo 2012 Event Program
AZBio Expo 2012 Program