In 2023, AZBio celebrates its first 20 years of impact and targets reaching top-ten status in its 3rd decade.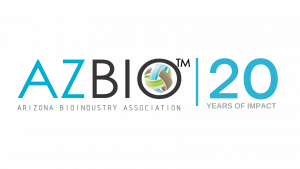 Arizona's bioscience cluster officially became the Arizona Bioindustry Association, Inc. in 2003. AZBio is celebrating 20 of impact in 2023 and has big plans for the decade ahead.
The AZBio Board of Directors has embraced AZBio's vision of Arizona as a Top-Ten Life Science State. Working together, we can make this vision a reality in AZBio's third decade.
Speaking at the 2022 AZBio Trailblazers Luncheon on December 15th, AZBio president and CEO, Joan Koerber-Walker shared where we are, where we are going and how we will get there.
Where We Are. Where We're Going. How We'll Get There.


Key Strategies Include:
Capitalization of the Arizona Health Innovation Trust Fund so that Arizona will have the resources it needs to maximize our life science sector's impact. Designed as a permanent endowment managed by the Arizona State Treasure's Office, the annual 4% distributions will be deployed by an Arizona nonprofit providing workforce programs, entrepreneurial support and mission related investments specifically focused in creating health innovations in Arizona. On December 29, 2022, Arizona's State Board of Investment approved the Opportunity Through Entrepreneurship Foundation's plan for AZAdvances, to the nonprofit. The target for the initial capitalization of the endowment is $200 million which will yield distributions of $8 million/year after the investments has matured for 5 years.
Ramping up the AZAdvances Capital Campaign. In addition to what the state or other contributors deposit into Arizona Health Innovation Trust Fund, private donation are need to accelerate impact today. See who is already supporting this initiative and how you can help by clicking here.
Building Our Workforce for the Future by working collaboratively with our universities, community colleges and the AZAdvances Talent Program.
To learn more about AZBio's 6 key focus areas, click here.