Bard Peripheral Vascular, a division of C. R. Bard, will be honored for Advancing Lives and the Delivery of Health Care Worldwide at the 2017 AZBio Awards on Oct. 11, 2017.

Chandler, Arizona —-The Arizona Bioindustry Association (AZBio) will honor Bard Peripheral Vascular, a division of C. R. Bard, as the Arizona Bioscience Company of the Year the 2017 AZBio Awards.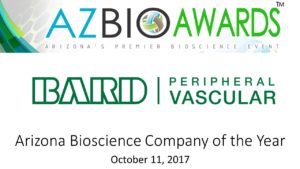 Arizona life science and business leaders as well as guests from across the country will be on hand to applaud the Bard Peripheral Vascular team for creating vascular innovations that improve the quality of patients' lives
The Arizona Bioscience Company of the Year Award recognizes the for-profit bioscience company whose Arizona-based operations did the most to transform the world during the last 12 months.
Leading in Innovative Medical Devices and Patient Care
"While healthcare has certainly been a major topic of conversation across the country in recent months, the political becomes personal when you or a loved one is affected," stated AZBio president and CEO Joan Koerber-Walker. "Bard Peripheral Vascular, a division of C. R. Bard, is a company in Tempe, Arizona, that understands the importance of quality patient care and remains focused on developing innovative medical devices to detect, treat, and help manage disease."
Bard Peripheral Vascular specializes in the development of surgical and interventional devices for the treatment of diseases affecting the peripheral vascular system, which consists of veins and arteries in the arms, hands, legs, and feet. The peripheral arteries supply oxygenated blood to the body, and the peripheral veins lead deoxygenated blood from the capillaries in the extremities back to the heart.
Additionally, Bard devices are used in the treatment of cancer, end stage renal disease (including diabetes and dialysis) and venous disease. Some Bard products, such as biopsy needles, are used to help detect disease, while others, such as catheters, angioplasty balloons and chemotherapy ports, are used to treat disease. In the last year alone, the company has launched over 11 new products designed to make life better for patients and the people who care for them. In fact, a patient is treated with a Bard Peripheral Vascular device approximately every 2 seconds.
A History of Growth and Innovation
Bard Peripheral Vascular was established in 1996, with the purchase of IMPRA, a local Arizona company, who launched the first commercially available ePTFE graft used for AV access. Today, Bard Peripheral Vascular is the largest and fastest-growing division within C. R. Bard with over a billion dollars in revenue. In Arizona, Bard Peripheral Vascular employs over 500 people and its labor force is growing at a rate of over 5% a year. Bard Peripheral Vascular products are used to treat over 18 million patients annually and hold the #1 or #2 leadership position in most of their product lines.
Some of the company's recent technologies include a novel balloon-expandable covered stent developed to improve blood flow in the leg for patients with iliac occlusive disease; and a device designed to preserve vascular access for hemodialysis patients.
The strong growth and portfolio of C. R. Bard, with the Bard Peripheral Vascular division leading the way, resulted in Becton Dickinson announcing the acquisition of C. R. Bard for $24 billion in April 2017, which is expected to close in fall 2017. After the acquisition, Becton Dickinson will be the third-largest medical device company in the world.
Commitment to Educating the Community and Giving Back
Bard Peripheral Vascular and its employees believe in supporting and giving back to their community through volunteer work and charitable contributions. The Bard Peripheral Vascular team has worked with many great local charities including: Child Crisis Center/Arizona Adoption & Foster Care, the Ronald McDonald House of Phoenix, HopeKids Arizona, Making Strides Against Brest Cancer®, United Way, Amanda Hope Rainbow Angels, and the American Diabetes Association. Together, the team has raised or donated over $600,000 in the last three years to support our local community and charities.
Bard Peripheral Vascular also hosts internships and funds engineering research projects with Arizona State University and The University of Arizona.
"Patients and caregivers around the world continue to benefit from the tireless work, innovation and dedication of the employees at Bard Peripheral Vascular," stated Russ Yelton, CEO of Pinnacle Transplant Technologies and Chairman of the Arizona Bioindustry Association Board of Directors.
For its commitment to improving the lives of patients and for its contributions to making life better across our community, Bard Peripheral Vascular is the 2017 Arizona Bioscience Company of the Year.
A ceremony honoring Bard Peripheral Vascular and the people who have designed and deliver its biomedical innovations will take place at the AZBio Awards on October 11, 2017 at the Phoenix Convention Center.
The AZBio Awards ceremony celebrates Arizona's leading educators, innovators and companies. Each year, AZBio honors bioindustry leaders from across the state of Arizona who are illustrative of the depth, breadth and expertise of its bioscience industry. The AZBio Awards ceremony is held annually during Arizona Bioscience Week. AZBW 2017 was proclaimed by the Arizona Senate earlier this year. Multiple educational events focused on the value of life science innovation will take place from October 8, 2017 to October 14, 2017 including the BMES Annual Meeting in Phoenix. The Biomedical Engineering Society (BMES) is the world's leading society of professionals devoted to developing and using engineering and technology to advance human health and well-being. Attendees at BMES 2017 in Phoenix are expected to include nearly 4,000 professional scientists, engineers, researchers and students from academia and industry who are leaders in biomedical engineering.
###
For registration and more information, go to www.azbioawards.com
For more information on Arizona Bioscience Week, visit www.AZBio.org/AzBW2017
About AZBio
A key component in Arizona's life science ecosystem, the Arizona Bioindustry Association (AZBio) is the only statewide organization exclusively focused on Arizona's bioscience industry. AZBio membership includes patient advocacy organizations, life science innovators, educators, healthcare partners and leading business organizations. AZBio is the statewide affiliate of the Biotechnology Innovation Organization (BIO) and works in partnership with AdvaMed, MDMA, and PhRMA to advance innovation and to ensure that the value delivered from life-changing and life-saving innovation benefits people in Arizona and around the world.
For more information visit www.AZBio.org and www.AZBio.TV
Contact:
Joan Koerber-Walker, Arizona Bioindustry Association
jkw@azbio.org 480-332-9636
Amanda Vega, Amanda Vega Consulting
Amanda@AmandaVega.com (480) 275-9797
Photos available upon request.