Beacon Biomedical's progress towards its commercial product launch this fall will be in the spotlight at the 2016 AZBio Awards on September 21, 2016 as they are honored with the AZBio Fast Lane Award.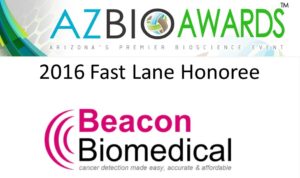 If early detection saves lives, then why with all the billions of dollars being spent on patient education and awareness as to the life-saving benefits of routine cancer screening are we seeing hundreds of thousands of people still dying each year from cancer?  That question was the genesis behind Beacon Biomedical.
"Too often patients put off their doctor recommended health screenings because they find the current screening tests uncomfortable, embarrassing, expensive or simply inconvenient", shared Joan Koerber-Walker, president and CEO of the AZBio. "This procrastination can have devastating consequences for both patients and their families.  We need screening tests that can be easily administered at the point of care. Then if further testing is indicated, the patient has a sense of urgency and is more likely to take the next steps exactly as his or her doctor orders.  That's the screening solution Beacon Biomedical will soon bring to market."
Early Detection can be a Life Saver
Beacon's mission is to save more lives through earlier cancer detection by fostering improved cancer screening compliance using its patented blood-based tests to achieve this goal.  The company's initial focus is on colorectal cancer screening.
"Research has shown us that 65% of all the deaths in the U.S. and 75% of all the treatment cost associated with colorectal cancer can be directly attributable to the 1 out of 3 men and women who choose not to participate in recommended colon cancer screening.  The tragedy is that the majority of these lives could be saved through earlier detection", says Don Weber, president and CEO of Beacon Biomedical Inc.  "Beacon has a solution to this problem and it's called BeScreened™-CRC.  It's a simple blood-based test that is easy to administer, highly accurate and extremely affordable.  Our test will be available to primary care providers in two versions, as a standard lab test and as a point-of-care test, to help improve patient compliance with colorectal cancer screening, and in doing so we're going to save more lives as well as help significantly reduce the accompanying financial burdens currently associated with this deadly disease."
In addition to colorectal cancer screening, the company is also developing its screening tests for breast and lung cancers.  Beacon Biomedical tests will screen people to determine if they need to have more extensive follow-up test procedures and will promote compliance with and support access to proven, life-saving cancer screening procedures for colorectal (colonoscopy), breast (mammography) and lung (low dose CT scans) cancers.
LIFE in the Fast Lane
Over the last 18-months, Beacon Biomedical Inc. has grown its company from two founders, a great idea and a couple of secured technologies focused on saving lives through improving patient participation in cancer screening and earlier cancer detection to being on the verge of releasing its BeScreened™-CRC test for colorectal screening to the market this fall.
During this period, the company was awarded a NIH Phase I SBIR Grant focused on minority disparities in colon cancer screening, was a winner of the Arizona Innovation Challenge Grant, demonstrated the ability to detect colorectal cancer with 95% accuracy in blood using its patented Cripto-1 technology successfully replicating and confirming the findings of previously published peered reviewed researchers,  established successful collaborative efforts with multiple manufacturers in the diagnostic space and leading academic researchers, and moved to its new facilities at the Center for Center for Entrepreneurial Innovation at GateWay Community College opening up a new R&D and CLIA laboratory thus giving its team the space needed to expand and grow its operations.
The Arizona Bioindustry Association created the AZBio Fast Lane Award in 2011 to recognize companies that have achieved outstanding milestones in the past 18 months. Significant progress can be measured by clinical results, regulatory approvals, certifications, collaborations, funding awards, product launches, job growth or product sales milestones.
"We believe that it takes more than just a great idea to create a great company," said Koerber-Walker. "It takes a team that knows how to map the course, execute on a plan, and get results.  We are happy to welcome Beacon Biomedical to the Fast Lane where they join a cadre of successful life science companies that are moving forward faster and working to make life better for patients."
Beacon Biomedical will be honored during the 11th Annual AZBio Awards at the Phoenix Convention Center on September 21, 2016, in front of an audience of local, national, and international leaders.
###
For registration and more information, go to www.azbioawards.com
For more information on Arizona Bioscience Week, visit www.AZBio.org/AzBW
About AZBio
A key component in Arizona's life science ecosystem, the Arizona Bioindustry Association (AZBio) is the only statewide organization exclusively focused on Arizona's bioscience industry. AZBio membership includes patient advocacy organizations, life science innovators, educators, healthcare partners and leading business organizations. AZBio is the statewide affiliate of the Biotechnology Innovation Organization (BIO) and works in partnership with AdvaMed, MDMA, and PhRMA to advance innovation and to ensure that the value delivered from life-changing and life-saving innovation benefits people in Arizona and around the world.
For more information visit www.AZBio.org  and www.AZBio.TV
 Contact: 
Joan Koerber-Walker, Arizona Bioindustry Association
jkw@azbio.org   480-332-9636
Amanda Vega
Amanda@AmandaVega.com   (480) 275-9797
About Beacon Biomedical Inc.
Beacon Biomedical, Inc. is a privately held assay development and medical device company focused on developing and commercializing easy, accurate and affordable colorectal, breast and lung cancer screening solutions.
For more information about Beacon Biomedical visit www.beaconbiomedical.com.
Donald F. Weber, Beacon Biomedical Inc.
weberd@beaconbiomedical.com  480-757-9037
Photos available upon request.