When teams come together with a shared goal to make LIFE better, great things happen.  A perfect example of this is how C-Path is bringing together global leaders in the academic, philanthropic and industry arenas to find new ways to move life-changing and life-saving innovations along the pathway from discovery to development to delivery faster.
C-Path (Critical Path Institute), headquartered in Tucson, Arizona, is an independent, non-profit organization established in 2005 with public and private philanthropic support from the Arizona community, Science Foundation Arizona, and the U.S. Food and Drug Administration (FDA). C-Path's mission is to catalyze the development of new approaches that advance medical innovation and regulatory science, accelerating the path to a healthier world. An international leader in forming collaborations, C-Path has established eight global, public-private partnerships that currently include over 1,000 scientists from government and regulatory agencies, academia, patient advocacy organizations, and dozens of major pharmaceutical companies.
On Friday, August 28, 2015, C-Path celebrated its 10th Anniversary team members, community leaders and friends at a gathering near it's headquarters in Tucson, Arizona.
On Monday, August 31, 2015, C-Path announced that the U.S. Food and Drug Administration (FDA) had issued a qualification decision in the form of a draft guidance to C-Path's Polycystic Kidney Disease Outcomes Consortium (PKDOC) for total kidney volume (TKV) as a prognostic biomarker to select patients for clinical trials of new therapies for Autosomal Dominant Polycystic Kidney Disease (ADPKD).
ADPKD is a debilitating genetic disease affecting approximately 600,000 Americans and 12 million people worldwide. It is characterized by progressive enlargement of the kidneys due to the formation and growth of cysts. There is only one medication developed specifically to treat ADPKD, called tolvaptan, which has not been approved in the United States.
"The current gold standard for evaluating kidney damage in PKD is Glomerular Filtration Rate which does not change appreciably until very late in the disease stage. This presents a challenge for drug developers because it requires a clinical trial with patients in late stages of the disease or a clinical trial that runs for decades," says C-Path Chief Operating Officer and PKDOC Co-Director Steve Broadbent. "The qualification of TKV imaging as a prognostic biomarker is a fundamental step towards enabling pharmaceutical companies to develop new therapies for a disease that, as of now, has no available treatments approved for use in the United States."
The PKDOC is just one of of the areas that C-Paths "research by consortium" model is focusing on. Additional consortia include: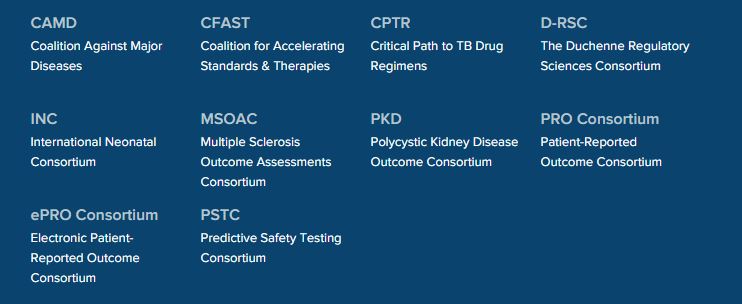 "Playing nice in the sandbox: Can research-by-consortium accelerate progress against disease?" at "Partnering for Cures", an annual conference hosted by Faster Cures, a center of the Milken Institute featured Dr. Martha Brumfield, C-Path's President and CEO, participated in a panel discussion on November 17, 2014. The
panel
 of consortium leaders discussed how "research-by-consortium" models have been increasingly utilized to accelerate progress against disease and what lessons learned have emerged. The entire content of the panel's discussion can be viewed
here
. Dr. Brumfield's remarks can be viewed in the following segments:
"Bringing a diverse community of leaders together to collaborate on complex issues is never an easy task.  C-Path has mastered the art of collaboration and through the efforts of its team and partners is making an impact that will lead to new advancements in treatments for people here in Arizona and around the world" shared AZBio president & CEO Joan Koerber-Walker.  "All of us at AZBio congratulate the C-Path team on this important milestone and look forward to even more great announcements in the future."
The AZBio and C-Path teams will be together on October 1, 2015 at the AZBio Awards to celebrate another milestone when Lynn Hudson, Ph.D., Chief Science Officer for the Critical Path Institute, will be honored with the Jon W. McGarity Arizona Bioscience Leader of the Year Award.
"Great leaders are able to bring people together to pursue a common goal and help them to achieve it," added Koerber-Walker. "Dr. Hudson has worked across disciplines and international borders to develop strong professional relationships to encourage disparate groups of stakeholders to come together and clearly identify objectives and focus for their work. By achieving a shared commitment, forming clear objectives, and working together to achieve them, these teams are helping to create better treatment options for patients."