Add to iCal Calendar
Date/Time
Date(s) - 24 Mar 2023
8:30 AM - 5:00 PM
Location
UA Health Sciences Education Center
Join investors and entrepreneurs from throughout Arizona—and beyond—for a day of learning and networking focused on risk capital.
Learn more at https://flinn.org/abc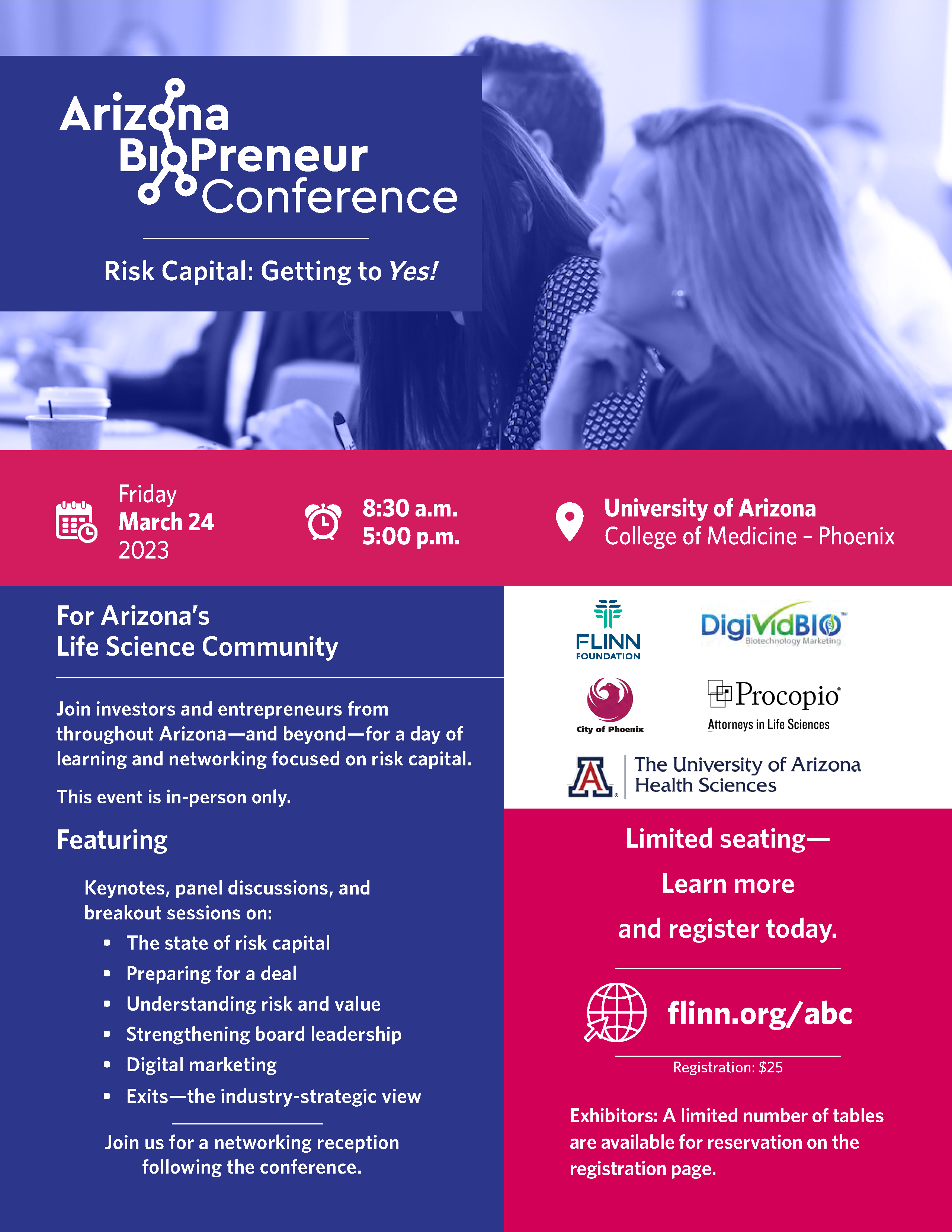 Program
Opening Keynote
"The State of Venture Capital," with Jonathan Norris (Silicon Valley Bank)
Q&A facilitated by Zach Brooks, Ph.D. (UGenome)
Breakout Sessions
"Practically Preparing for and Surviving Your Deal," with Jeff Morton and Helen Goldstein (both of Procopio, Cory, Hargreaves & Savitch LLP)
"Understanding Risk and How It Affects Value," with Chris Yoo (Xcellerant Ventures and Yoo & Co Accelerators) and Janelle Goulard (Pangaea Ventures)
"Building, Maintaining, and Maximizing Your Board," with Eve Ross (Arizona's Bioscience Roadmap Steering Committee), MaryAnn Guerra (Aesthestics Biomedical Inc.), and Jacque Sokolov, M.D. (SSB Solutions)
"Demystifying Digital Marketing: Doing More with Less," with Kelley Howard (DigiVidBIO)
Afternoon Panels & Keynotes
"Lessons Learned on the Path to Success," with Matt Likens (GT Medical Technologies), Vivek Kopparthi (NeoLight), and Rachel Mertensmeyer (Rivia Health Inc.)
"How to Prepare for an Exit and/or Liquidity," with Rakesh Mehta (Centerview Partners) and Jerry Gibson (VenClose Inc.)
"Strategics: What Are They Thinking Now and into the Future," with Andy Muller (Exact Sciences), Madeline Sell, Ph.D. (Varian), and Ken Weixel (Procopio, Cory, Hargreaves & Savitch LLP)
Additional speakers to come!