Add to iCal Calendar
Date/Time
Date(s) - 21 Apr 2020
8:00 AM - 9:00 AM
Location
Webinar

As the situation with COVID-19 continues to develop, AZBio is working closely with our state and federal partners to support our members and our community. One of our community's key public health strategies at this time is social distancing and our industry is leading by example.
For this reason, the AZBio PEERS Meeting on April 21, 2020 will be offered a virtual meeting format only.
Date: Tuesday, April 21, 2020
Time: 8:00 AM – 9:00 AM
Format: Virtual Meeting – Webinar
Cost: Complimentary – Registration Required
Remote Access Instructions:
Meeting URL
https://bluejeans.com/316906958?src=join_info
Meeting ID
316 906 958
Want to dial in from a phone?
Dial one of the following numbers:
+1.888.240.2560 (US Toll Free)
(see all numbers –https://www.bluejeans.com/premium-numbers)
Enter the meeting ID and passcode followed by #
Register today to reserve your spot!

About Our Speaker: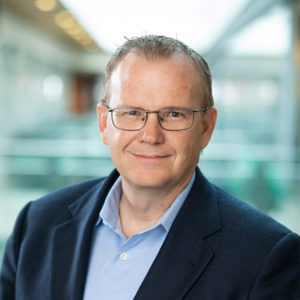 Steve Potts, PhD, MBA (Founder & CEO) leads OncoMyx. Steve has worked in the biopharma industry since 1999 and has had experience in a wide range of areas, including product development, sales, marketing, and general management. He has a proven track record of success, with his last three companies all with significant shareholder returns. He was Vice President of Medical Affairs at Ignyta, which was acquired by Roche for $1.7B, and he led the global operation of the testing of 30,000 patients in an oncology basket trial for entrectinib in 15 countries. The molecule was the first in industry to receive breakthrough designation equivalents in USA, Europe, and Japan. Prior to Ignyta, he bootstrapped his first company as founding CEO, Flagship Biosciences, to 75 employees and an exit for his investors. He was General Manager Life Sciences at Aperio, which exited to Danaher for $180M. He also built the Bioinformatics Department for a Fortune 500 Company, Quest Diagnostics, which subsequently delivered $1B of annual revenue. He earned a BS in Physics from Wheaton College, Illinois and PhD in Biological Engineering and MBA from the University of California Davis.
About Oncomyx
OncoMyx Therapeutics is developing oncolytic immunotherapies based on the myxoma virus (MYXV) platform to orchestrate an immune response and treat cancer. Successful immuno-oncology (IO) cancer treatment generally requires combination therapy, and oncolytic viruses (OVs) have emerged as a safe and effective IO complement.
Our MYXV platform, spun-out from Arizona State University (ASU), is poised to be a best-in-class OV approach. We have assembled the top OV team around MYXV to advance a pipeline of oncology therapeutics for the benefit of cancer patients.
---
Webcasting support provided by the Flinn Foundation