Add to iCal Calendar
Date/Time
Date(s) - 30 Jan 2021
12:00 AM - 11:59 PM
Learn. Discover. Explore with Connect2STEM 2021 Reimagined!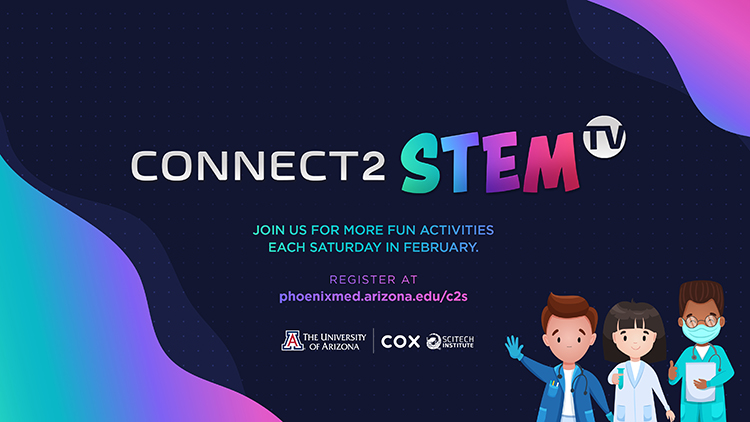 Saturdays are fun with STEM! Join us for special learning activities on Connect2STEM TV live. The kick off begins on Saturday, January 30, at 10:00 a.m. with a new episode premiering every Saturday in February. Episodes that have aired will remain available for on-demand viewing.

By registering for Connect2STEM LIVE TV, you will be the first to receive notifications about those special event experiences in February!
Kickoff Event Highlights:
Join the world's most advanced pediatric patient, 'Hal,' to help train future doctors.
Take a special visit to the popular Wildcat Play Hospital with the College of Nursing.
TikTok your way to a STEM career with Cox Communications.
Learn how to make exploding toothpaste with the UArizona College of Pharmacy.
Cheer on energetic performances from the Be Kind Crew and the Arizona School for the Arts
Scrub in with Regents' Professor Allan Hamilton, MD, FACS, a world-renowned neurosurgeon and executive director of the Arizona Simulation Technology Education Center.
Plus many more surprises you don't want to miss!
Sneak Preview
Contact
General questions? Contact Caroline Berger.
Interested in being an event exhibitor? Contact Aaron Sheets-Freburger.