Add to iCal Calendar
Date/Time
Date(s) - 22 May 2021
9:00 AM - 12:00 PM
Learn. Discover. Explore with Connect2STEM 2021 Reimagined!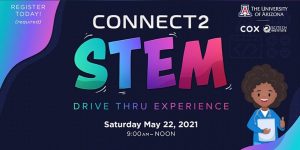 Summer is almost here and so is the most exciting educational drive-thru event! The University of Arizona Health Sciences, along with partners, Cox Communications and the Arizona SciTech Institute, presents Connect2STEM — an exciting drive thru, family friendly experience, celebrating Science, Technology, Engineering, Math and Medicine (STEM).
When and Where: May 22, from 9:00 a.m. to 12:00 p.m., on the Phoenix Biomedical Campus, 555 E. Fillmore St., Phoenix, AZ 85004.
Thanks to our generous sponsors this event will be free! *Registration is limited to 400, 30-minute slots, so please RSVP today!

Rules of the Road
Attendees will cruise safely from their vehicles and visit more than 30 drive-thru STEM exhibits for all ages, including:
Life-like manikins from the University of Arizona College of Medicine – Phoenix Center for
The Wildcat Play Hospital.
The Be Kind People Project.
Performances by the Arizona School for the Arts.
Arizona Ghostbusters & Ectomobile.
Arizona Coyotes (don't miss their giveaways).
Engineering for Kids Robots.
Plus lots more!
Display stations will be manned by faculty and students from the University of Arizona College of Medicine – Phoenix, Nursing, Pharmacy and the Mel and Enid Zuckerman College of Public Health, along with community partners.