Add to iCal Calendar
Date/Time
Date(s) - 28 Sep 2023
10:00 AM - 5:00 PM
Location
ASU Health Futures Center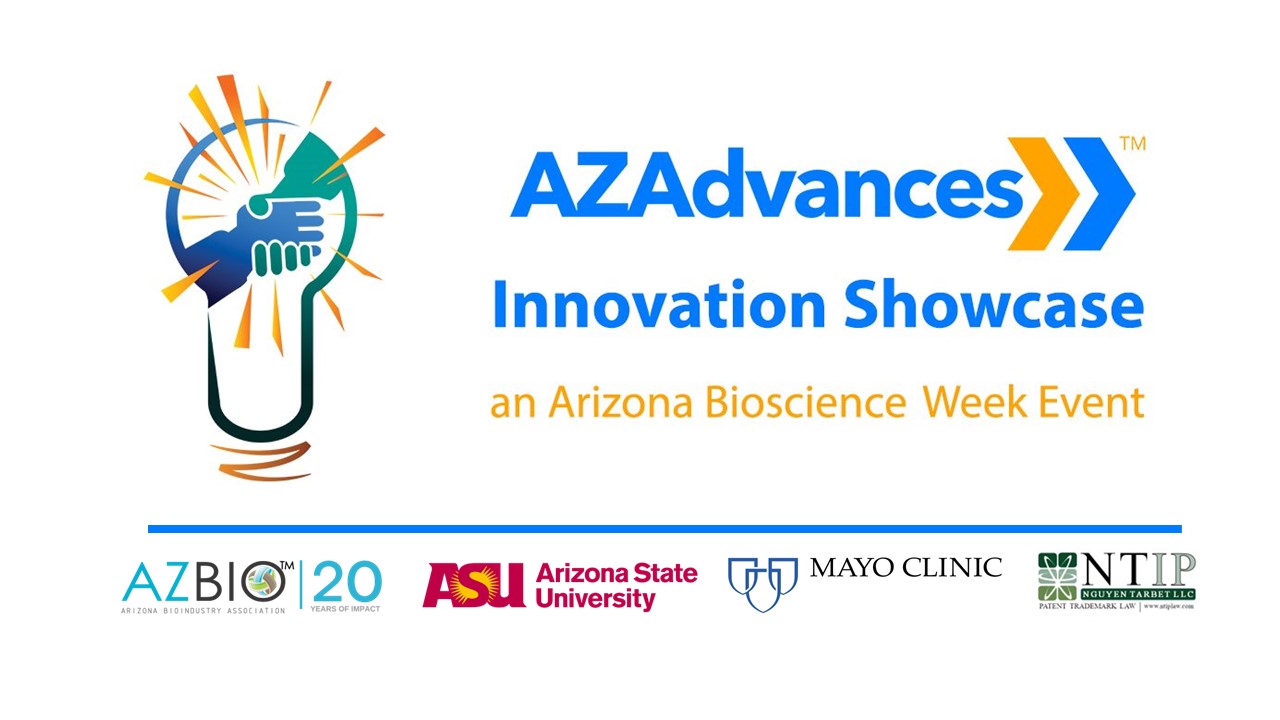 Join us at the ASU Health Futures Center
for a look at Arizona's Health Innovation Pipeline
Thursday, September 28, 2023
ASU Health Futures Center
6161 E. Mayo Blvd., Phoenix, AZ 85054
10:00 am – 5:00 pm
AZBio Members: $85.00
Non Members: $185.00
Full Time Students: $50.00
Elected Leaders and Credentialed Media receive complimentary registration.
Sponsorship Opportunities
Presenting Sponsor (3 available) $10,000.00

includes recognition and 10 tickets

Reception sponsor (2 available) $ 5,000.00

includes recognition and 5 tickets

Video Sponsor (1 available) $ 5,000.00

includes recognition and 5 tickets
---
Agenda
9:00 AM Registration Opens – Networking Time
10:00 AM Welcome
10:15 AM Life in the Fast Lane
MaryAnn Guerra, President & Founder, Aesthetics Biomedical
Richard J. Morello, CEO, CND Life Sciences,
Richard Austin, CEO, Reglagene,
Moderator: Kristen Swingle, President & COO, Critical Path Institute
11:00 AM Innovation at Mayo Clinic & the Discovery Oasis
Steven Lester, MD, Founder and Chief Medical Officer, Mayo Clinic -ASU Medtech Accelerator; Chief Medical Officer, Discovery Oasis
Aric Bopp, Executive Director, Discovery Oasis
11:30 AM Innovation and Man's Best Friend
John Galgiani, MD, Director, Valley Fever Center for Excellence
Stephen Albert Johnston, CEO and Chairman, Calviri
12:00PM Networking Lunch (Sponsored by Nguyen Tarbett LLC)
1:00 PM Moving Innovation Forward: The Impact of Governance on Funding (Sponsored by NACD)
Michael Chambers, Co-Founder Aldevron
Jacque J. Sokolov, MD, NACD Pacific Southwest Chapter, Arizona Advisory Board Co-Chair
2:00 PM Accelerating Health Innovation in Arizona
Elsa Abruzzo, CEO, Anuncia Medical
Joan Koerber-Walker, President & CEO, AZAdvances
Jordan Lancaster, CEO, Avery Therapeutics
Stan Miele, President, Aqualung Therapeutics
Russ Yelton, Trustee, AZAdvances
3:00 PM Leadership Conversation
Mathew Likens, CEO, GT Medical Technologies
2023 Arizona Bioscience Company of the Year
4:00 PM Closing Networking Reception
5:00 PM Event Concludes
---
Innovation Showcase Presenters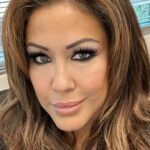 Elsa Chi Abruzzo is CEO and President of Anuncia Medical a medical device executive, entrepreneur, and a founding member of Anuncia Medical, Alcyone LifeSciences (now Alcyone Therapeutics), Arthromeda, Inc. and Cygnus Regulatory (formerly ARAC) with a 33+ year successful product development, operations, regulatory, quality, and clinical track record in med tech. Some of the disruptive medical solutions Ms. Abruzzo has helped develop and bring to market include: transcatheter heart valves (TAVR), tissue heart valves, implantable biomaterials, surgical adhesives, embolic agents, stents, atrial fibrillation ablation devices, LAA closure devices, neuromodulation devices, human tissues, drug delivery systems and combination products, orthopedic navigation systems, microinvasive spinal implants, tissue containment and retrieval systems, homeostasis devices, and point of care lipid and glucose/A1c analyzers. She has authored or contributed to 4 granted US FDA Breakthrough Devices Designations. Ms. Abruzzo has a B.S. in engineering from the University of Miami (Coral Gables, FL) and is regulatory affairs certified (RAC) and a Regulatory Affairs Professional Society (RAPS) Fellow (inducted in 2010).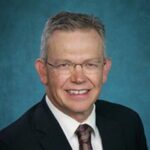 Richard Austin is a visionary biotech entrepreneur and co-founder of Reglagene, spearheading the development of groundbreaking therapies for the treatment of brain diseases. With an impressive career spanning over three decades in the pharmaceutical industry, Richard brings a wealth of expertise and a deep passion for driving transformative change in healthcare. Drawing on his strong background in laboratory research and operations management, Richard has played pivotal roles across various critical aspects of the pharmaceutical industry. From drug development and testing to overseeing the business operations of pharmaceutical R&D, he has consistently delivered outstanding results and successfully advanced new products throughout his career.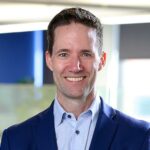 Michael Chambers co-founded Aldevron while studying Chemistry, Microbiology, and Biotechnology at North Dakota State University. It's a testament to teamwork and collaboration that Aldevron rapidly evolved from a small lab on the NDSU campus to a leading catalyst in the global genomic medicine sector. Under Michael's stewardship as CEO until 2020, the company became a collective powerhouse in manufacturing nucleic acids and recombinant enzymes. These components are critical for revolutionary cell and gene therapies, gene-editing technologies, and vaccines.
In 2021, the culmination of years of collaborative work came to fruition when Danaher Corporation acquired Aldevron for $9.6 billion. Today, Aldevron thrives with 1,000 associates between its Fargo, ND headquarters and Madison, WI site.
In addition to Aldevron, Michael serves on the board of Sarepta Therapeutics, which recently celebrated the approval of its groundbreaking gene therapy, Elvidys, for Duchenne Muscular Dystrophy. He's also a board member of MIT's prestigious Whitehead Institute, further extending his influence and commitment to groundbreaking research and innovation. His diversified interests include investments and leadership roles in technology companies like Calviri, Genovac, and Agathos Bio, as well as being a primary investor in the contemporary apparel company Oliver Cabell.
Michael's commitment to innovation and teamwork was recognized when he was named one of the 100 Most Intriguing Entrepreneurs by Goldman Sachs in 2018 and one of the Top 25 Biotech CEOs of 2021 by Healthcare Technology Report.
Despite a packed professional life, Michael cherishes his family time, living with his wife and five daughters and dividing his time between homes in Fargo and Boston.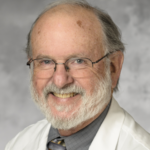 John Galgiani, MD, is the Director of the Valley Fever Center for Excellence and Professor, Internal Medicine at the University of Arizona. Dr. Galgiani received his MD from Northwestern Medical School and completed a fellowship in Infectious Diseases at Stanford. In 1978, he joined the faculty of the University of Arizona where he has remained ever since, currently as Professor of Medicine. Dr. Galgiani has focused his career on the special problem of coccidioidomycosis, also known as Valley fever. His work has included studies of the impact of Valley fever on the general population and on special groups such as organ transplant recipients and patients with AIDS and is the lead author on the Infectious Diseases Society of America's practice guidelines for coccidioidomycosis. In 1996, Dr. Galgiani founded the Valley Fever Center for Excellence. In collaboration with Banner Health, Dr. Galgiani developed and is now implementing a training program for primary care clinicians for prompt recognition and optimal management of patients with new Valley fever infections. The Center's research has recently developed a vaccine candidate to prevent Valley fever in dogs and potentially in humans.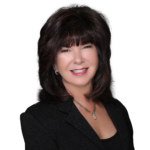 MaryAnn Guerra has a career-long passion for bringing technology to market, accelerating innovation from the lab into commercial businesses and providing an incomparable client experience. As Founder of Aesthetics Biomedical®, she understands the importance of designing experiences that create results. As a client of her own company, she values the opportunity to feel her very best at any age using leading-edge, FDA-cleared technology and treatment serums and recovery agents that truly make a difference. It is her privilege to advance these innovations through a network of respected doctors and med spas to make an impact on the battle against aging for men and women. Guerra is tireless in her perpetual pursuit of perfection and her never-ending quest to turn innovation into results. Guerra has spent much of her career operating successful and progressive health, science, technology and start-up businesses. Guerra served as President of TGen Accelerators, LLC and Chief Operating Officer at TGen. Guerra has also had an impressive career at the National Institutes of Health, having held senior level positions, including: Executive Officer, National Heart Lung and Blood Institute and Deputy Director of Management & Executive Officer at the National Cancer Institute.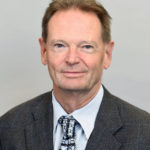 Stephen Albert Johnston is the Chief Executive Officer & Chairman of the Board of Calviri and is also the inventor of the Calviri's central technologies. Calviri's mission is to provide affordable products worldwide that will end suffering from cancer by combining a unique, highly immunogenic source of neoantigens with its peptide array platform. The team is developing new diagnostic and therapeutic products, and then preventative vaccines that will stop cancer from starting. In addition to Calviri, he has been a founder of Eliance, Inc. (Macrogenics), Synbody Biotechnology and HealthTell, Inc. He is Director of the Arizona State University Biodesign Institute's Center for Innovations in Medicine and Professor in the School of Life Sciences. He has published almost 200 peer-reviewed papers and holds 45 patents. Prior to his appointment at ASU he was Professor and Director of the Center for Biomedical Inventions at UT-Southwestern Medical Center and Professor of Biology and Biomedical Engineering at Duke University. He is a member of the National Academy of Inventors. Dr. Johnston received his B.S. and Ph.D. degrees from the University of Wisconsin.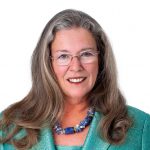 Joan Koerber-Walker serves as President and CEO of the Arizona Bioindustry Association, Inc. (AZBio). She works on behalf of the Arizona Bioscience and Medical Technology Industry to support the growth of the industry, its members and our community on the local and national level. Joan is also a life science investor and has served on the boards of numerous for-profit and non-profit organizations. AZBio Member Organizations in the fields of business, research and education, health care delivery, economic development, government, and other professions involved in the biosciences are the key drivers of the growth of Arizona's life science sector. As the unified voice of our industry in Arizona, AZBio strives to make Arizona a place where bioscience organizations can grow and succeed.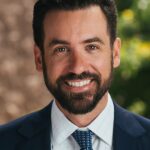 Jordan Lancaster is the co-founder and Chief Executive Officer of Avery Therapeutics Inc. Dr. Lancaster has dedicated his career to developing biologic therapeutics to improve the lives of patients afflicted with heart disease. He began his career as an Assistant Professor at the University of Arizona College of Medicine and member of the Sarver Heart Center where he led multi-disciplinary research teams. His work over the past decade has focused on the intersection of cell biology, biomaterials, and cardiovascular physiology. His work has led to the development of bio-fabricated tissue platforms which create tunable and distinctive biological niches. He currently serves on the Alliance of Regenerative Medicine's Biomaterials and Tissue Engineering committee and was named a Senior Member of the National Academy of Inventors. Dr. Lancaster earned his PhD in Physiology and a BS in Molecular and Cellular Biology both from the University of Arizona.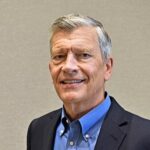 Matthew Likens, CEO of GT Medical Technologies, is an accomplished leader in the medical device industry. He joined GT Medical Technologies because he was inspired by the company's powerful purpose of "Improving the lives of patients with brain tumors." Prior to coming to GT Medical Technologies, he served as the president and chief executive officer of Ulthera, Inc. There, he led the startup from pre-commercialization to more than $100M in revenue and a $600M acquisition by Merz Pharma GmbH. Matt's professional career began with Johnson & Johnson. However, he spent the bulk of his career at Baxter Healthcare Corporation, where he progressed through a variety of domestic and international sales, marketing, and general management roles that ultimately culminated in the position of president of Baxter Biotech North America, and then the president of its US Renal Care division. After departing Merz in mid-2016, Likens joined the board of Luma Therapeutics, a startup with a novel approach for the treatment of psoriasis, and CHF Solutions, a NASDAQ-listed company focused on supporting patients suffering from congestive heart failure due to fluid overload.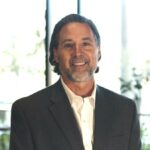 Stan Miele, President of Aqualung Therapeutics is a recognized global executive with success in sales, marketing and P&L leadership in the pharmaceutical/medical device and biotech industries. Mr. Miele was formally the Chief Commercial Officer at bioLytical Laboratories and Sucampo Pharmaceuticals Inc. He was also President of Sucampo Pharma Americas for 6 years. He was instrumental on some key licensing agreements for Sucampo, inclusive of the agreement with Abbott Japan, and also Takeda Pharmaceuticals (now Shire). He is actively part of the team ensuring proper execution of clinical development, manufacturing, licensing, capital funding, alliances, and ensuring Aqualung meets all critical milestones. He will be helping the company move toward accelerating the pipeline/platform technology and moving eNamptor™ toward commercialization.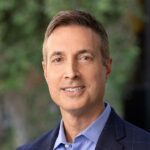 Richard J. Morello joined CND Life Sciences as CEO in early 2020 and brings 25 years of experience with health and life sciences companies, serving in senior executive roles globally for medical device, digital health, and diagnostics firms. Prior to joining CND as CEO, Rick was the Global President of Life Sciences at Aptus Health, a former subsidiary of Merck, Inc. (acquired by WebMD) and CEO of Plasma Surgical, an innovative medical device company with technology used in open and laparoscopic procedures around the world. Rick began his career in strategy consulting, rising to Partner at Mercer Management Consulting where he helped build the Health & Life Sciences Practice and managed large biopharma and diagnostics clients. A Kellogg MBA and graduate of the University of Virginia, Rick also founded and helped grow three nonprofit organizations that have raised nearly $100 million in the last decade to fulfill health and social impact missions including Family Reach Foundation, which was included in the Obama White House's Cancer Moonshot in 2016.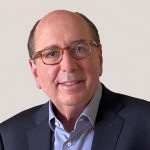 Jacque J. Sokolov, M.D. is chairman and chief executive officer of the SSB, a diversified U.S. based, healthcare management, development, and investment company. Its four strategic businesses include SSB Solutions, SSB Investment Funds, SSB Financial Services and SSB Governmental Services. As CEO, Dr. Sokolov leads SSB's four strategic business units to optimize healthcare solutions, investment strategies, financial structures, and governmental contracting. SSB was founded on the premise of developing high quality, value-based solutions in rapidly evolving markets. The company operates across the United States and has worked with more than 100 healthcare companies in virtually every healthcare sector. Dr. Sokolov and the SSB team have been vital to large healthcare corporations to reimagine their business models and improve and increase performance at critical inflection points in their history. Some of his projects include redesigning health plans such as the Humana Inc. turnaround/adoption of consumer facing internet-based technology in 2000, the transition of Hospira from an I.V. solution company to the largest independent biosimilar manufacturer in the world that Pfizer acquired for $17 billion in 2015. In addition, Dr. Sokolov was active in the development of physician practice management companies such as the Summit Medical Group evolving to Summit Health/CityMD resulting in a $9B merger with VillageMD/Walgreens/Cigna in 2022.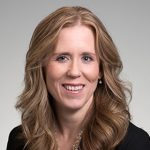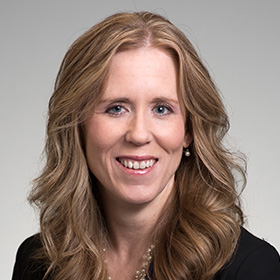 Kristen Swingle serves as President and Chief Operating Officer of the Critical Path Institute (C-Path). Prior to joining C-Path in 2019, Kristen served as the VP of Stem Cell Operations at Cord Blood Registry where she was responsible for overseeing all operations at CBR's laboratory in Tucson, Arizona, since 2007. Kristen has over two decades' worth of experience in the medical and molecular sciences industry with a strong background in product development and manufacturing, quality and regulatory affairs management, project and fiscal management, and team leadership. As President & COO of C-Path, she is responsible for the daily operations of the organization and development and implementation of C-Path's global strategy and goals. Kristen also serves as a member of the AZBio Board of Directors and was elected Chairwoman in January 2018.