Add to iCal Calendar
Date/Time
Date(s) - 28 Oct 2019
5:00 PM - 7:00 PM
Location
Health Sciences Education Building C104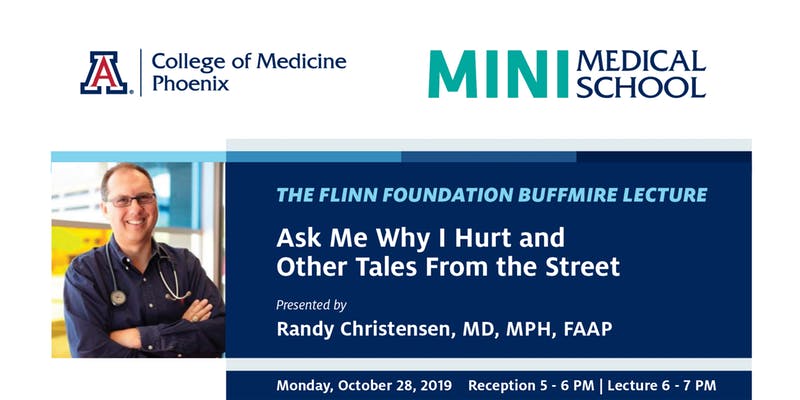 The University of Arizona College of Medicine – Phoenix proudly presents Mini-Medical School, a fascinating community lecture series open to the public.

You're invited to an unforgettable and inspiring evening with a physician who saves lives in a most unconventional way.
Dr. Randy Christensen has dedicated his life to caring for society's often-abused, unloved children who live on the streets without access to health care. While in Phoenix, he launched the Crews'n Healthmobile, a mobile medical unit that delivers free medical care and outreach services to thousands of at-risk infants, children and teens.
With tenderness and humor, his presentation will discuss the trials, joys and struggles of establishing the mobile health van while raising a family with his wife, Amy, who is also a pediatrician. His discussion will engage all attendees as Dr. Christensen will offer advice on making compassionate connections between physicians and patients, keeping emotionally and physically balanced, and leaving a legacy.
Dr. Christensen's non-fiction book "Ask Me Why I Hurt," is a touching and revealing first-person account of his remarkable work.
The Flinn Foundation Buffmire Lecture Series is made possible through a grant from the Flinn Foundation, and brings renowned medical educators and practitioners to Arizona. Twice a year, Buffmire joins forces with Mini-Medical School, the UA College of Medicine – Phoenix's community outreach event.
Presenter:
Randy Christensen, MD, MPH, FAAP, is the President and Founder of Randal Christensen Consulting, which supports hospitals, non-profit organizations and foundations in delivering health services to vulnerable populations in Las Vegas, Nevada. Dr. Christensen is the former Division Chief of Pediatric and Adolescent Medicine at Phoenix Children's Hospital, former Chief Medical Officer for Nevada Health Centers and a former trustee for Vitalyst Health Foundation.
Monday, October 28 2019
5:00 – 6:00 PM – Reception
6:00 – 7:00 PM – Lecture
Health Sciences Education Building (HSEB) C104
435 N. Fifth Street, Phoenix, AZ 85004
Contact and Parking Information
For questions, please contact Aaron Sheets-Freburger, 602-827-2453.