Add to iCal Calendar
Date/Time
Date(s) - 7 Nov 2018
5:30 PM - 7:00 PM
Location
Health Sciences Education Building C104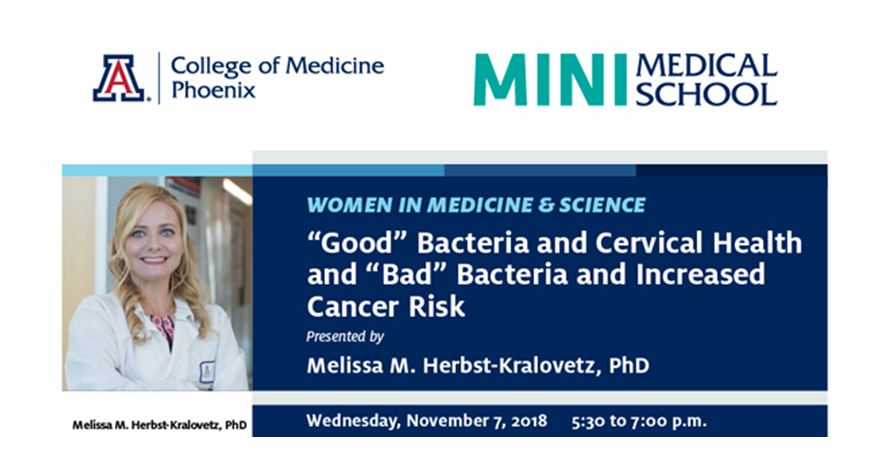 The University of Arizona College of Medicine – Phoenix proudly presents Mini-Medical School, a fascinating community lecture series open to the public.
The fall series continues the Celebrating Women in Medicine and Science theme, an initiative founded by the American Medical Association. The College highlights women scientists, physicians and faculty who mentor, advocate, network and offer training and development for students and researchers.
Breakthrough Research
Virtually all cervical cancers are caused by HPV, or human papillomavirus, dubbed the "common cold" of sexually transmitted infections because nearly every sexually active person catches it. Fortunately, the immune system vanquishes the majority of HPV infections, with only a small percentage progressing to precancer and, ultimately, cancer.
But why do some people clear the infection while others are unable to fight it?
Mini-Medical School attendees will learn how Dr. Herbst-Kralovetz leads a team that found as the vaginal environment loses acidity, cervical abnormalities become more severe. The team is the first to show a relationship between elevated pH and advanced cervical abnormalities.
Dr. Herbst-Kralovetz will share her research outcomes which explain women without cervical abnormalities are hosts to different communities of vaginal bacteria than women with cervical cancer and precancer, a discrepancy that reveals a relationship between "good" bacteria and cervical health, and "bad" bacteria and increased cancer risk.
Presenter:
Melissa M. Herbst-Kralovetz, PhD
Associate Professor, Department of Basic Medical Sciences/Oncology at the University of Arizona College of Medicine – Phoenix
Wednesday, November 7, 2018
5:30 – 7:00 p.m.
Health Sciences Education Building (HSEB) C104
435 N. Fifth Street, Phoenix, AZ 85004