Add to iCal Calendar
Date/Time
Date(s) - 12 Sep 2023
4:00 PM - 7:00 PM
Location
The Refinery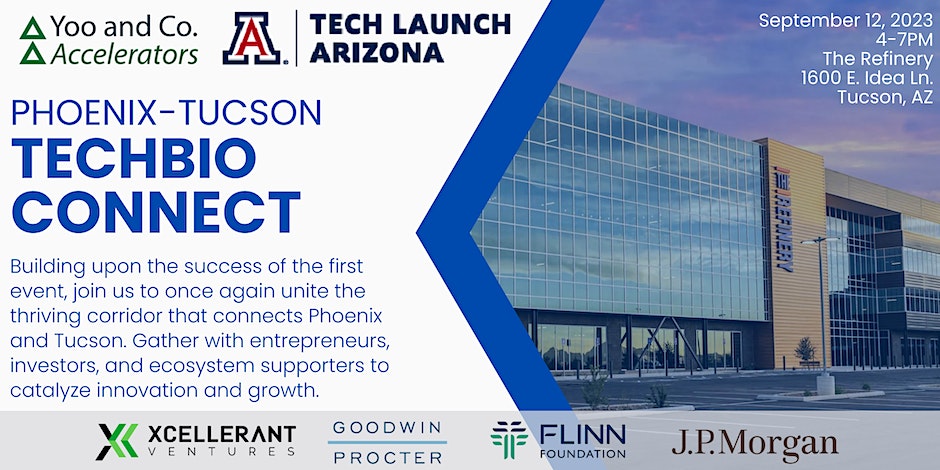 Phoenix-Tucson TechBio Connect
We look forward to welcoming you to an evening that will spark ideas, amplify collaborations, and redefine the path to innovation!
By Yoo & Co. Accelerators and Tech Launch Arizona
Date and time
Tuesday, September 12, 2023
4 – 7 pm MST
1600 East Idea Lane Tucson, AZ 85713
Step into a world of innovation and collaborative exploration at our highly anticipated sequel to the first TechBio Connect last May. Brought to you by Yoo & Co. Accelerators and Tech Launch Arizona, in proud partnership with Xcellerant Ventures, the Flinn Foundation, Goodwin Procter, and JP Morgan, the stage is set for another exceptional gathering that's destined to reshape the landscape of MedTech, HealthTech, and TechBio.
Sip on drinks, enjoy snacks, and engage in discussions with like-minded innovators and investors who share your passion. Whether you're a seasoned pro or just starting out, this event offers a chance to explore potential partnerships and exchange ideas with trailblazers in your field.
Don't miss this invaluable opportunity to expand your network and contribute to the advancement of TechBio innovation.
RSVP now to secure your spot at Phoenix-Tucson TechBio Connect!