Add to iCal Calendar
Date/Time
Date(s) - 13 Mar 2023
8:30 AM - 4:30 PM
Location
R. Ken Coit College of Pharmacy - Roy P. Drachman Hall Pulido Center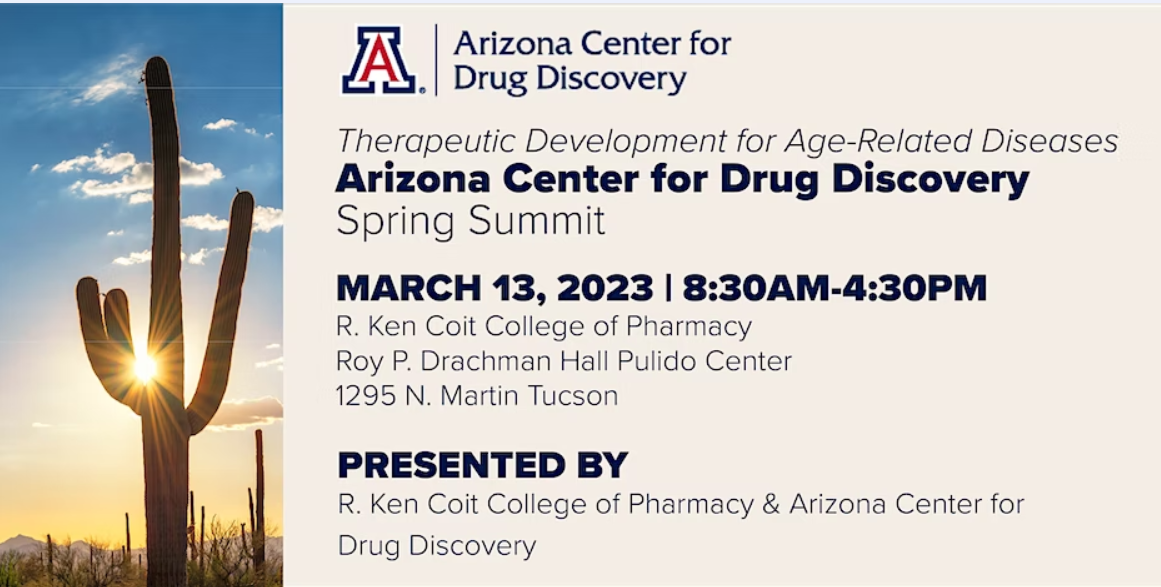 The Arizona Center for Drug Discovery Spring Summit will highlight key areas of research in discovering new therapeutics and treatmens related to age-related diseases such a Alzheimer's disease, Dementia, Parkinson's disease and amyotrophic lateral sclerosis. The summit will also focus on establishing opportunities for new partnerships and collaborations in an effort to address these age-related disease.
If you are interested in presenting a poster, please sign up here. The deadline for poster submissions is Friday, March 3.
March 13, 2023 | 8:30AM–4:30PM
R. Ken Coit College of Pharmacy – Roy P. Drachman Hall Pulido Center
1295 N. Martin
Tucson, AZ 85719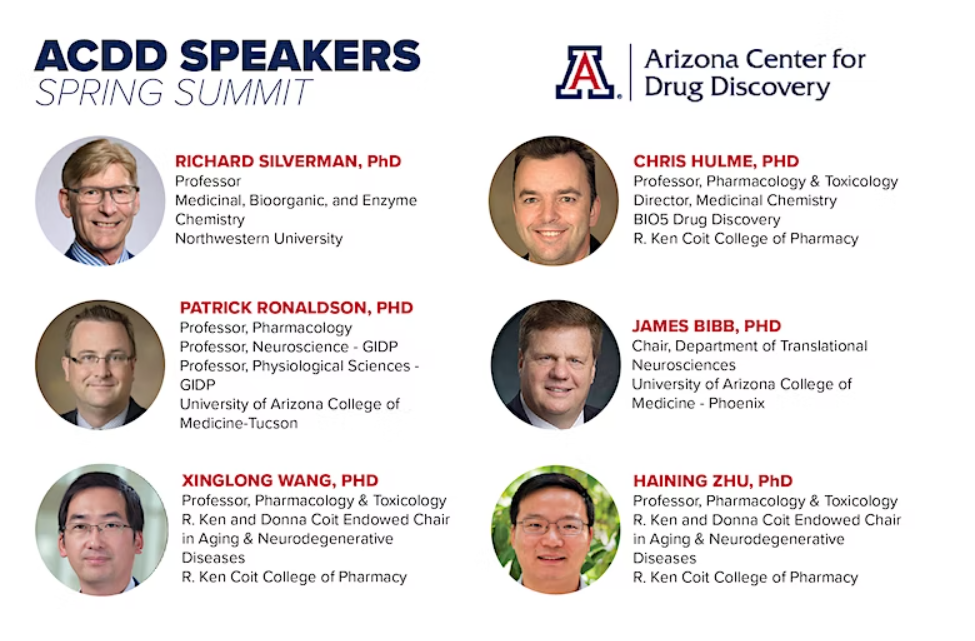 SCHEDULE
8:30-9 AM| Check-in and Continental Breakfast | Roy P. Drachman Hall-Pulido Center
9 AM–12 PM | Welcome and Morning Session | Drachman Hall, Room A114
12- 1 PM | Poster Session + Lunch | Walkway of Wellness
1 – 3:30 PM | Afternoon Session & Poster Presentations/Awards | Drachman Hall, Room B111
3:30-4:30 PM | Networking Reception | Coit Museum of Pharmacy & Health Sciences Courtyard
QUESTIONS?
Contact Gilbert Maldonado at gmaldona@arizona.edu.