Virginia Shimer Rybski served as a valued member of the AZBio Board of Directors and AdvaMed Board of Directors until May 7, 2013 when she lost her hard-fought battle with Pancreatic Cancer.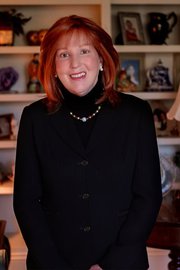 Virginia exemplified what it meant to be a leader in both her company and our Arizona bioscience  community as President, Chief Executive Officer and Director of Regenesis Biomedical, Inc. During her tenure with Regenesis, Virginia held several  positions including Chief Operating Officer, Vice  President of Sales and Marketing, and Vice President of Corporate  Development.  She strategically  positioned the company as a regenerative medicine business; raised $5.3 million in capital; strengthened the Board of Directors; built a national  direct sales force to grow sales for the past eight consecutive years; negotiated key payer contracts with insurers; developed the medical and scientific advisory boards; and re-established molecular biology and preclinical research  programs as well as initiating clinical research programs for the   company's  patented core platform technology based on pulsed radio frequency energy.
More importantly, Virginia was passionate about the difference she and her team at Regenesis were making for patients and their families.  Generous with her time, a talented mentor, and a friend to many; she will be greatly missed.
She is survived by her husband Tom and daughters Olivia and Savannah.  Our heartfelt condolences go out to her family, friends and colleagues for their loss.
Her family has established a website for memorial comments that can be found here.
Donations in Virginia's memory may be made to the Pancreatic Cancer Action Network here.