PHOENIX, May 24, 2016 (GLOBE NEWSWIRE) — Insys Therapeutics, Inc. (NASDAQ:INSY) ("Insys" or "the Company") today announced that it has successfully completed its Phase 1/Phase 2 safety and pharmacokinetic (PK) study in pediatric subjects with treatment-resistant epilepsy.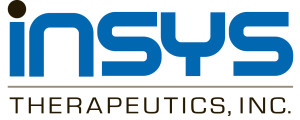 In this trial, 61 subjects with refractory epilepsy, between the ages of 1 year to 17 years, received treatment with Insys' pharmaceutical cannabidiol (CBD) oral solution across multiple investigative sites in the United States.  The clinical trial evaluated multiple ascending doses of Insys' CBD with three cohorts of subjects receiving total daily doses of 10 mg/kg, 20 mg/kg or 40 mg/kg.  Over 80% of these subjects continue to receive CBD in an ongoing long-term safety study.
"We are excited that our synthetic pharmaceutical CBD in a non-alcoholic, medium chain triglyceride-based formulation was studied up to a daily dose of 40 mg/kg in subjects with pediatric epilepsy.  The data is currently under analysis, and the CBD appears to have been generally well tolerated," said Dr. John N. Kapoor
, Chairman, President and Chief Executive Officer of Insys Therapeutics.
"We anticipate meeting with the FDA to discuss the subsequent steps for this program, as well as the development program for the treatment of Dravet syndrome and Lennox-Gastaut syndrome, two rare forms of pediatric epilepsy for which Insys' pharmaceutical CBD formulation received orphan drug designation.  Additionally, we have an ongoing trial evaluating CBD in infantile spasms, a catastrophic form of childhood epilepsy.  These efforts underscore our commitment to advancing our pharmaceutical CBD program in pediatric epilepsy and we look forward to updating you on our progress in due course," added Dr. Kapoor.
About the Study
The main protocol inclusion criteria included:
Male or female between 1 and 17 years of age (inclusive)
Diagnosed with a treatment-resistant seizure disorder
Additional details of the study may be found here.
About Pharmaceutical CBD
Insys' pharmaceutical CBD is over 99.5% pure cannabidiol. It is synthesized to be chemically identical to the CBD extracted from cannabis, and is produced in a controlled environment. The FDA issued a Drug Master File (DMF) to Insys for its CBD active pharmaceutical ingredient in May 2014.
About Dravet Syndrome
Dravet syndrome, also known as Severe Myoclonic Epilepsy of Infancy, is a rare and catastrophic form of intractable epilepsy that begins in infancy. Initial seizures are most often prolonged events and in the second year of life other seizure types begin to emerge. Development remains on track initially, with plateaus and a progressive decline typically beginning in the second year of life. Individuals with Dravet syndrome face a higher incidence of SUDEP (sudden unexplained death in epilepsy) and have associated conditions, which also need to be properly treated and managed.
About Lennox-Gastaut Syndrome
Lennox-Gastaut syndrome is a severe form of childhood-onset epilepsy that typically manifests between two and six years of age. The syndrome is characterized by multiple seizure types, moderate to severe cognitive impairment, and an abnormal EEG. The frequency and severity of seizures vary by individual. It is often treated with, but has proved resistant to, various anti-seizure medications. There is no cure for the syndrome at this time.
About Insys Therapeutics, Inc.
Insys Therapeutics is a specialty pharmaceutical company that develops and commercializes innovative drugs and novel drug delivery systems of therapeutic molecules that improve the quality of life of patients. Using proprietary sublingual spray technology and capabilities to develop pharmaceutical cannabinoids, Insys addresses the clinical shortcomings of existing commercial products. Insys currently markets one product, Subsys® (fentanyl sublingual spray). The Company submitted a New Drug Application to the U.S. Food and Drug Administration for SyndrosTM (dronabinol oral solution), a proprietary, orally administered liquid formulation of dronabinol that Insys believes has distinct advantages over the current formulation of dronabinol in soft gel capsule. Insys is developing a pipeline of sublingual sprays, as well as pharmaceutical cannabidiol.
Subsys® and SyndrosTM are trademarks of Insys Therapeutics, Inc.
Forward-Looking Statements and more at : http://www.nasdaq.com/press-release/insys-therapeutics-successfully-completes-safety-and-pharmacokinetic-pk-study-of-cannabidiol-oral-20160524-00177#ixzz49cLu3nk2