A guest post by Representative Heather Carter, Chair of the Health and Human Services Committee, Arizona House of Representatives.
It took until around 3:40 AM Thursday morning, but the Arizona House of Representatives passed HB 2010, the budget proposal including the restoration of Arizona's Medicaid System known as AHCCCS.  Governor Jan Brewer, accompanied by my courageous colleagues, signed the bill into law yesterday morning at the Capitol.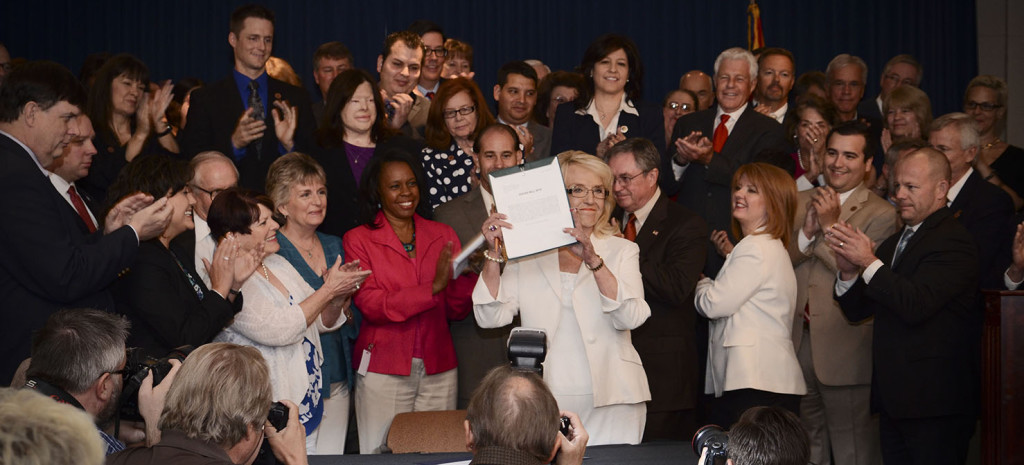 The lively debate over this legislation has created some degree of animosity, but I'm very proud of my colleagues who stood with me to make the right choice for Arizona in the face of adversity.  The eight legislators who stood with me fought to ensure that we upheld the will of the Arizona voters, who have twice voted to provide medical coverage to our most vulnerable. We did so in the most fiscally responsible manner.  By passing the Governor's proposal, we are not forced to squander the hard-fought savings used to generate our Rainy Day fund and are able to make key investments in other state priorities like education and CPS.  This was the right decision.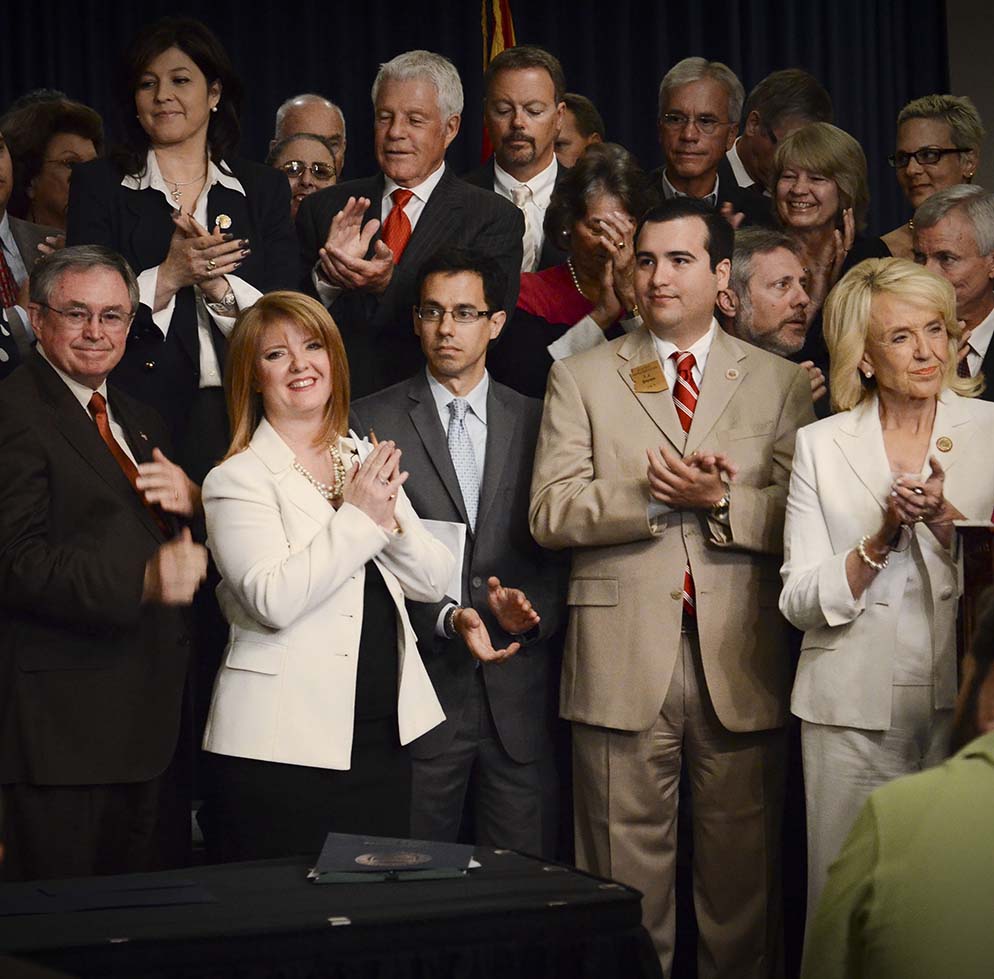 My decision was not an easy one, but I could not in good conscience vote against coverage for over 300,00 people and turn down a measure that will create a projected 13,821 jobs in under two years.  The jobs created by expanding our AHCCCS program will create an estimated $13.25 million by 2015 and free much needed resources from the Arizona General Fund, which can now be allocated to other vital programs.
Many of the opponents to expansion played political games and used stalling tactics to prevent the majority of legislators from moving this necessary action forward.  They used every trick in the book to suppress the majority of the House in a petty attempt to stall the expansion and prevent Arizona residents from having a balanced budget.  I'm honored to have worked with Governor Brewer to put an end to these games in the Legislative Special Session and prevent a myopic minority from forcing their agenda on the remaining legislative body.  My actions and the actions of my pragmatic colleagues allowed for the democratic process to proceed and put an end to the fiscally irresponsible actions of the minority in opposition.
My decision to support Medicaid Expansion was not made without considerable deliberation.  With the passage of the Affordable Care Act, Arizona was placed in an incredibly challenging position with regard to our healthcare policy.  While some in our party were hesitant to accept additional federal funding for a state program, I could not ask Arizona tax-payers to subsidize the healthcare costs of other states with their hard-earned dollars while receiving no return on their investment.  I was raised to stand by your principles and doing the right thing, even when your friends and colleagues may disagree.  My support of expansion is based on principle, and my desire to create the best policy possible for the State of Arizona.  I am proud of my decision and stand by my conservative colleagues who, rather than choosing the easy way out, courageously fought for the right decision.
About the Author: Representative Heather Carter
Representative Heather Carter serves in the Arizona House representing Arizona District 15. Currently, Representative  Carter is the Chair of the Health and Human Services Committee, and a member  of the Education and Environment Committees. She focuses on legislative issues related to economic recovery for Arizona, including taxpayer protection issues, health care concerns and educational reform.
In her professional life,  she is a well-respected educational leader in her community, working as a  clinical associate professor preparing teachers and leaders for Arizona  Schools. She also works with local school districts on educational reform  issues. She was a 7th grade teacher in the Paradise Valley Unified School  District and currently serves as a parent/community representative on many  committees for Cave Creek Unified School District and Paradise Valley Community  College.
Representative Carter has  lived in Arizona for over twenty years.  For the past fifteen years, Representative Carter has  worked in education, and earned a master's degree in educational technology  from ASU and a doctorate in educational leadership from NAU.
As a wife, mother, business person  and educational leader, Representative Carter is focused on making Arizona a  more 'business-friendly' place in the 21st Century by focusing on reforms that lower taxes, reduce regulations and create strong schools for Arizona's future.