LITAS For Girls is a 501(c)(3) nonprofit that aims to inspire middle and high school girls to pursue careers in STEM and Computer Science hosted its Summer Digital Health Incubator June 20 – 25, 2016 at Co+Hoots in Phoenix.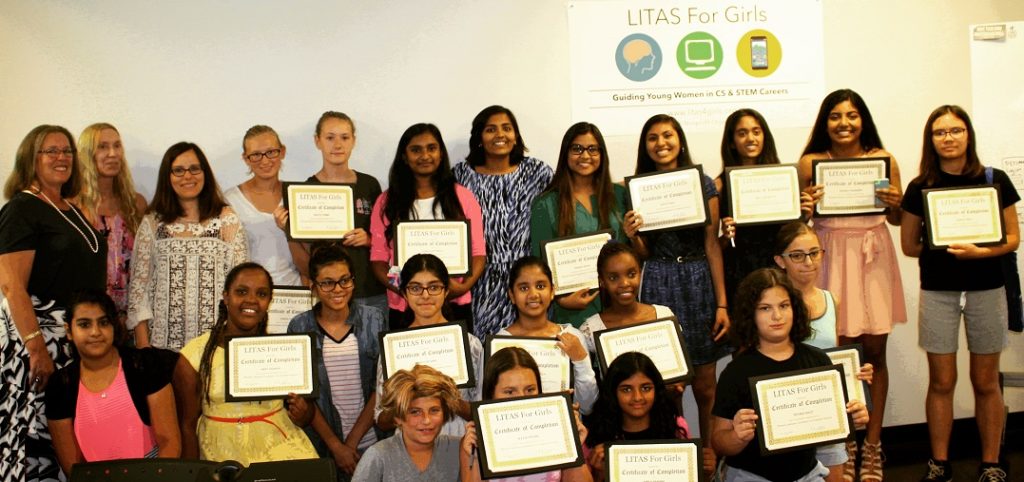 LITAS For Girls does more than teach middle and high school girls to code- we teach girls
to code with a purpose. (Click here to see the students' week in photos.) 
More than coding, LITAS aims to mold girls to be the next generation of leaders in CS+STEM,
with both the creativity to come up with game-changing ideas and the skills to
implement them.  By teaching teamwork, brainstorming, and presentation skills alongside computer science, the goal of the program is  to build confidence in girls and give them the tools to use computer science to build something to better the world.
The theme of this years' incubator was Digital Health, which uses recent advances in computer
science and genetics to empower individuals to track, manage, and improve their health
and the health of their loved ones to live longer and more productive lives.
This year's student innovator projects included:
Animal Cancer App developed by Sayana, Krishna, Mary, and Grace
Healthy Habits Recipe App developed by Ruchi, Ashlyn, Jordan
Smart Weather Assistant developed by Mounia and Vijaya
How Old Are Your Cells? Preventative Disease Management developed by Khyati, Maya, Arya, Bhumika and Shauda
Organ Transplant Network developed by Bianca
Speech Therapy App developed by Aneka, Komal, Kendall
App- Healing Cuts & Bruises developed by Lauren and Alexia
Anti-Suicide Teen Network developed by Asia and Yazmyne
At the end of the week, the student teams  presented their projects to parents and  industry leaders including Joan Koerber-Walker, president and CEO of the Arizona Bioindutry Association and Cynthia Pickering, Science Foundation Arizona  Ambassador – Girls in STEM.  An electrical engineer with 35 years industry technical leadership in software development, artificial intelligence, information technology architecture/engineering, and collaboration systems research,  Cynthia joined joined SFAz to lead the Girls in STEM initiative and translate her passion for STEM into opportunities that will attract inspire and retain more girls in STEM to make it the new norm.
"Each of the student teams showed ingenuity and a personal connection to the challenge that their project could help to address," shared Koerber-Walker. "These young innovators have the potential to be our future life science leaders.  Programs like LITAS help to inspire them and motivate them to continue on their career journey towards high-tech careers that will make a difference at home and to people around the world."
LITAS was founded in 2014 by Anvita Gupta when she was a high school student at BASIS Scottsdale.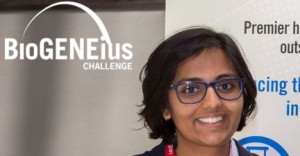 During her senior year at BASIS, Anvita submitted a  project in the Johnson & Johnson Innovation Global Healthcare Challenge (medical biotech), titled, Novel Therapeutics for Genetic and Infectious Diseases: Drug Discovery Targeting Intrinsically Disordered Proteins, seeks to create a new framework for drug research and discovery to help speed up and reduce the cost of therapeutic creation for diseases like Cancer, Tuberculosis and Ebola.  The project earned her the top award in the 2015 BioGENEius Challenge at the BIO International Convention in Philadelphia.
This is just one of the examples of the honors this young biotech innovator has garnered in her short career.  Other honors include: presenting at the 2015 White House Science Fair, Top 10 National AXA Achievement Scholarship, Intel Science Talent Search Medal of Distinction Global Good  and the Siemens Competition National Winner
Anvita is the only student in 2015 to be a National Winner in both the Intel Science Talent Search and Siemens Competition, the two most prestigious high school science competitions in the nation.
After spending her 'summer vacation' providing inspiration to other girls,  Anvita will be heading back to Stamford University for her sophomore year.