The Medtronic COVID-19 Care Evaluation and Monitoring Solution provides in-home evaluation, remote monitoring, and care escalation support.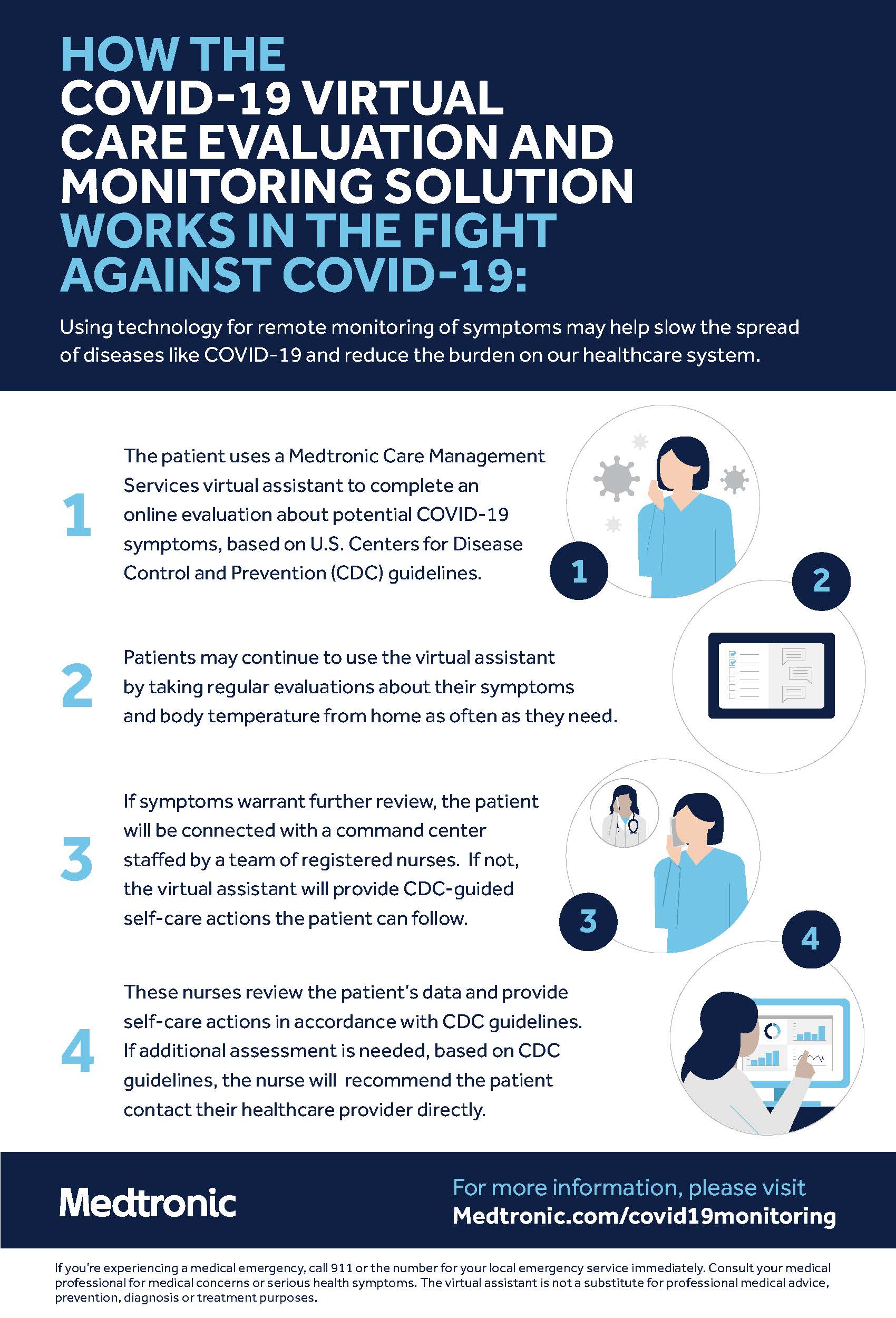 With the rapid spread of COVID-19, alternative approaches to health assessments, patient monitoring and education are urgently needed to reduce additional population exposure and ease the burden on healthcare providers and facilities.
Medtronic COVID-19 Virtual Care Evaluation and Monitoring is a solution to evaluate, remotely monitor, and provide recommendations based on CDC guidelines for individuals who are concerned, have COVID-19 symptoms, or have been exposed to, or diagnosed with, COVID-19.
CONVENIENT, IN-HOME SYMPTOM EVALUATION
Evaluates potential COVID-19 symptoms using a short virtual assistant based on CDC guidelines
Designed to support a more efficient, cost-effective approach: users can regularly answer questions that capture symptoms from home and data is monitored and assessed by registered RNs
Intended to limit COVID-19 exposure through home-based assessments
REMOTE MONITORING AND DATA-DRIVEN ESCALATION
Allows continued monitoring of individuals who have been exposed, potentially exposed, or diagnosed with COVID-19 through on-going interaction with the virtual assistant and data-driven and risk-based escalation
Based on user input and the CDC guidelines, the virtual assistant may connect the user to the MCMS nurse command center, where registered nurses review the user's data and either identify recommendations to continue monitoring symptoms at home or the need for additional care assessment
Provides CDC-based recommendations, education, and self-care practices are provided
Source: https://www.medtronic.com/us-en/healthcare-professionals/services/medtronic-care-management-services/our-solutions/care-management-services/covid19-monitoring.html